I am going to make a quick write up on how to get your stock MKIV speedometer and odometer to work while using a Nissan CD009 transmission. I have been getting lots of messages asking how to do it. It's actually pretty simple and straight forward.
I am using the Dakota digital SGI-5E box to convert my abs signal into a signal my speedometer can read. The dakota box is only $80.70 from summit racing. I purchased from them because of their good customer service knowing if anything goes wrong with the unit, I can return it. Here is a link for the control box.
DAKOTA DIGITAL SGI-5E
https://m.summitracing.com/parts/da...u2ZCDmb2_LnFx86VQYs2ptwLeaBt6WF2hEaAou68P8HAQ
Now as far as the install goes, everything is wired right inside the car underneath the radio. No running any wires outside the car or to the engine harness. Basically what we are trying to accomplish is to use the ABS sensor signal and convert it through the dakota SGI-5E to a signal our cluster can use.
First step is to disconnect battery
Next, remove the dash trim. You need to remove the top trim housing the odometer and tell tale lights. 5 screws hold it in place and it pops out. Unplug the connectors and move out of your way.
Next step is to remove the cluster trim and the shifter trim. Once removed remove the radio/HVAC panel and move it out of your way. (Sorry for not having pics but their are tons of write ups I'm sure on how to remove the trims)
Now that you have access to everything behind the radio panel you need locate the ABS ECU. It is bolted in under the radio. Remove your radio to get better access. Here is a picture from another member of what it looks like.
Now you need to locate connector B on the ecu. Here it is. And here is the two wires you will be looking for. The Blue + wire is for the Signal In to the SGI-5E. And the purple wire - is for the Sensor GND on SGI-5E which is the ground for the sensor.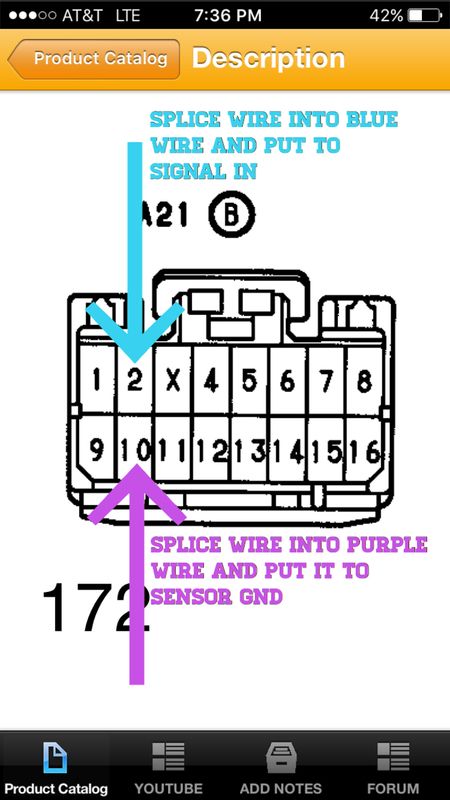 Get two lengths of wire that will reach out to the parking brake. You will cut them back later. Now splice into each of the blue and the purple wire and either solder or tape your connection and plug back in connector B to the abs ecu.
Next you need to locate your odometer connector. You need to look for the Blue wire with a red stripe. It is in terminal 5 of the connector. Cut a length of wire that will reach from the back of the connector and route it so it doesn't rub on anything and leave it long enough to go to parking brake. Again you will cut this back shorter and put this to your Signal Out of SGI-5E. Here's the wiring diagram on the wire you need. You can see the speedometer and the odometer both share the blue/red wire coming from the Speed sensor connector.
Now that we have our sensor done. You now just need to ground a wire on the chassis for the SGI-5E and get a 12 volt switched power. I used the 12v switched power wire from the cigarette lighter since it's right there and already fused. Splice a wire into the power wire and secure your connection. This should also be a blue/red wire as the white wire is grounded. But double check with a test light to be sure. Here's a pic of the wiring.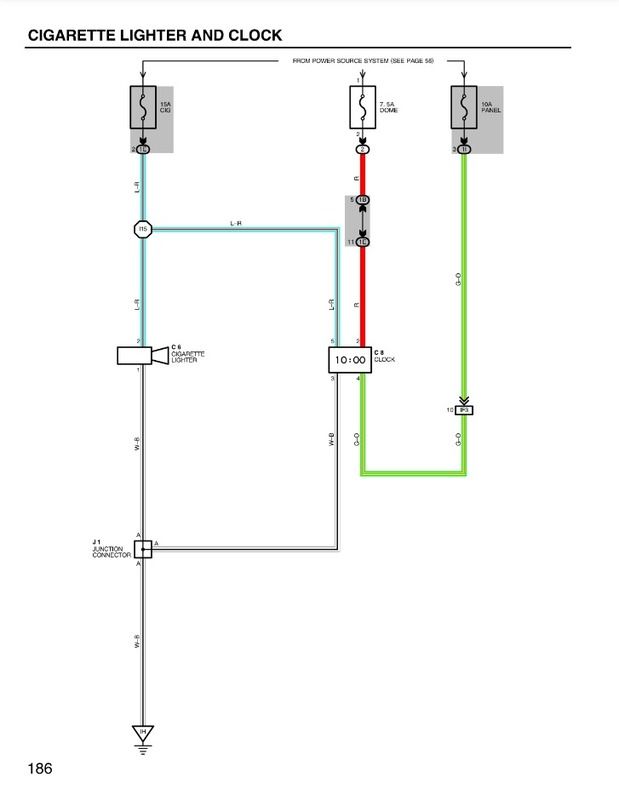 Now alls you need to do is now connect your wires to the SGI-5E box and mount it. I mounted mine in front of my shifter but left the wire long enough to pull out if I had get access to it without having to remove all my panels. Here's a pic of how I mounted mine.
Here's how to hook it up.
SGI-5E~~~~~~~~~~Your wiring
POWER~~~~~~~~Cigarette power 12v
GROUND~~~~~~~Chassis ground wire
SENSOR GRD~~~~ABS Purple wire you spliced into
SIGNAL IN~~~~~~ABS blue wire you spliced into
SENSOR POWER~~~Empty
OUT 1~~~~~~~~~Empty
OUT 2~~~~~~~~~Empty
OUT 3~~~~~~~~~Empty
OUT 4~~~~~~~~~Empty
OUT 5~~~~~~~~~This Is your Signal Out. Put the odometer wire into this.
Now screw it down and go test drive your car. You will have to play the two buttons to get the speedometer close to to actual speed. I used the Waze app and cruised the highway holding 60 mph and just pressed the buttons to where it's got to be. If your reading 70mph on your cluster and Waze app says 60 mph, you will have to decrease by pressing the SET button. If your lower than what your Waze app says. Then you need to increase the signal by pressing the INC + button.
Any questions feel free to ask. I will post up a video of my car later tonight of the working speedometer and odometer. Hope this helps you guys.