·
i recorded mark7m001.mp3
10 years later, finally back in a Supra! (updated)
So, I've been into the supra world since about 2001 or so. it was around then that i initially owned an 88T, that eventually was heavily HK$ everything modded. Then after that i owned a 97NA auto for awhile and also a 90T. They were all great, but in 2004 i sold all of them and was completely out of the supra world. In that period of time I owned a 98 Cobra, a 92 3000GT VR4, a 73 240z, 93 MR2 Turbo, 04 WRX wagon, 96 SC300, 97 SC300, and finally 05 STi that evolved into a 513whp E85 car. Definitely a fun ride, but lingering in the back of my mind after having all these vehicles was the want of the almighty MKIV.
That brings me to about 2 weeks ago when the STi sold and i had the opportunity to start looking for an MKIV. Twin turbos were out of my realistic price range and i happened to find Sheldons (FLZ_Boy) 1994 NA 5spd for sale. It had been meticulously maintained by himself and FSR Motorsports so I know it had been in good hands. This car, to me would be an excellent platform to build upon. Onto the pics.
As Sheldon had it, still in track guise.
First was to remove the numbers as I'm not a CC9 class racer. In doing so, i found the opportunity to start correcting the paint with a porter cable and 3D Detailing products. The paint fortunately is very cooperative and did not need much correction to come back to its deep black jewel-like shine.
the clear bra was also removed from the leading edge of the hood and also fortunately the paint was still in excellent shape but it took quite a few hours to remove the old adhesive residue.
in the meantime i had also purchased a pristine condition HKS Drager, from Brian (beezupra) as the venerable 2JZ of course is deserving of an authoritive voice.
though the car is currently obviously still NA it is surprisingly quiet, as the gigantic muffler of the Drager does its job well.
3 Spoke steering wheel w/ red stitching (from Sooprasaiyan!) also going on:
being that MKIV's are so old nowadays, part of the privilege of owning a MKIV is also restoring it to your hearts content. though the car had all gold badging and also the "Supra SE" gold emblem in the back, it wasn't for me. all new badges were ordered from my local toyota dealer. good thing i have a friend that works there as i foresee going back there alot! haha
the car came with a set of silver oem twin turbo wheels with RS3's. great tires and ill keep those for autox and trackdays. for my street set, i went to the mecca of jdm wheels in socal, VR wheels.
(not my picture, below)
as one of my favorite wheels are work equips, i initally had looked for those, but had found a set of "GMR DS-1" wheels, brand new, that he had for sale. Jack at VR wheels makes these in house. the widths and offsets on this particular set were perfect for the MKIV in functionality, and both for ease of fitment on the stock body. the wheels are fully forged, 3 piece wheels. the barrels are forged as also the faces. jack informed me that real equips have cast centers, as opposed to these having forged faces. im not to say one is better than the other in construction, but these wheels are extremely light! and very strong to boot. they were quite pricey but i have no complaints as they were likely the highest quality set of wheels i've ever owned lol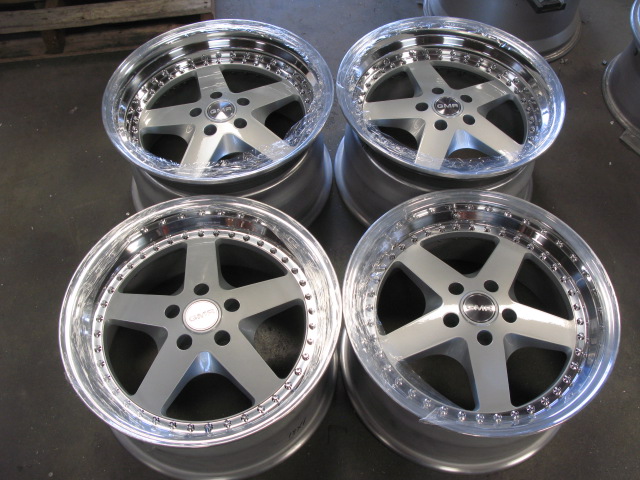 so on they went:
the front end has quite a bit of peppering as you can see, but its expected from being a track car. its going to be out there again so it is what it is.
aem v2 flexfuel setup tuned by FSR works seamlessly and flawlessly.
thats it for now. not bad for only my first week of ownership. i have a boostlogic turbo manifold itching to go on but there will be lots of other parts to purchase and use in conjunction with it before this car gets to breathe through a turbo.
boost to come!
cheers,
-Mark