Discussion Starter
·
#1
·
I just purchased a 1989 Supra with 39,000 miles on it last week. Everything on the car is original and there have been no modifications. You can see the car here: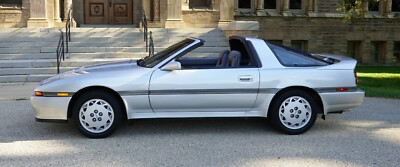 Low Mileage 1989 Toyota Supra Intercooled TURBO with Targa Top ! 1989 Toyota Supra Turbo For Sale. Ready to show or drive anywhere! Now is your chance to own a rare and desirable Classic Toyota Supra Loaded with options!
I want to keep it as original as possible in case I sell it later down the line but also would like to do minor modifications that will help the performance of the car. I am going to put in a new stereo and my mechanic is putting on new belts, changing the fluids and replacing a motor mount that is bad.
Does anyone have suggestions on what I should update on the car? Also, does anyone know where to buy a new condenser for the car? I can only find used one's on Ebay.
Thanks for the help. Sorry if this is a repost. I had a 1988 Supra Turbo Manual back in 1999. I sold the car when I went to college and as a 40th birthday to myself, i bought myself the 89 last week.
Thanks all for the help. It's great to have the Supra back in my life!