Alright,
Well the Supra was repainted Dodge Viper Saphire Blue and has Gold Volk SF Challenges. Also has RMM lip and Wing. I'm going to try to make this list of mods of the top of my head, so it will probably be in some random order. Haha, sorry.
SP71GTS
SP Intake Manifold
1000cc injectors
Fluidine Raditor
Greddy 3-row
Weisco Pistons
Carillo H-beam Rods
HKS 272 Cams
3 inch DP
HKS Ti Exhaust
Tein HA Suspension
6 Point roll cage (Targa still fits in trunk!)
Sparco Milanos (Blake Suede)
TRD 10,000RPM Tach
Greddy Boost, EXT, Oil Pres, Oil Temp, Fuel Pres Gauages
HKS VPC
E-01 w/Piggy Back
G-Force ECU (8000RMP Redline)
WOTM Clutch
Stock Pressure Plate
RPS Flywheel
Recently rebuilt V160 Transmission
90mm (I believe) Trottle Body
Greddy Oil Relocator
Battery Relocated to trunk
*Back seats taken out for system
*I can't remember anything else...lol
*****************Go here for pictures...
http://www.dudefish.com/marshall/ebay/mhaynes/
Also, here is a photo with the motor...The fan shroud is now on and it's painted the color of my car, too.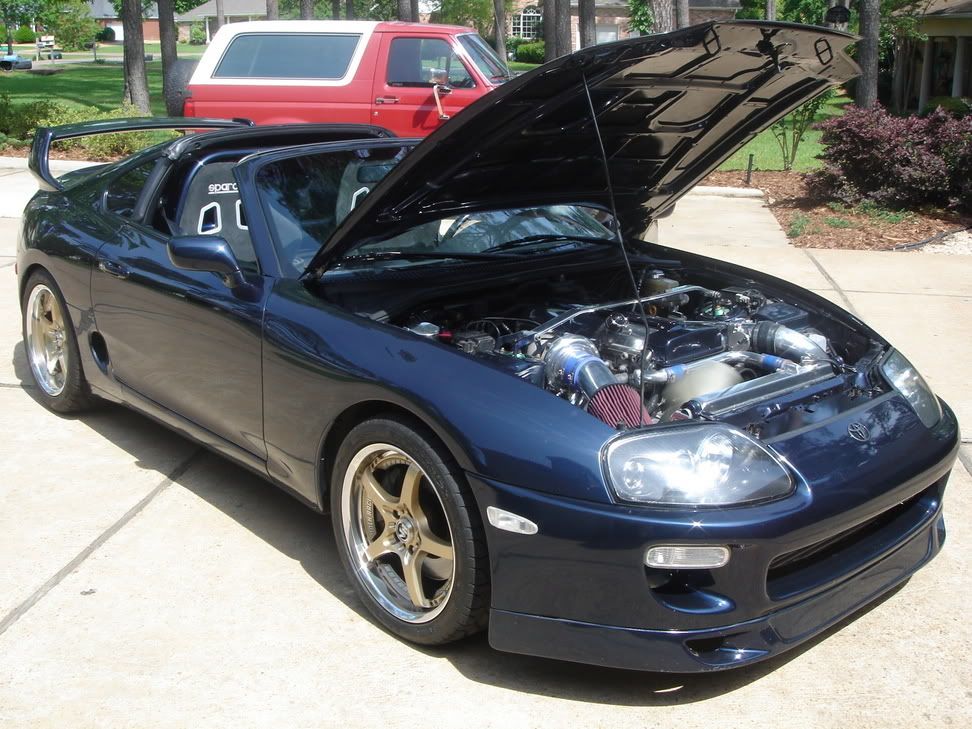 Thanks,
Matthew Haynes
Asking $47,000obo. (negotiable)
**Let me know if y'all need anything else.
**********Also, NO TRADES, NO PARTING OUT, AND SERIOUS INQUIRIES ONLY PLEASE.************