Discussion Starter
·
#1
·
Like a phoenix rising from the ashes, my 1999 JDM Toyota Supra turbo with TRD (replica) 3000gt body kit has reached the completion of the first phase of a multi-phase restoration journey. For reference, this is my 4th Supra, but the last one I owned I sold while living in the US in 2007. So, it's been a very long journey of discovery of what I enjoy with cars which led me back to this place and the MKIV Supra. Big difference now, other than the passing of 16 years since I sold my previous MK4 Supra turbo 6 speed, is that I've retired in Thailand. This is a big part of this story because there are not many Supras in Thailand, they are very expensive here and getting new parts imported into the country is extremely expensive. Nevertheless, I decided to bite the bullet and just go all out and buy whatever parts I feel she needs to make her perfect... nay, better than perfect if possible.
The car I purchased recently had a new Garrett single turbo and 1600cc injector kit installed. It has had a FMIC, Work Meister S1s, OEM automatic transmission with tiptronic (very rare from what I can tell), and your typical early to mid-2000s gimmicks and performance mods. Many of those gimmicks and performance mods will be addressed in stage 4 of this build, but for now, let me summarize Phase 1 and show you the before and after in images:
Phase 1 consisted of a complete exterior restoration with a reversion of a mid-2000s modified look to a bit more classy (to me, anyways) appearance. That is to say, I hunted down almost all consumable window seals and trim, including new rear quarter windows, engine weather seals, OEM hood and rear wing, S1 cloth seats to replace the impractical and unnecessary Recaro Milleniums... and so much more. When I bought the car here in Thailand it had already been re-sprayed from RSP to white and it had your typical cosmetic mods that add no value (IMHO they subtract aestetic value and sex appeal) such as a carbon fiber hood and a huge Kansei service carbon fiber "race" wing. My goal for this phase of the project was to retain the 3000gt body kit but restore the body to factory like condition. This included the removal of the old carbon fiber gear previously mentioned as well as returning the car to its RSP original color.
Here's what the car looked like when I bought it in December 2022: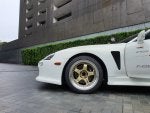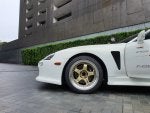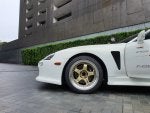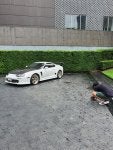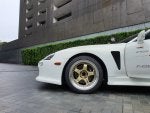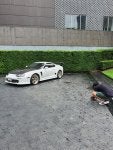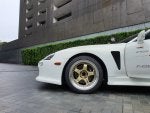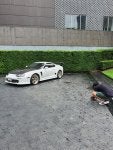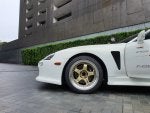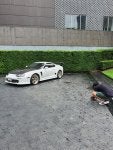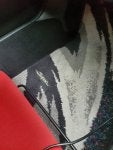 And now, for the big reveal... here are the images from the completed phase 1 of my restoration project:
Will attach additional images in a follow up reply.
With Phase 1 complete, I now move her on to the next phase of replacing just about every accessory, worn or not, on the front or on top of the engine. This work includes new valve springs, seals, VVTi cam gear, solenoid, exhaust cam gear, new engine beautification items, new covers for the fuse boxes, 200am alternator, water pump, timing belt, PHR pulleys, rebuilt power steering pump, power steering resevoir, brake master cylinder, stoptech cross drilled and slotted rotors, rebuilt rear diff and bushings, throttle cable, and so much more. I spent the last 2 months acquiring all these new parts at a tremendous expense. But, once this next phase is done it will be in very good condition. Then, it will be on to phase 3, which is KW V3s, new strut mounts, hardrace control arms, and bushings. Phase 4 will be to address various issues with the interior and stereo and modernize quite a bit. Stay tuned for updates on those projects as the next 203 months unfold. Hope you enjoy seeing this...