Alright, help me out if you can please, i have a 97 240SX with a non-vvti 1JZ swap, just finishing it up.
So from the very beginning, when I first started my new engine, it ran rough, and had a random misfire at idle. I figured it was the 20 years old oem coil packs with small hairline cracks, so I replaced them with replacement coils from Autozone. The car ran 100% better at idle, and driving around town, no miss, no stutter, just that smooth JZ growl, however they developed cracks and missed under WOT at full boost(cheap chinese coils). So then I bought brand new OEM Denso coil packs (see below), and now the car runs like total dick again. Random misfire at idle, runs on 4-5 cylinders when cruising around town etc...So heres what I did tonight:
* Tested my NEW Denso coils, on a known-good 1JZ with exact same build, car ran its ass off, confirming that the coils themselves are not bad.
* Tested ANOTHER set of used cracked AutoZone coils on my engine, random misfire at idle went away, and drives around town flawlessly, but still misses under WOT full boost.
* Tried a new ignitor...no change
* Went through each brand new OEM connector, and resqueezed the pins to ensure a full connection...no change.
* Unplugged each coil one at a time while the car was running, each time it changed the idle, and you could hear it make a difference
* Unplugged each injector one at a time while it was running, each time it changed the idle, and you could hear/feel it make a difference
* So both those tests show that its not a specific cylinder that has a problem.
Its a random, constant misfire at any load above 10% throttle. All the way home from the shop it ran on 4-5 cylinders, with a very rare and occasional clearing of its throat and ran normal for split seconds at a time...
What in the fuck could cause it to run rough on 4-5 cylindrs with 2 different sets of OEM Denso coils and a constant random misfire, but run 95% better with the 2 different sets of Chinese Autozone coils?
Car: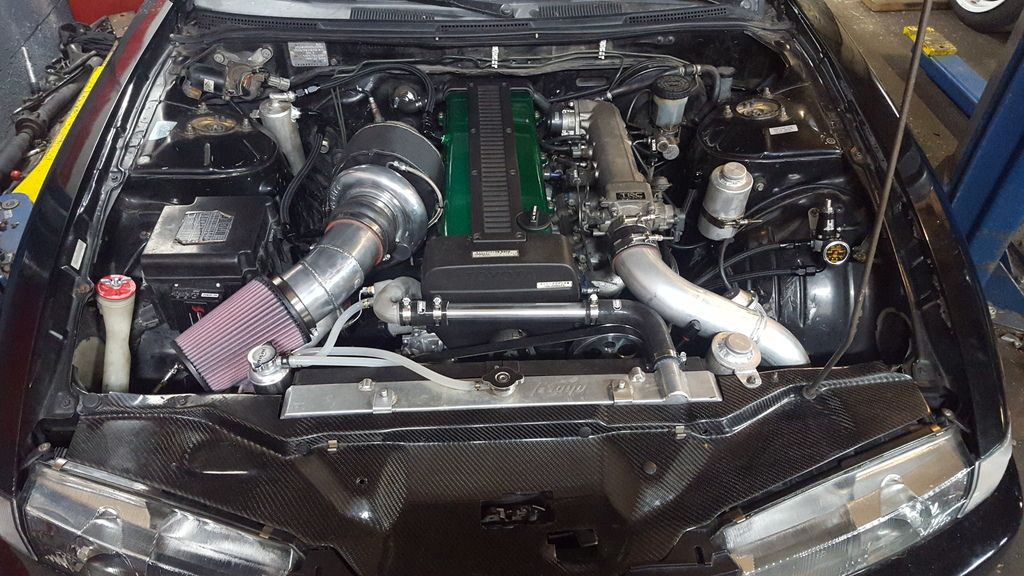 Engine Spec:
*1JZGTE (low mileage in great shape)
*HE351CW turbo
*440cc injectors
*Stock ECU+SAFC+FCD (very mild adjustments made)
*Plugs are new (~300 miles) NGK BKR7E gapped at .028
*Denso Coils (brand new in box, OEM Denso, with brand new OEM connectors)
*Aeromotive AFPR @ 44psi
*Aeromotive 340lph fuel pump