UPDATE AND DIAGRAM BELOW
First off, i've recieved Several emails from people in regards to this in the past few days. Let me start off with saying, i want to help. However, since i'm not currently up and running as of 8/13/2005 i can't give you everything if it turns out that i'm missing something. Also, some may questions the reasoning behind my logic of some of the parts that i installed. Also, this is a standalnoe unit that can be used for MANY vehicles with just the change of software in the EMS. So you don't have to run a 2JZ 30-1100. You SHOULD!, not proven!, be able to run Any AEM EMS and be able to get it to work properly.
So, with that note let's begin.
Parts List
Map Sensor
: I suggest the AEM map sensor. It will screw directly into the manifold and it's easy to wire in from there. I have an AEM Calibration for the 2JZ map ONLY! no other map. But that can be easliy changed in Your EMS.
ECU Plugs
:
You will need to aquire some ECU plugs for the AEM EMS. You can aquire a fields harness, like the one pictured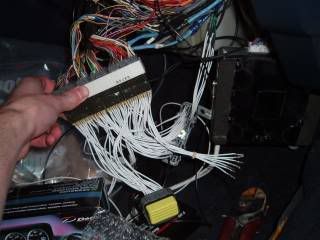 from Richard Welch at
[email protected]
. Tell him that you need the 1JZ-GTE ECU male connectors, your preference on the length of wire you need, and the 2JZ ECU female connectors NOT WIRED TOGETHER! The cost will be around $300. So, heads up for that. I'm sure if there are enough ppl that he would do a Group Buy.
Also, you SHOULD! be able to get another cars EMS, say Integra, and find some Integra ECU connectors and then just run the 2JZ EMS Calibrations. AEM EMS Tech guys, if this sounds wrong PLEASE!!!! let me know.
Injector Resistor Pack
:
This item is neccessary if you're running the MKIV 550cc injectors or any other Low Impedence injectors. If you're running HIGH Impedence injectors then all you will need to do is change the settings in the AEM EMS to equate for the Impedence difference.
I personlly am running the MKIV injector resistor pack. I'll tell you a little more of the reason why a little more in the post.
Wiring
General
:
The 1JZ and 2JZ are VERY similar in almost everything. This makes wiring a breeze and easy enough that if you can wire in a 1JZ you can wire this in.
There are a few discrepancies though. I'm working on modifying an Excel doc that an AEM board member used for the 7M. But i need to change it for the 2JZ. For right now, you can go off of
1JZ-GTE ECU Pinout: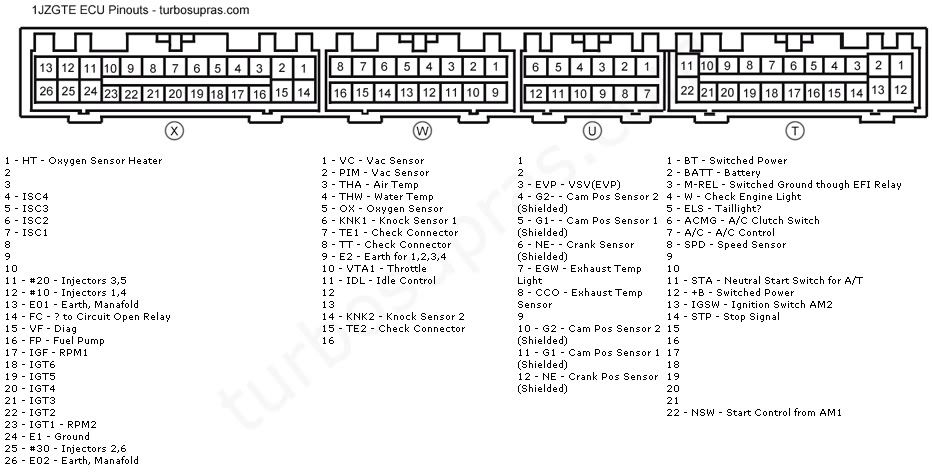 2JZ-GTE ECU Pinout: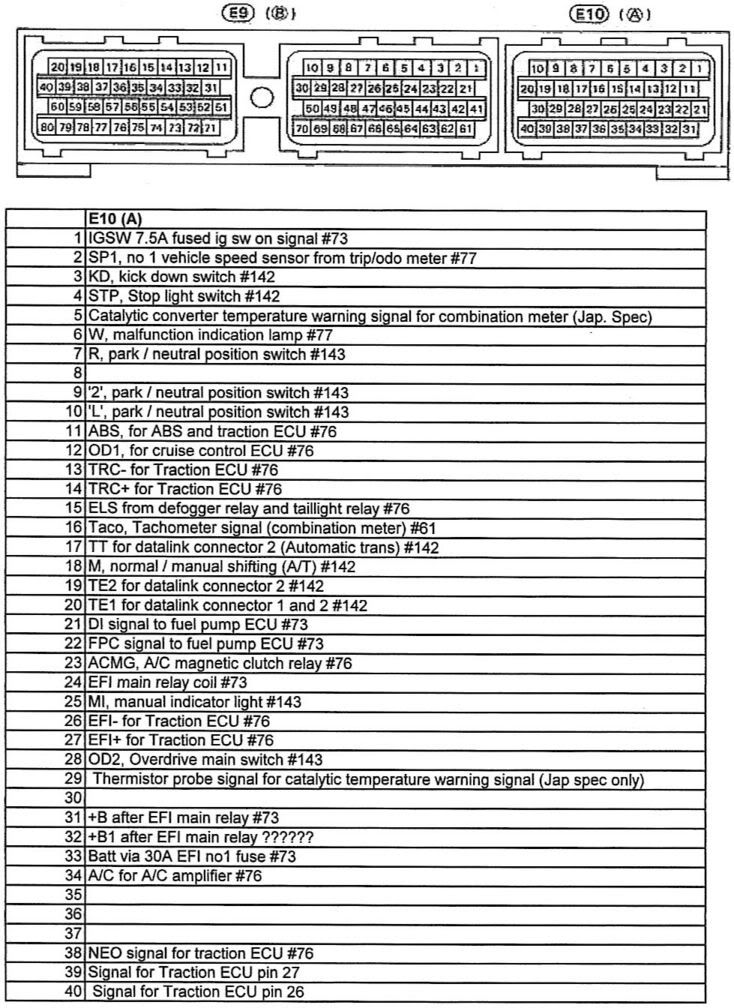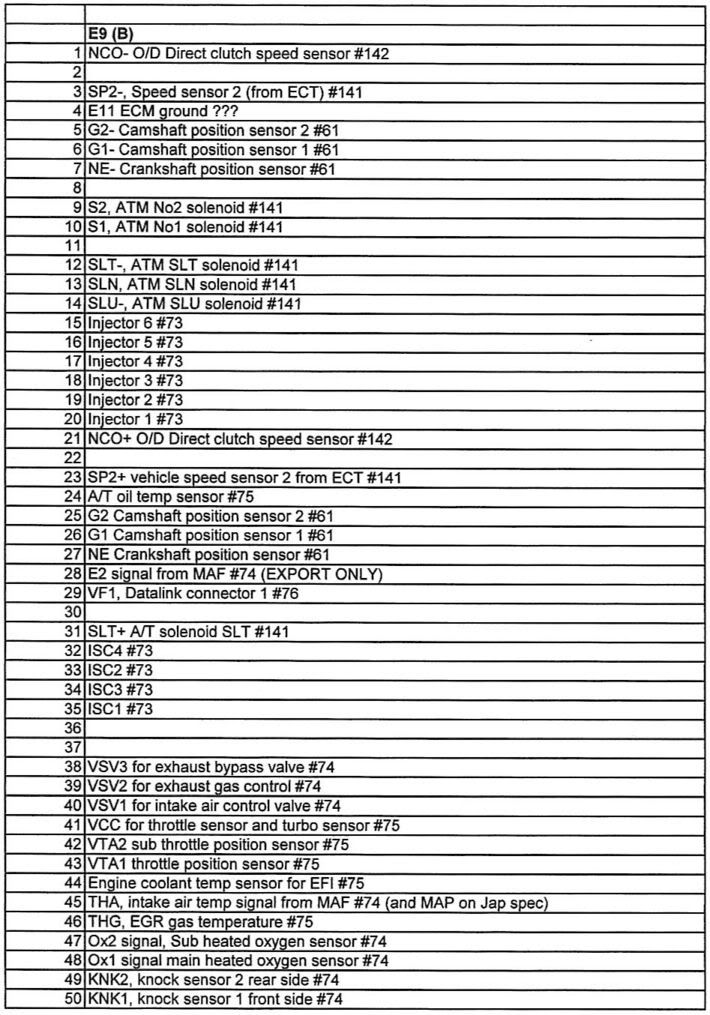 Also here are some of the Wiring diagrams for the MKIV
http://www.mkiv.com/manual/1995_electrical_manual/index.html
Injectors
:
I SUGGEST! that IF! you get the MKIV resistor pack then you wire your injectors in seperately from everything else. All you need to do is to still find the B-O wire that you used for the MKIII resistor pack and wire in the MKIV B+ to that. Then seperately wire in the injectors using the AEM for the Signal and the Reisstor pack as the Power. Otherwise if you're running High Impedence injectors then you will still need to wire in the Signal side of the injectors to the AEM and then change the resistance. I THINK!!! that you can change the AEM EMS so that you can run off of Batch Firing like the 7M and the 1JZ. The 2JZ however is programed for Sequential Injection.
Fuel Pump
:
This is the tricky part. The MKIV uses a Fuel ECU that does the same function as the 7M Fuel Pump Control Relay. I suggest on doing the 12V Mod that you can find that SEVERAL members have done and run 12V all the time. If you do not do this, you need to find your own way around gettign fuel to your engine.
lol
Final Thoughts
This is really QUITE easy to do. If i were more skilled in the art of the standalone dept. i'm sure that i would be able to change a TON of this stuff for you guys on the AEM EMS and it would be so easy. But for now the wiring is simple and the running well part is going to be a little hard to get nailed down perfect.
Good luck and let me know if you need more info. As for now, that's about all i got.
HTH,
Bryan