Long overdue to start another thread with a more updated build progress of my car to have in my sig as a link.
Since my last thread in Members rides i have gone from Stock Twin 2JZGTE to a Big 'ol T88, re-did the entire fuel setup to support 600RWHP+(which i aim to attain as soon as i break in my new Exedy Twin Plate clutch). From there, i may upgrade the injectors and try for 800+. but first baby steps.
552RWHP 462RWTQ @ 16psi w/ AEM ECU on 91 octane
Few months before made
620RWHP 524RWTQ @ 28psi w/ Gforce ECU on 100 octane (pre AEM)
Got the antilag and the flat shifting in use in video!
****************VIDEO*******************
http://www.youtube.com/watch?v=t6zz_HJDzgs
Engine Specifications:
2JZGTE Swap
AEM EMS
AEM UEGO Wideband
GReddy T88-33D
GReddy Type-CH Wastegate
GReddy 720cc Injectors
GReddy Type R Intercooler
GReddy Downpipe
GReddy Intake
GReddy Timing Belt
GReddy Profec-B Boost Controller
GReddy Turbo Timer
GReddy Heat Shield
HKS Cam Gears
HKS Camshafts 264 Intake & Exhaust
HKS Fuel Rail
HKS HiPower Muffler
HKS Super Sequential Blow Off Valve
HKS Twin Power DLI
HKS Cosmos Dual Fuel Pumps
Danstoy 3" Catback Exhuast
Danstoy Intercooler piping
Danstoy Exhuast Manifold
Exedy Twin Plate Clutch
Exedy Lightened Flywheel
Earls -6 Fuel Lines
Earls Fuel Line Fittings
Earls Dual Fuel Filters
1JZ Hydraulic Fan
1JZ Bell Housing
TRD Oil Cap
TRD Radiator cap
Yashiro Factory Intercooler block off plate
Aeromotive Fuel Pressure Regulator
Autometer Fuel Pressure Gauge
Denso Copper Sparks
Optima Yellow Top Battery
MVP Top Radiator Pipe
Koyo Aluminum Radiator
Suspension, wheels & tires:
Work Equip Wheels
Front 18x9.5 +28 Offset
Rear 18x10.5 +28 Offset
Dunlop SP9000's
Endless Brake Pads
Tein SS Coilovers w/Pillow mounts
Brembo Cross Drilled/Slotted Rotors
Earls Stainless Steal Brake Lines
Interior:
Recaro Speed Seats
Momo Steering Wheel
TRD Shift Knob
Eclipse Double Din Headunit AVX2494
Eclipse Amplifiers
Eclipse Speakers
Momo 12" Subwoofers x 2
Custom subbox built under stock carpet, targa fits in back over it
AutoPower Racing Harness'
Titan Motorsports Harness Bar
Exterior:
Bomex Type 1 Lip
Bomex Whale Tail
Carbon Fiber Bomex Side Skirts (only set ever made 1 of 1)
Carbon Fiber Bomex Rear Skirts (only set ever made 1 of 1)
Carbon Fiber Stout Hood (Authentic)
Carbon Fiber Headlight Covers
Carbon Fiber Air Guide by ShineAuto
Custom Low/High Hella 90mm Headlights (DOT Legal)
Custom Widebodied fenders
Euro Turn Signals
3.0 GT Turbo Badges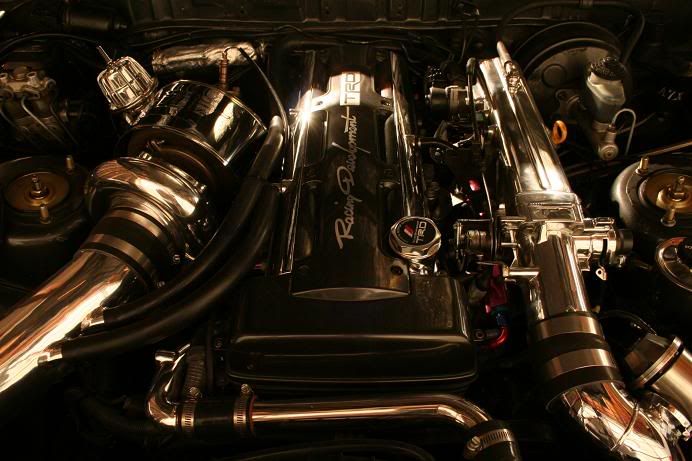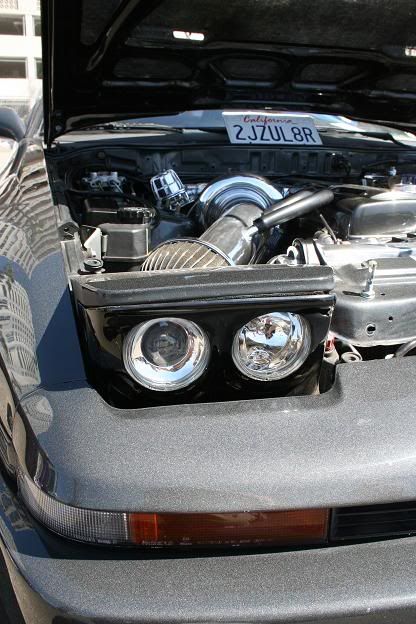 The Collection:
***

My Feature in Import Tuner Magazine of Feb. 2009

*** <<<<<CLICK HERE