Discussion Starter
•
#1
•
Mark it on your calendars – Sunday July 2nd 2006
PSTOC and Pacific Northwest Scion Evolution have joined forces to bring you the 2nd annual All Toyota Festival. Last year it was a bbq and this year its at XXX in Issaquah.
Pre-Register your Toyota/Scion or Lexus for only 10 dollars by emailing
[email protected]
So you think your car isn't worthy of a show? WHO CARES! This is open to all Toyotas/Lexus and Scions. Whether its stock, fully modded, damaged, SUV, Truck, station wagon.
IF ITS A TOYOTA WE WANNA SEE IT!
Represent your ride by showing it and enjoying the company of other enthusiasts and join us for some sweet rides and a good time on Sunday July 2nd 2006.
Trophies and Prizes will be awarded.
What: 2nd Annual All Toyota Festival
Where: XXX Restaurant – 98 NE Gilman Blvd Issaquah, Washington
When: Sunday July 2, 2006 – Roll in 8:30am – 10:45am -- Show 11am - 3pm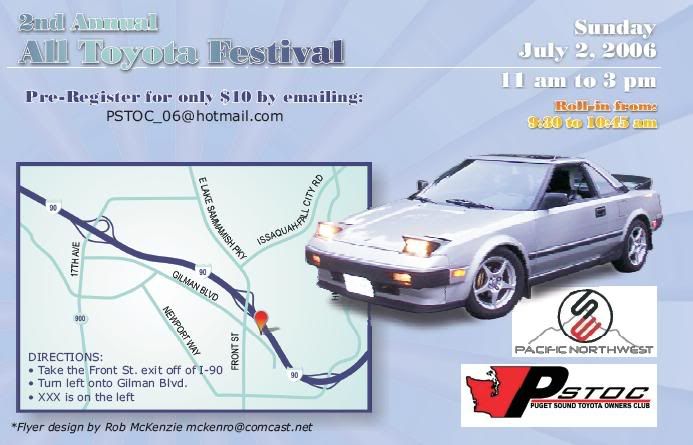 Original Thread:
http://pstoc.com/forum/posting.php?mode=editpost&p=19526
Other Forums:
www.alltrac.net
www.wattora.com
www.celicagarage.com
www.celicatech.com
www.dorikaze.com
www.hachiroku.net
www.newcelica.org
www.supraforums.com
www.mr2oc.com
www.celica-gts.com
www.bcmr2.com
www.6gc.net
www.classic-celica.com
www.vvt-i.net
www.9thgencorolla.com
www.toyotanation.com
www.scionlife.com
www.supramania.com
www.us.lexusownersclub.com
www.IS300.net
www.solaraguy.com
www.priusonline.com
www.matrixowners.com
www.priuschat.com
www.spyderchat.com
www.newscion.com
www.sciongirls.com
www.toytagirls.com
www.customtacos.com
www.ttora.com
www.yotatech.com
www.yotahq.com
www.tlca.com
www.ih8mud.com
www.northwestmr2.com