So I finally got to posting these numbers up, as I've been delaying it trying to figure out what's wrong with my car, lol. Anyway, before I get into it, I'll post my setup, as it's a GTE swap into an SC300. Here goes...
-Stock 2JZGTE motor (stock head, stock intake, stock pistons, stock rods, etc)
-Getrag V160 with Carbonetic triple disc.
-HKS 4 Row FMIC
-3in downpipe that Y's off into TWO, 2.5in mufflers (it's an SC, so I went for the stock "look" with the twin exit).
-GT4094R Turbo w/ .95 A/R
-Greddy exhaust manifold
-Greddy WG
-Tial BOV
-Batlground Motorsports Fuel System. with twin Walbro's, Aeromotive AFPR, stainless lines, and 1000cc injectors.
-GSC S2 cams
-Supertech Dual Valve Springs w/ retainers.
-Titan Cam Gears
-AEM EMS
Now for the problems. I seem to have a bottleneck in my car somewhere, and I'm just not sure where. The only thing I changed from before was the fuel system, cams, springs/retainers, and cam gears. The 561whp was on 20psi, on pump gas (93 octane). The 659whp was on Q16 and 26-26.5psi. The increase in power I was getting when I started to add more boost was minimal at best. I was maybe seeing like 6-7whp per psi if I went past the 25-26psi mark. Just diminishing returns. I thought that was really odd considering there are guys who are running 67DBB's and making MORE power, and with the 4094R having the 94mm exducer. I'm also running a bigger A/R than most on their 67DBB's, as I'm running the .95 as opposed to the .81 A/R. I don't really know what could cause this though. I was thinking maybe back pressure from the exhaust? I'm running a 3in DP, but would the two, 2.5in mufflers cause this? I thought guys run 3in all the way to 800+whp? Also, another weird thing was the changing the cam gear setting did NOTHING. I mean, I went as far as to advance each side like 5+ degrees, just to see, and NOTHING. It didn't move the powerband whatsoever. I just don't know what else to look for. I've even done a compression test to see if my motor was weak, but the numbers were fine. I've seen dynos on here of cars making over 700whp with a 67DBB, so maybe my turbo just sucks big time? LOL. Could the cams be the issue? Exhaust? Any ideas? Also, should the power hold a bit longer with the cams? Just curious...Thanks ahead of time!
Here's the graphs...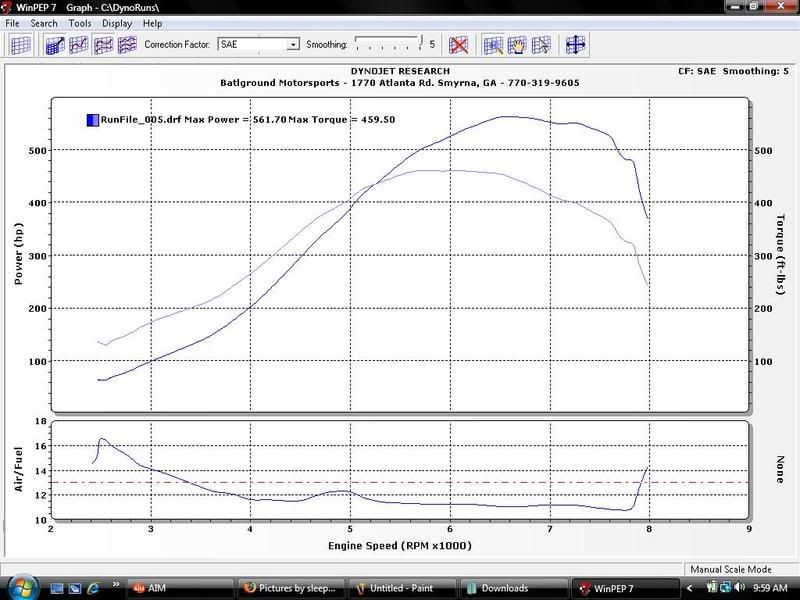 ^^^20psi on pump gas^^^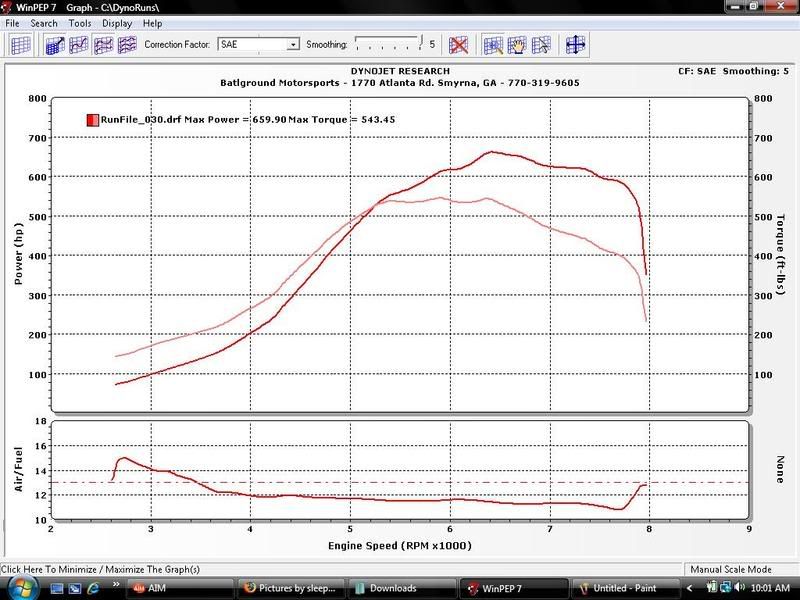 ^^^26psi on Q16^^^