What is your First & Last name? Adam Woodside
What is your email?
[email protected]
What is your phone number? -Optional: 615-424-1511
What is your City? : Franklin (about 15 mins south of Nashville)
What is your State? : TN
What is your Zipcode? : 37064
Factory Twin Turbo Auto car
48,000 original miles
No wrecks, no accidents or fender benders
Seen rain once in the 3 years Ive had it
All vins 100% intact
Clean title, in hand
KBB Value Click Here
Sorry ahead of time for all the grammar errors, Ill try and go back through and fix all the punctuation later.
The background info:
I guess I have put this off long enough... I really don't want to sell the car, but it just doesn't fit into my life right now. It is one of the most impressive cars I have ever been behind the wheel of much less been blessed with owning. I set out to build what I thought was the ultimate street Supra, and went through a few different set ups along the way. I wanted to start out with a "perfect" chassis in my opinion. I wasn't getting a Supra to set out to break any records, or to do anything other than be a bad A$$ street car.
I bought the car in October of 2007, with 44k miles, from another member Joshua Bounds(2nd owner). He had just gotten all the BPU mods along with the first MR coilovers installed by Jeremy Blackwell @ Speed4Sale just a couple thousand miles before I bought the car. All mods,(after BPU) and any work done to the car was done by my brother and I or Carma Performance Engineering. The car has been nothing but pampered its life with me. I took it to the track one time, on the stock fuel system,
[email protected]
, and the BoostLogic trans, it went
[email protected]
with a slow 1.8 60' MT Dr's on stock wheels. That was with all of about 450whp, the car as it sits now made
[email protected]
on a VERRRY conservative DynoDynamics with the billet 76. (I would guess roughly 725whp on a DynoJet) This current turbo has a TON left in it. You can basically pick your power level by the fuel you choose to run. All the the other components in the car are ready for around 1000hp. I have no doubts that it is an easy 9 second car with the right wheel/tires. The Boost Logic Auto has been nothing but wonderful the whole time I have had it. I have had trans cooler sized for an 18-wheeler in it since the first day, as well as a digital temperature gage, that way you can see in real time trans fluid temps, and keep an eye on things should you choose to do a few highway roll ons. The trans shifts very firm and is very responsive with the AEM. With this transmission, I feel you get to "have your cake and eat it too" with the BL auto. It will hold plenty of power for 9's, it has over-drive, and the is no big multi plate clutch to have to mess with and the ease of driving is no where near comparable. You can cruise the car to the grocery or where ever you want and it will drive almost like any other auto, until you hit the gas peddle, with the help of the AEM, the trans has no problems shifting down to the best possible gear to unleash the monster she is. Once the billet 76 comes alive the steering begins and unlike a manual there is no rev limiter to hit, the BL auto seamlessly hits the next gear without any loss of boost, feeling like one continuous pull until you run out of road!
In July 2009, I thought I needed to have a Getrag in the car, but I was far too attached to this chassis. So Brad and Erin at Carma pulled the Bl auto and I bought a full 6sp swap, and OS Geiken triple carbon clutch. The swap was done perfectly and everything was as good as OEM, but it just wasn't the Supra I wanted. I had a blast on the highway, but the big turbo and manual just was never what I was looking for. The clutch was a booger to drive and I missed my BL auto the entire time. So we swapped the car back with a brand new OEM auto tunnel, and everything back just like it was before. The BL auto makes the car the "perfect" supra for me. I wouldn't have it any other way.
Exterior:
I would give the exterior a 9.5 out of 10. There is only one flaw on the exterior of the car, and you can honestly barely see it. There is a small "ding" behind the driver door handle. You cant see it in pics, but Joshua was nice enough to point it out to me,and ill do the same. There are a couple scuffs on the bottom of the front lip other than that, she is mint, and 100% all original paint. The fenders have been rolled and cut smooth front and rear. Could run a 12" wheel on the stock body now, or a very large drag radial
The interior:
I would again give the interior a 9.5 out of 10. The stock black leather seats are sill in excellent condition. I took them out of the car a couple months after buying it in favor of few different sets of seats. This way the seats could remain in mint condition while I owned it. The dash is in perfect condition, it currently has a Panasonic in dash DVD/Nav with the gauge controller mounted underneath. I have the factory radio that ill give with the sell. The rear seats are still in the car and look as if they have never even been sat in. There is a small tear on the drivers door panel where i guess I shut the belt in the door. Still has all the factory floor mats in great shape.
Suspension/Brakes:
When I bought the car Jeremy @ Speed for Sale had already put a set of the Megan Racing SS coil overs on the car with 14kg/10kg springs. I was looking to change things up and help improve traction and Jeremy worked with me to get the current set of MR coils that are on the car now. They are a custom 10kg/5kg set up to work as a drag set up, and it worked well. The car squats better than any other Supra I have driven and doesn't feel the least bit mushy in the corners. Stock Supra Brakes with OEM pads
Mods:-(I'm sure Ive forgotten some)
Boost Logic T4 Turbo kit modified with "wedge" flange to accommodate large frame turbos. (Currently Precision Billet 76mm w/1.10 divided AR)
Boost Logic 4" down-pipe and mid-pipe
HKS Titanium 4" exhaust
Greddy 4-row intercooler kit
Titan Motorsports fuel system with 1000's, dual Denso pumps, tuned on 110oct currently, but going to E85 soon
BC springs and retainers
stainless valves
HKS 272 camshafts
ARP head studs
Titan Motorsprts Adjustable camshaft gears
BoostLogic Crank Dampener
Greddy oil cooler kit
Boost Logic Built automatic transmission with 3800 precision stall, with GIANT cooler and Digital trans temp gauge
Megan Racing custom coil-overs from Jeremy @ Speed4Sale, they are amazing, rides very nice on the street and squats like crazy on take off.
Work Equip 01 wheels 18x9.5f and 18x11.5r 255/30/18f and 295/30/18 rear (ill have to get offsets, but I think its +25 front and +38 rear...
Modillista carbon fiber front lip
Shine Auto Carbon rear diffuser with the extra fins
AEM EMS- 93 and 110 maps right now possibly adding an E85 map soon.
AEM TruBoost boost controller
Defi gauges (EGT, oil press)
Panasonic in-dash navigation
3000k Hid's low beams
Greddy Catch can kit
custom 5" intake by CPE
Tuned by Brad @ CPE
Link to info on Carma Performance
The Price:
The KBB for the car in Excellent condition is $38,525, and seeing as it will come with over $20k in parts, I fell like my asking price of $44,000 is very fair. If your interested and think we can get close to making a deal, lets talk. I'm pretty firm on that price if you want it like it sits,BUT ya never know. . I still have most stock parts and they will go with it, so I can take a few things off of the car, and lower the price if it were to help make it happen. I would be willing to take the wheels off of course as well as the rear diffuser and couple other things I would be willing to do if it would help. I would take $40k with the stock wheels, and me keeping the rear diffuser.
I will entertain any interesting offers/trades

s
$35k with stock wheels and Ill take off the carbon front lip and rear diffuser
$37.5k and I will still remove the carbon front and rear, but leave the Work wheels
PM/Text me if you have any questions about what I mean on the price drop.
Pics/Vids:
Its really one of those things that looks cool in pics but even better in person. The car just demands attention, from the look, to the sounds, it just has a presence that seems to pull people to it. I had a few different sets of wheels on the car with the white you can change the whole look of the car with changing the wheels. Here are a few pics for now. Im having a friend who shoots for Import Tuner take some proper punctures of how the car currently sits
Ill start with my favorite part, the Idle. The looks you get while cruising through and sitting are hilarious.
Click the picture below for the video
Couple current ones I have: The Carbon hood has been sold, and the stock white one is back on now. Ill have pics up soon.
The day I picked it up:
Day 1, The Beginning
: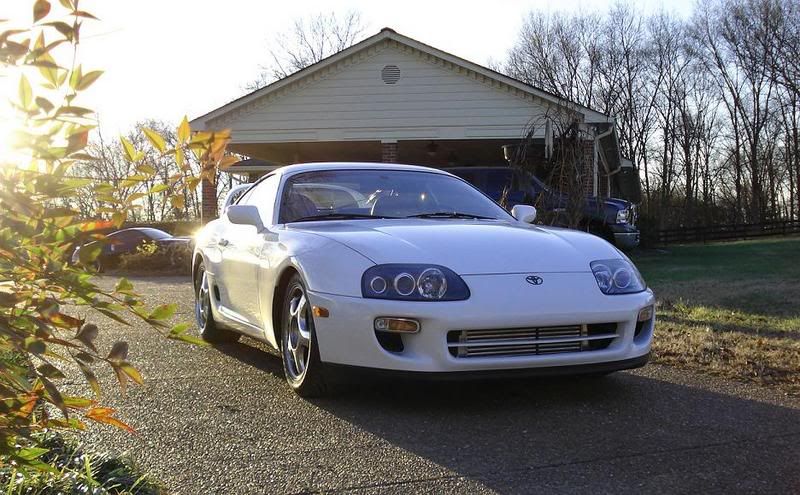 I'm an admitted wheel whore...
Gold SF:
Black SSR JDM SP1's
Then the WORK obsession began with the 3pc Meister's