SOLD
Cliffs:
'95 TT
Targa
6sp
Full BPU
Over 500HP
84,500 Chassis miles
LOTS of new parts
30,000 OBO
Tampa, FL
JT2JA82J1S0026995
Contact Info:
E-mailo:
[email protected]
AIM: CBonnerM
Cell: 813-598-0880 (Please leave a message, I'm often busy)
90% of the parts here were installed 2005 or newer. OEM parts listed have been installed 2005 or newer. Car dyno'd 380 RWHP, 380 RWTQ. This was done on low boost (15 PSI) on a Mustang Dyno. The common standard is 18-19 PSI (still pump gas) and using a Dynojet dyno. You should be able to put down at least 450WHP this way (cam gears were also untuned at the time). This car will make about 520-530 at the crank on pump.
The problems with this car are mainly aesthetic. With so many new parts, it's been problem-free, and the car has never been raced or tracked, or had anything but full 93 octane in it, either. It will continue to be a headache-free, leak-free car for the next owner. Front driver's headlight has tiny hairline cracks, which could be sanded out if taken to a headlight specialist, I've been told. Some dash panels are scratched up a bit. One of the wheel center caps is chipping its chrome. You could probably get this rechromed for about $30 at the most. Small chips on hood and left fender. The Carfax showed an accident in 2001, I believe. The last owner was given a minor hit in the LR fender. No frame damage, no mechanical damage, minimal body damage, but this panel was replaced. Just a fender-bender, completely clean title.
The new seats were installed today, and the single tan seat was only put in to drive the car a couple places while awaiting the seat brackets. The black seats are in now.
I am asking $30,000. I'm well aware this is high for a BPU. You're paying the premium for this car because it is VERY well-maintained and babied, has not been beaten on, has tons of new parts, including the parts that usually fail at high miles (seals, wheel bearings/hubs, targa seal, etc.), so it will be headache-free. Also because it is a FULL BPU, not just the typical Int/DP/Exh/FMIC you find on 90% of stock twin cars. There is at least $60K into this car, likely more, including the cost of the car itself.
Let me know if you have any questions. Now for the long maintenance and mod list:
Engine:
New OEM short block w/ all new gaskets throughout the
motor and head, properly broken in!
December 2006 compression check (rounded, numbers were closer): 165 170
170 165 170 170
Head thoroughly inspected, clearances checked, a couple valves replaced
10K miles on motor, Mobil 1 synthetic every 2K miles
oil filter and Champion Race plugs every 4K
ARP Head studs
OEM Oil Pan
OEM crankshaft pulley
OEM serpentine belt
OEM fuel filter
OEM V8 oil filter
OEM coil packs
OEM Oxygen Sensor
12 volt fuel pump mod
Custom made intake w/ K&N filter
Custom made exhaust and downpipe
HKS Type-S FMIC
custom polished IC pipes
Turbonetics clamps and couplers
HKS DLI-2 Ignition Amp
HKS VPC
Greddy BCC
A'pexi SAFC-II
HKS EVC 5 Boost controller
Blitz Dual Drive BOV with race spring
Unorthodox Racing lightweight pulleys (except crank)
Unorthodox Racing adjustable cam gears
SpeedForSale ETTC switch (sequential to parallel twin
turbos with a simple switch!)
Cooling:
Aftermarket radiator with metal end tanks
Titan polished upper pipe
Titan silicon lower hose
TRD thermostat
Titan CF Radiator cooling plate
Radiator overflow tank for HKS FMIC's
Redline water wetter
System flush performed 2 weeks ago w/ Toyota coolant
Drivetrain:
Valvoline hi-performance clutch fluid
Getrag tranny fluid
Royal Purple diff. fluid
OEM Clutch slave cylinder
OEM Clutch master cylinder
RPS Stage 2 Clutch
Fidanza lightweight flywheel
Braided stainless steel clutch line
C's short shifter (best on the market!)
Chassis:
Valvoline hi-performance brake fluid
Royal Purple PS fluid
OEM rear wheel bearings and hubs
TRD Big Ass sway bars front and back
TRD front strut bar
Technafit braided stainless steel brake lines
Rotora slotted rotors
Hawk HPS brake pads
Interior:
Fresh black interior (Looks as new!)
Jeg's GS-1 faux leather sport seats
AEM Uego 1000 Wideband Oxygen sensor
Shift Light
Air Horn
Blitz FATT turbo timer
Triple pod A-pillar
Greddy EGT gauge
Greddy Boost gauge
Indiglo white-face gauges
Optima Yellow-Top Battery
Clifford Concept 600 car alarm (HIGHLY sensitive)
Kenwood DPX-6020 double-DIN stereo
Kenwood 10-disc CD changer w/ MP3
JL Audio tweeters, front and rear speakers
JL Audio 10" sub in custom sealed, carpeted enclosure
JL Audio 300/4 amp (Over $3K in stereo total)
Exterior:
OEM wheels with aftermarket chrome (much shinier)
Resealed targa weatherstripping
Black mesh IC cover
Tinted windows (about 15%)
'98 headlights
Philips HID light kit
Front bumper resprayed due to chips
Ecsta Supra 245/40/17s front, Yokohama 275/40/17s rear
Plenty of tread left on all 4
Tires rebalanced
Perfect alignment
Zaino products used for washing/waxing
The following pictures are downsized. Full res versions are here:
http://myweb.usf.edu/~cbmurphe/
I've also included a short video to give you an idea of the sound of the car. Crappy mic doesn't pick up how loud the car actually is, but you can hear the BOV fairly well.
http://myweb.usf.edu/~cbmurphe/flyby.wmv
Exterior: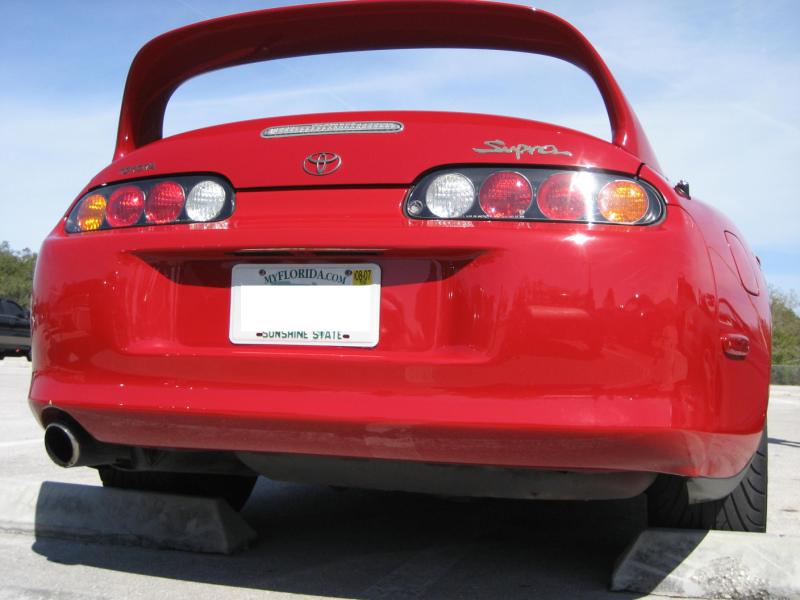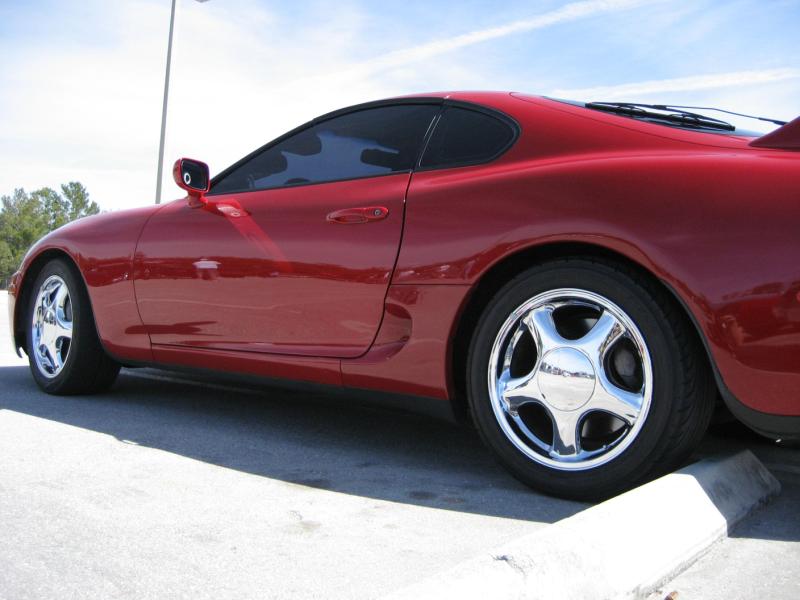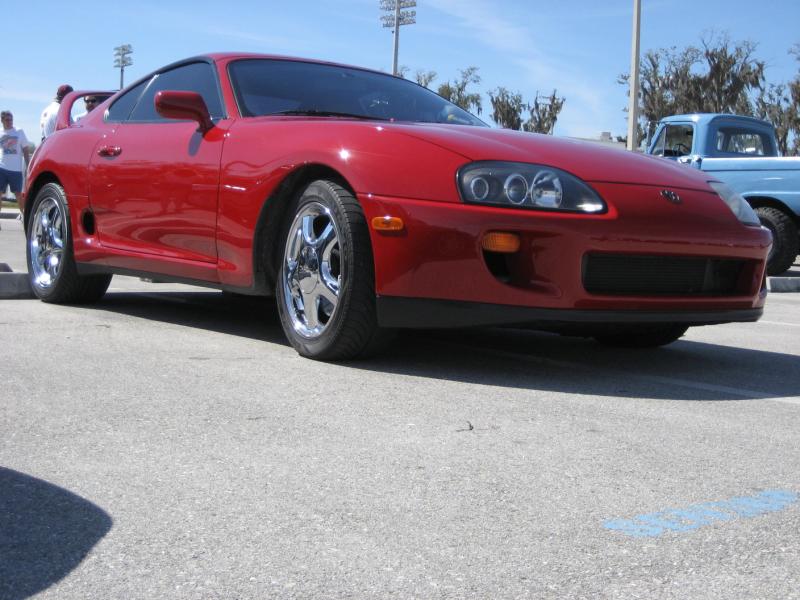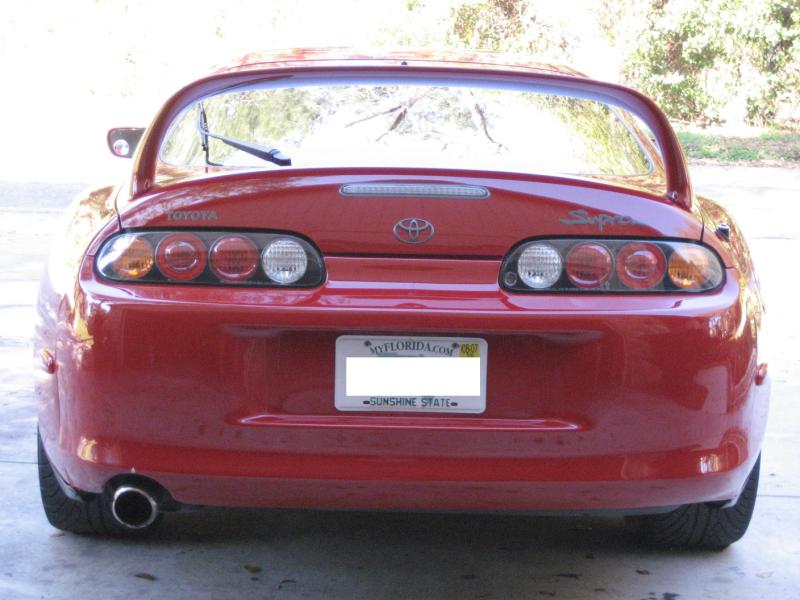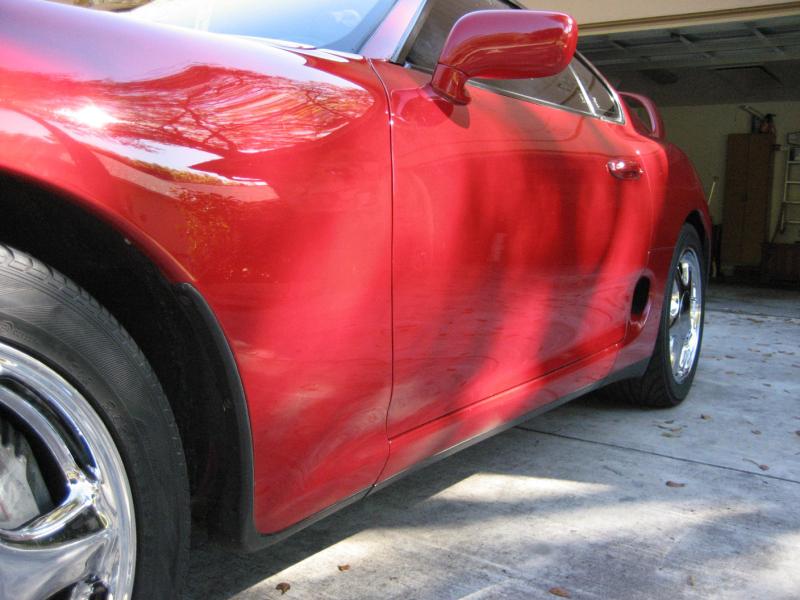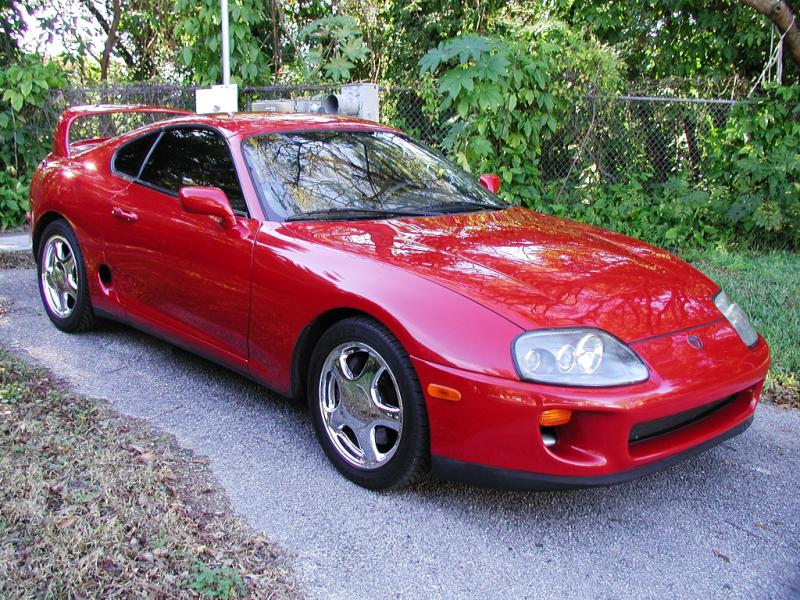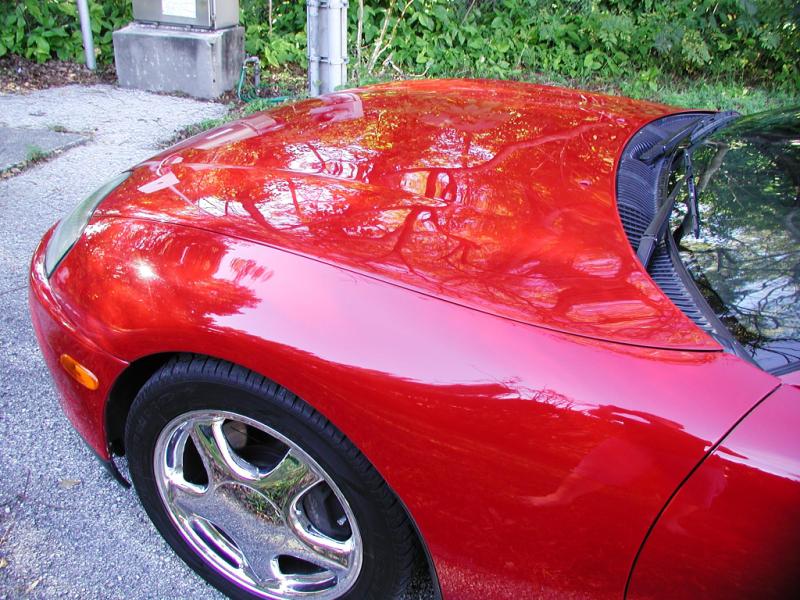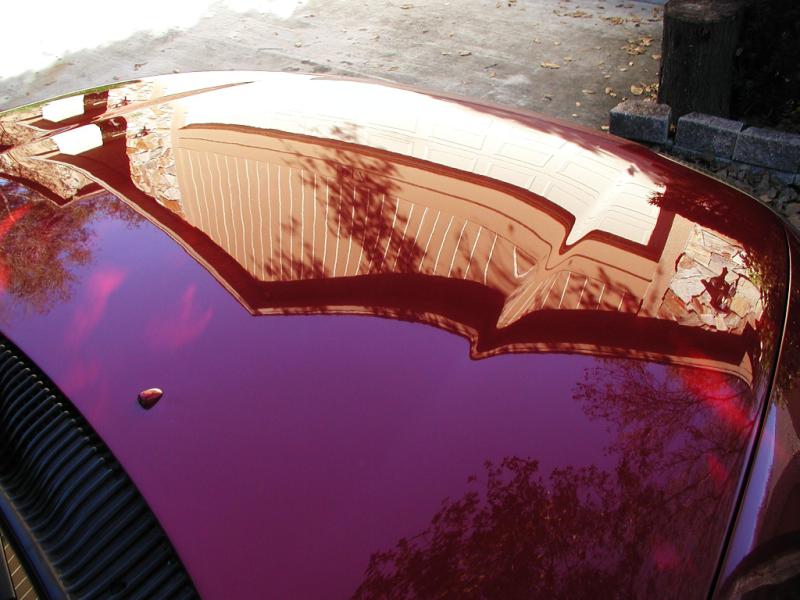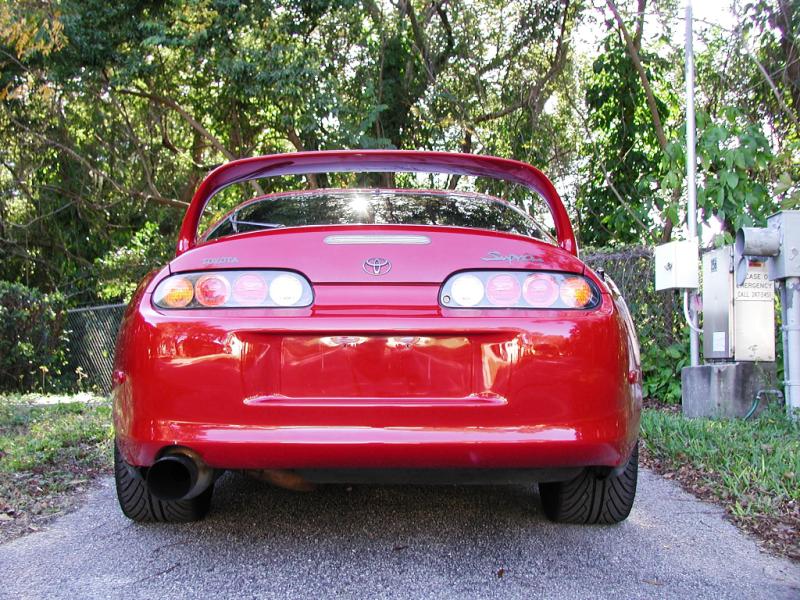 Attempt to show rock chips: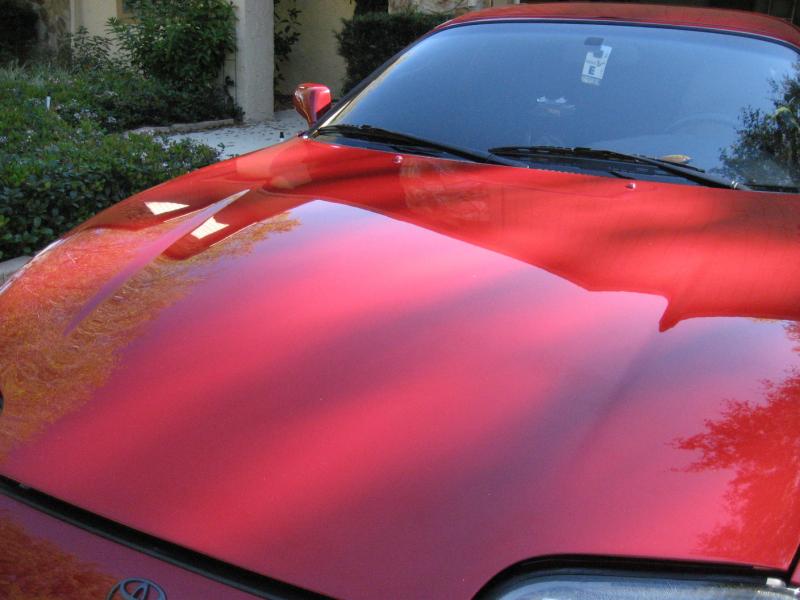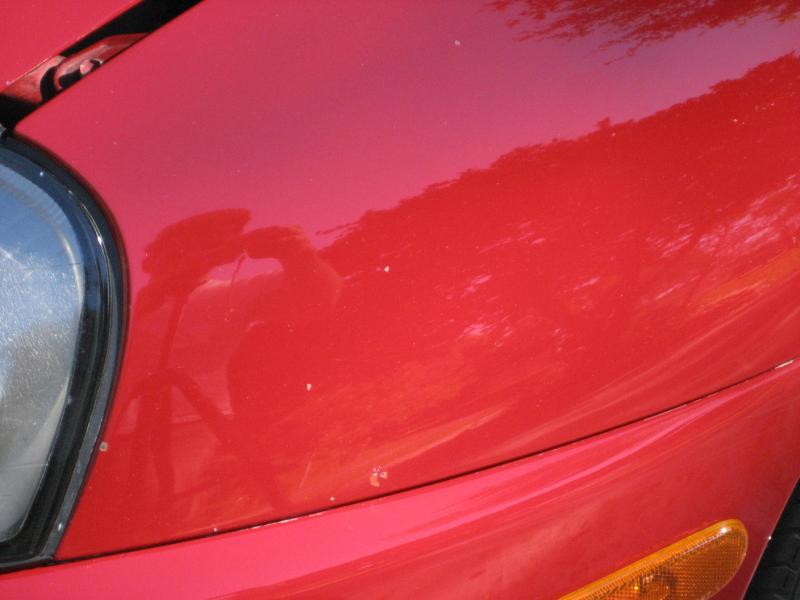 Closeup Of LR Fender Defect: