Discussion Starter
·
#1
·
First off I'd like to thank Kean, Chris and Justin … Boostlogic, Performance Motorsport and Tuning Concepts for a great job
'96 SC300 5sp with a set-up optimized for road racing and goals of ~300rwhp at low boost on pump gas and 400+ on 50/50 race gas with fast spool and a good flat torque curve.
Kean recommended a PT61 p-trim with a .58A/R. We figure a tt head gasket for 9.1:1 compression and a MAP ECU would do the job since I am not looking for maximum power. Add a tt radiator and an oil cooler for heat management as well as a bunch of PM (timing belt, valve stem seals, wires dist. cap et al). I choose an ACT street clutch for derivability, a TRD LSD and 50lb injectors so we would not run out of fuel. Since Justin wanted to adjust the timing we sent the ECU out to be modified and asked them (Techno-square?) to raise the rev limit at the same time. Then I drive the car 1,200 miles to TX and the car goes under the knife.
The tale
Chris works through a bunch of issues (gasket leaks and a warped head) and gets the car put together, Justin tunes it and it makes great numbers --- 325rwhp @ 8psi and 425rwhp @ 16psi. Good solid torque numbers and a very wide power band. Only a couple of problems 1) it leaned out at 16psi boost ; 2) there was something funny at the low end and the plugs would foul; and 3) the car would fuel cut after 3 sec of acceleration (with or without boost).
To make a long story short, and after a whole bunch of calls and testing (95 & 97 ECU's wouldn't work, then a loaner '96 ECU (Will Neely?) told the story). It seems that the fuel cut was caused by the reprogramming, but the other issues seem related to the '96 ECU. I think Will was working on a car that had a similar problem with running lean at high boost that a FPR couldn't fix. We also heard stories of others that had similar problems. A Lexus master tech indicated that the '96 ECU is notorious for having issues. I would guess it is a bit of a patch job to allow a '96 model with OBDII without thorough engineering since they were moving to VVT in '97. I'd also heard that the ECU changed during the model year. If the fuel cut could have been fix'ed we should/might have been able to get the MAP ECU to overcome the other issues, but I didn't trust the ECU reprogrammers and in the end we chucked it and went to an AEM. Everyone was very helpful in working through these issues and getting the car just right and on the road.
The happy ending
315rwhp @ 8psi and 415rwhp @ 12psi! Couldn't dyno the car at 16psi as the clutch was slipping. Kean estimates it should be close to 500. Not a lot for the drag strip but it should be great for road racing. The car is a dream to drive. Lots of smooth power everywhere, and it seems very linear. The turbo starts to spool at around 1,500rpm and reaches 8psi at around 3,500rpm. Well over 200ft-lbs at 4,000rpm. I can't wait to get it on a road track. 20.2 mpg before and 16.2-20.5mpg after depending on whether or not I behave and stay out of boost.
Final thoughts
1) Think twice before messing with a '96 ECU, there could be weird gremlins in the box.
2) Tuned by a pro (or artist), the BL kit with an AEM has lots of power and is very drivable.
3) Go to Boostlogic for great parts, Performance Motorsport for a clean install and Tuning Concepts for a great tune. :thumbup:
Before with ECU & MAP @ 13psi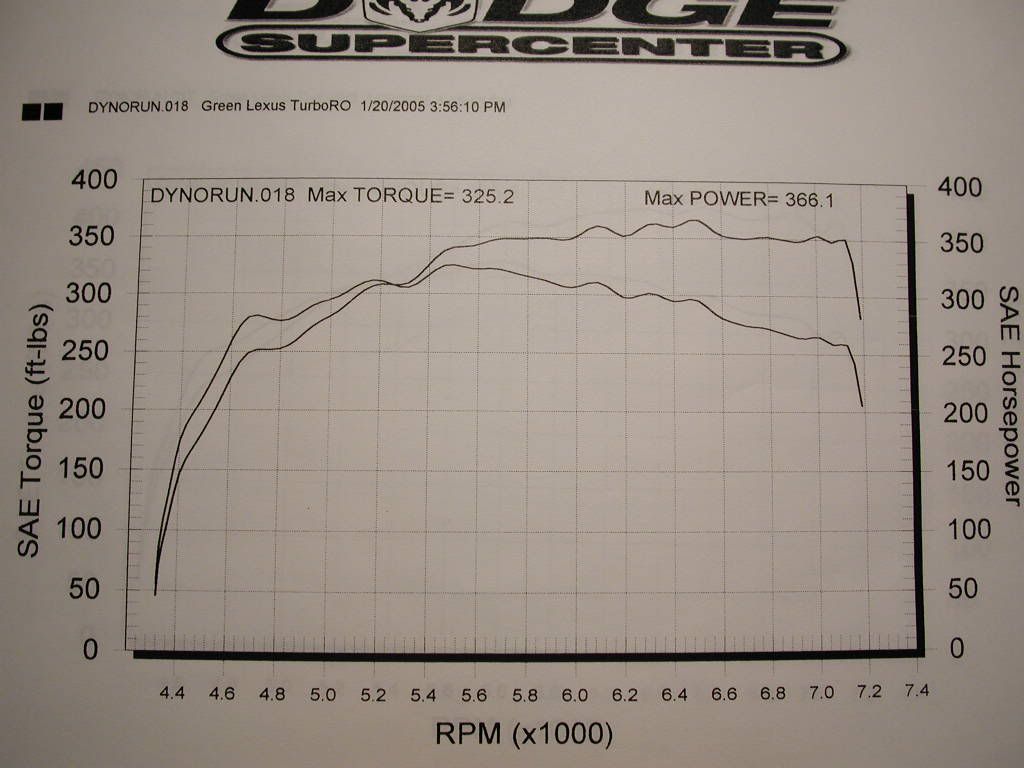 After ---with AEM @12psi