Hello SF !
It's been a while, I've been away from SF in the last few months but I should be able to start coming back more regularly
My MK3 is going well, asleep in my garage for the winter.
A friend of mine who also owns an MK3 asked me if I could print him an ash tray gauge pod with 2 switches. Looking online, I didn't found any… Time to spend some time in FreeCAD again!
I'm quite happy with the design I came up with! It's two parts, joined by spacers. At first I made the spacers directly in the front plate but it wasn't practical to print. That's why I made screwable spacers, works like a charm!
I made it available for free on thingiverse if anyone's interested :
Link on thingiverse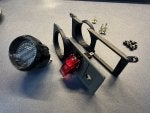 I did a test, printed the front plate in black resin, mixing in some flexible transparent resin. The result is splendid!
3D Parts view
Have a nice day!