Tuned the BL67P/.68 with my stock motor, stock cams, RPS header, routed back Innovative wastegate, Titan fuel rail, twin Walbros, 788cc injectors. I have a G-Force ECU, JUN cam gears, VPC, SAFC-II (Map 1 pump gas, Map 2 race gas), 3 inch downpipe + TRD Gen II exhaust, 4 inch K&N intake (cold air vent), Blitz DSBC boost controller, new Toyota coil packs, NGK 3330s at 0.027. Fuel for high boost runs was 50/50 C16/93.
First up is 25 psi race gas tuned super safe in 5th gear, a/f of very low 11s, 614 RWHP/570 RWTQ SAE, my minimum boost on Map 2, revved out to 175 mph: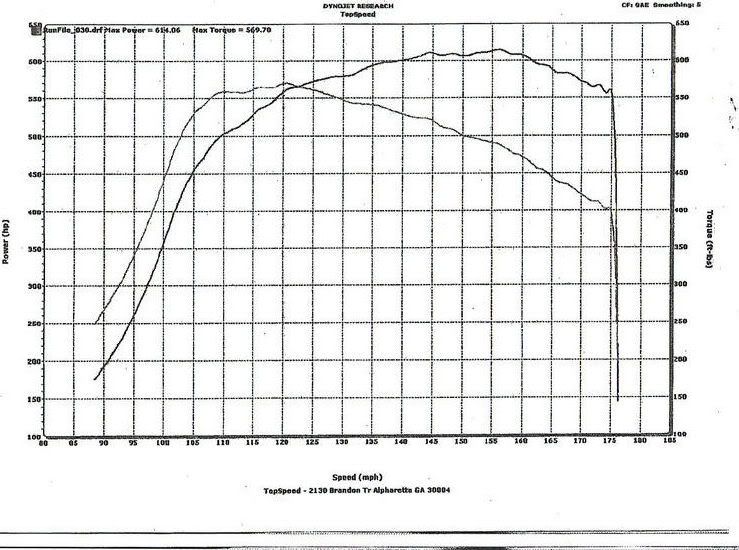 Theoretically, my car with 295/35-18 tires should be 181 mph in 5th at 7500 rpm, so this was close to redline, still great power! Under race conditions, I shift into 5th at about 130 mph, so I have a tower of power waiting in 5th! I did a 27 psi run (also super safe) at 650 RWHP, this is what I would run in the standing mile. I estimate I would be in the 185++ mph range in the mile based on what I've read about other Supras running.
Now 33 psi in 4th gear, 709 RWHP/614 RWTQ SAE: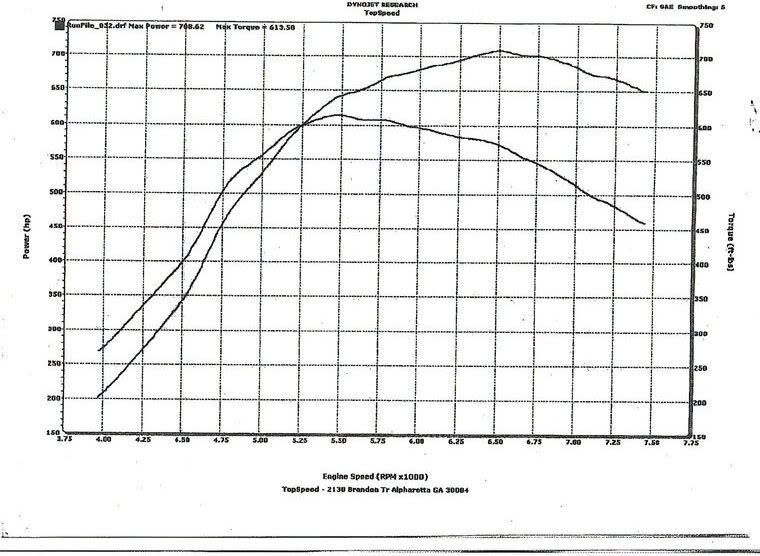 The car was pulling like a freight train, run after run, very smooth. Went through 4th rather quickly.
On various runs with slightly different a/f, we had 225 RWTQ at 3500 rpm, 305 RWTQ at 4000 rpm and 450 RWTQ at 4500 rpm, although this run was probably a little rich down low.
I am a very big fan of Precision 67s! The dyno testing proved that I didn't give up anything to my old T61/.68 down low, and I picked up a hell of a lot more mid/top end. Overall the 67 is smoother and seems to have huge lungs on the open road. I think I will be faster at everything, including road racing, with the 67. I sometimes change the Duty Cycle on the Blitz DSBC slightly depending on what I'm doing. I use a gain of 25 for general street speed/drag and lower it to 23 for the twisties for slightly less sudden hit. My only possible plans for the future would be 272/264 staggered cams + springs & retainers (no hurry though, the power is fine), although I WOULD like to find plugs that last longer than these damned NGK 3330s! As for the .81 a/r, I'm sure it would still be fine, but I don't really feel like I need it at the moment. I feel like I have plenty power now, I am going to work on some more advanced handling/braking upgrades for road racing.
On Map 1 I did a super safe 470 RWHP/425 RWTQ at ~18 psi with low 11s a/f, could have gone for more here, but as it is, I can beat the car to death on pump, and this power is very usable. By adding just ~2 gal of C16 to 1/2 tank of 93 on Map 1, I did 540 RWHP/491 RWTQ at 21 psi. This is my "economy" race setting when I want to have extra fun but don't want to go 50/50 of C16/93. I did some blasting around at 650 RWHP on the way home and it was ridiculous, no wheelspin in 3rd, lots of forward motion! I did axe murder a C6 and 750 bike before I ran out of race gas too, they must wondered who the hell I was by the way I pulled. :fawk: Traction is not bad at all on warm days actually.