Discussion Starter
•
#1
•
I'm making this thread in General Supra Forum because I feel that everyone should see this.
The film you're about to
download
is Claude Lelouch's "C'Etait Un Rendezvous". This is a classic that not a lot of people are aware of, but most definently should be. It's the grandfather of street racing films, the inspiration for film's like the Getaway In Stockholm series. I've literally been searching for a complete, unedited, unbranded, quality copy of this 29 year old film for YEARS and I finally got it.
Background
The story goes that one sunday morning in 1976, Claude Lelouch strapped a 35mm camera to the hood of a Ferrari 275 GTB and took it for a ride around the streets of Paris. Now there are lot of questions about this film that to this day, 29 years later, Lelouch refuses to answer. People have questioned if the 275 really broke 200 mph on it's way from the Champs Elysees to the Montmartre as rumored at the time (I doubt this personally, the GTB's top speed was about 175 mph); if it was Lelouch that drove the 275, or was famed Formula One driver Jacques Lafitte, maybe someone else entirely; if Lelouch was actually jailed after the release of this film; and most importantly, was it real? Lelouch won't say anything, he prefers to leave the ere of mystery that has helped make this film such an underground classic intact. The only thing he's ever said about the film is that it relies on absolutely no special effects, editing or camera tricks, that everything you see is exactly as is, 100% real.
But enough of that shit.
IT IS OF THE UTMOST IMPORTANCE THAT YOU RIGHT CLICK SAVE AS!

AND DO NOT SHARE THIS LINK WITH OTHER MESSAGE BOARDS!
RIGHT CLICK SAVE AS!
RIGHT CLICK SAVE AS!
RIGHT CLICK SAVE AS!
RIGHT CLICK SAVE AS!
RIGHT CLICK SAVE AS!
Ladies and gentlemen, I present to you:
C'Etait Un Rendezvous (Right Click Save As
)
About the Ferrari 275 GTB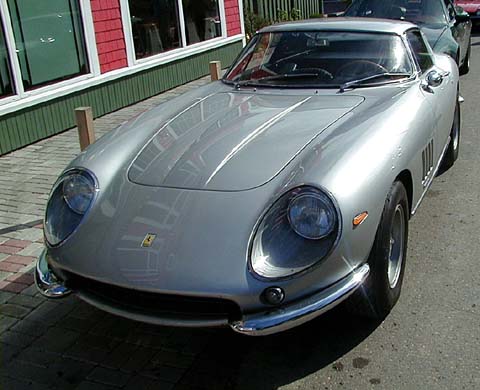 By far one of the most poinant aspects of Rendezvous is the 275's sound. The 275 GTB was built by Ferrari in 1966 to replace the 275 GT in FIA GT racing. In order for the car to race, as per FIA regulations a certain number of production cars were to be built and made available to the public. The 275 GTB is powered by a 60 degree naturally aspirated SOHC V12, featuring 2 valves per cylinder and 3 Weber 40 DF13 Carburetors. The car produces 290 BHP at 7,500 RPM and puts it through the rear wheels with a 5 speed manual. The car is built upon an aluminum chassis and covered with a super thin aluminum body designed by Pininfarina, allowing the car to tip the scales at a mere 2,452 lbs. The sound of the GTB's V12 is yet another component that has helped make this film a legend.