This is my car: (sorry if the pix are too big)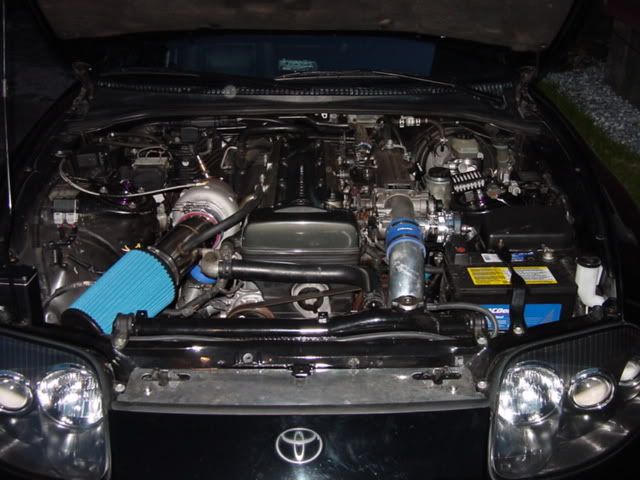 1997 NA 5MT Hardtop 100K miles black on black
Oil Supply/Drain kit
T61 turbo
polished T4 manifold
46MM Ti-AL style wastegate
dump tube, modified
Intake tube & Cone filter
50MM Ti-AL BOV custom machined mounted on throttle body
polished 12x24x3" FMIC
JDM GTE motor, new timing belt and seals all around (stem, fms, rms, etc)
USDM cams
USDM 6 speed harness
720CC OEM style injectors
2x Walbro 255LPH HP pump
-8 lines to 2x -6 to stock rail that has been modified
AEM EMS W/IAT sensor, 5 Bar sensor
GM boost control solenoid valve
EGT sensor with $25 ebay AEM interface
HKS DLI
Innovate LC1 WB02 meter, displays on AEM 19-1
6 Speed V160, driveshaft, axles, secondary isolator & JDM 6 speed diff
RPS Carbon/Ceramic Clutch
RPS Pressure plate
Fidanza LW Flywheel
[I consider the Fuel and ignition parts (AEM, DLI, pumps, injectors) as optional for this turbo (T61), but I am going to be stepping up to a bigger one soon (gt45 clone)]
To come: NOS and water injection
I scanned the printout. I'll be getting the files from the shop once they remember to email them to me, then you can download the dynojet software and replay the runs. We did about 8 runs.... very good time. This was a conservative, no worries type of tune since the car is a daily driver.
Here are two pulls, overlaid:
444.80RWHP/382.90#ft on 93 octane at 17psi
555.75RWHP/460.59#ft on 110 octane at 25psi
I have video, but I need some guidance. The DVD cam made one huge file with several chapters (but all one file) is there a way to save just a chapter (a run) - because the file is too big to upload to youtube.
Flame AWAY!