Discussion Starter
·
#1
·
I did a compression check today and figured i might as well do step by step pics while at it to help those who havent had a chance to do it or dont feel comfortable about it yet.
Results are:
1-149 psi
2-135 psi (first one was 119, then got around 125 3rd was 135)
3-149 psi
4-151 psi
5-150 psi
6-170 psi ( :dunno: i did this a couple times and still got 170)
For #2 first one was 119 so i figured i didnt tighten the gauge tight enough so i tried again and again and got the best of 135. I dont know why that one is the lowest, isnt usually the 4-5 are the lowest? My car doesnt smoke at all, it set for a couple days, started right up and no smoke at all... and there is no smoke at 5,000k when i asked my dad to rev it up so i can see, nothing! I also drove for about 6 hours from LA to sacramento and it didnt eat any oil what so ever. So i doupt that it has bad rings in #2 and i double that the seals in #2 are bad, so maybe i just didnt get the gauge in tight enough or who knows!!
for #6 beats me! i dont know how i got 170, i even did it a few times to make sure i wasnt seeing things, the stock is like 160... but i guess that 170 is what gonna give me that low 13 sec 1/4 haha, jk!
My car has 113k so what you guys say on the compression results?
Here is the step by step:
start the engine and run it for about 15 minutes or so and let it warm up, then turn the car off and pull the cover off.
disconnect solenoid resistor sensor connector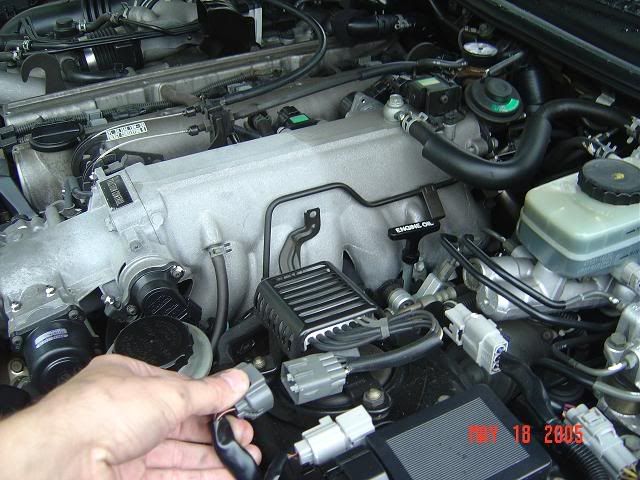 These little thing that hold the coil cables in place are pointless, if you never replaced them before they will just fall apart into little pieces when you are taking them off, kinda like a cracker haha, so make sure you clean all the pieces out before you take off the spark plugs so none of the pieces fall into the cylinder, wont be good! (im just not even gonne get the new ones, maybe later when im gonna gap the plugs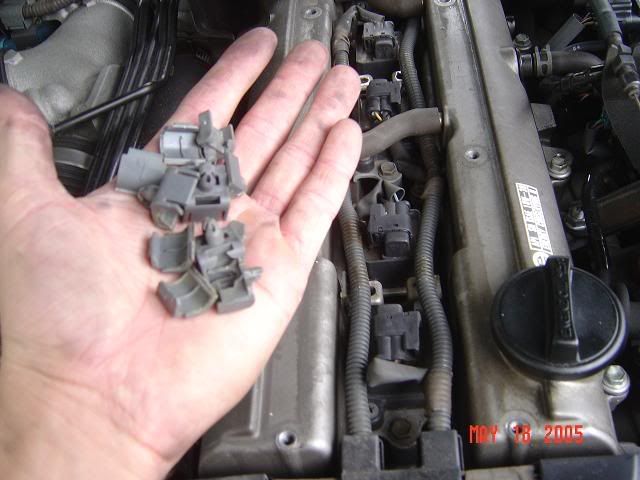 disconnect the coil connectors from the coils otherwise it will be a pain to pull them out.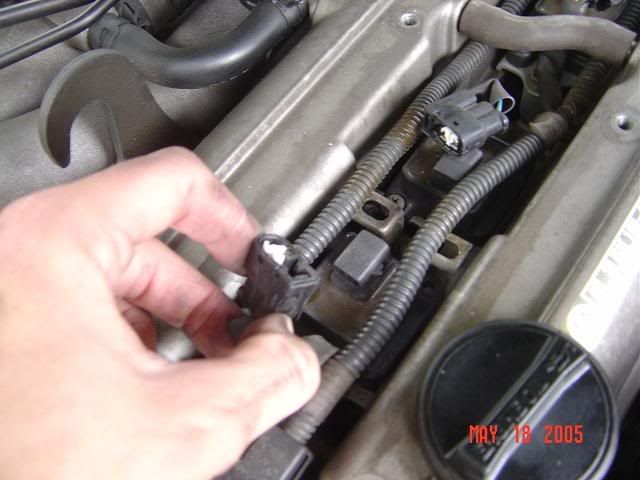 unscrew the coils and make sue you get all the screws out and none get dropped where the sparks are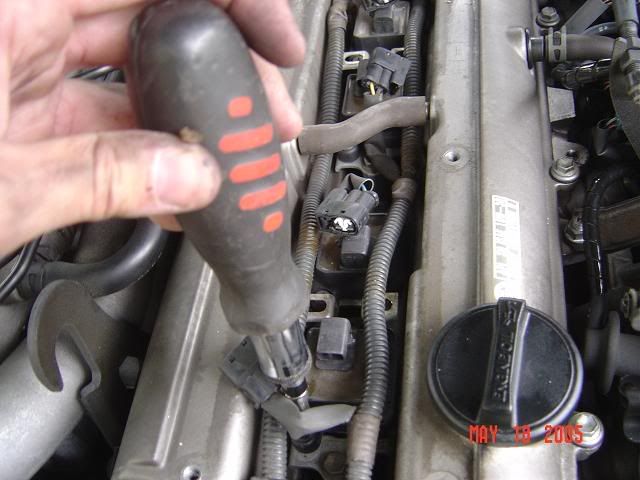 shake them around while pulling and they should yank right out.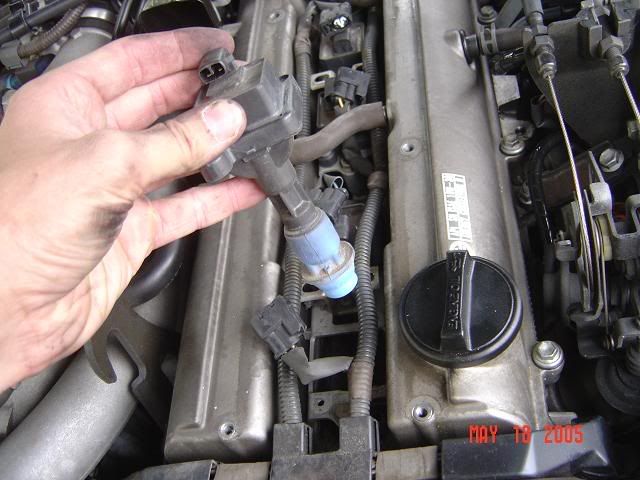 now loosen the plus, and use 2 hands, i was just doing that for the pic, one hand is how you break them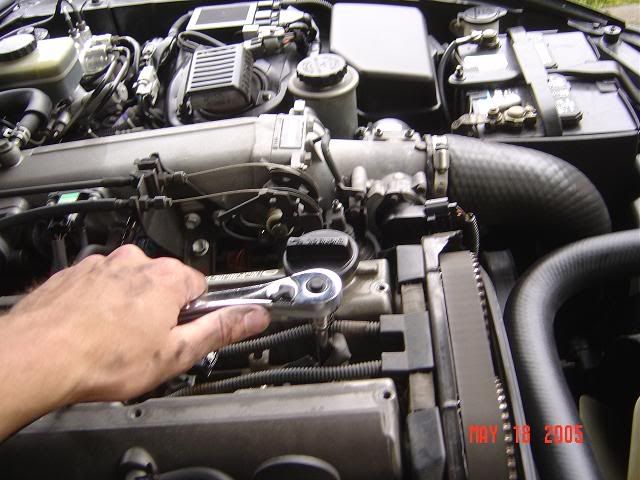 i used little pointy pliers to pull the plugs out cuz my fatty fingers couldnt fit in there to reach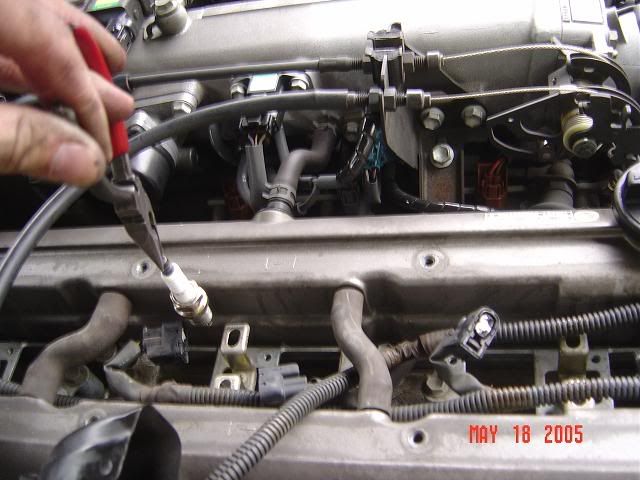 make sure you keep the coils in the same place they were in the car, dont want to mix them up. the plugs are worn and i need new ones.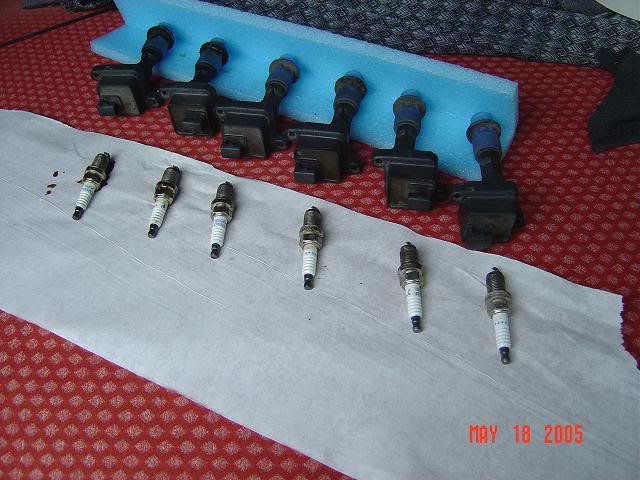 tighten the compression gauge in there and then crank the engine over and hold it for about 10-15 seconds or so.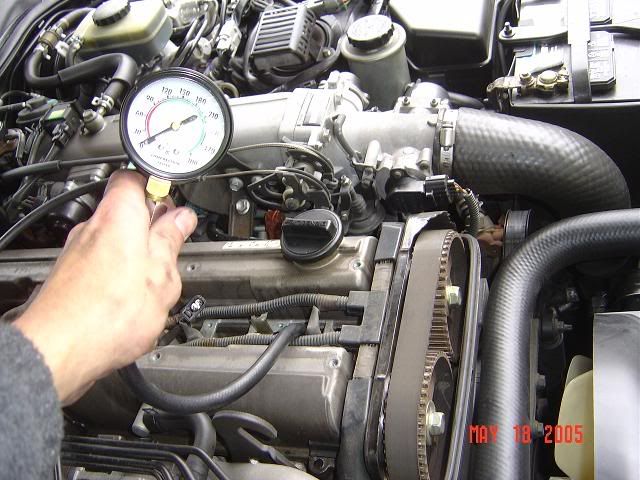 and here is the result on the first cylinder.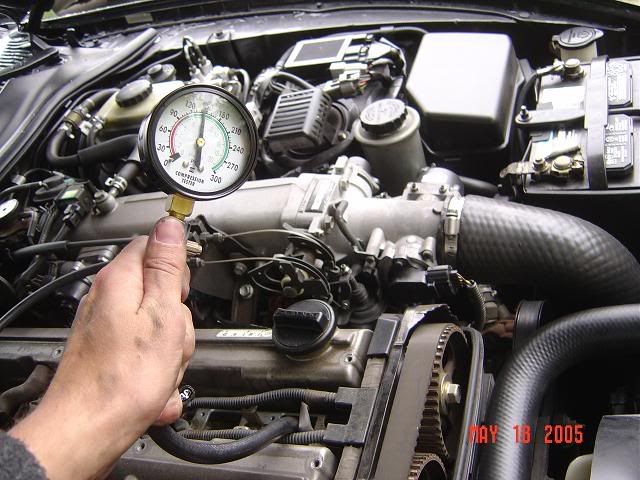 then pull it out and go to the next one.