Well after being a mk3 owner for 12 years, I finally let go. This car has been like my kid when I bought her chassis with no engine, transmission, interior, missing body pieces etc… Eventhough clean title, I saved her from getting sent to the junkyard the next week which was the previous owners plan so he could focus on his MKIV and other Toyotas.
So I met a few people along the way including the major force behind it all Mike Urbano. Without him, my dreams of going as far as I have with my car would have never been possible. With his incredible knowledge of Toyotas and ability to make things happened, the 2jz was dropped into my car after dealing with the 7m for 5 years.
I owe as far as I have come to Mike. He was the spark that set me off! Unfortuynatly Mike's spark blew out on June 1st 2005 and since then I really wanted to prove my car could go as far as we had dicussed (Magazines, shows, trophies, sponsorships etc.). I put the ball in motion after his death, and it ended up a snowball down a mountain. It grew in every way. Power, noteriety, and looks:
I have met amazing people along the way. Meeting up with people here in SoCal almost every weekend, to people in Texas, NorCal, numerous trips to Supras Invade Las Vegas, setting up a meet with the UK guys at the Nurburgring Germany in 2006 and Japan in 2009, all of which I can call my friends now.
There is sooooo much history and a plethora of pics/videos I wish I could post and upload all here, but my photobucket has a limit and the search button should satisfy most peoples needs. I just spent a good two hours going through all the pictures collected since 1999 and what an amazing journey. Today the journey ended. It was bittersweet. Jill lost it. She LOVED my car. It's part of the reason we're together and why she got her Supra too. Even the transporter today loved it! And I hope the new owner out in the MidWest enjoys it just as much as I did.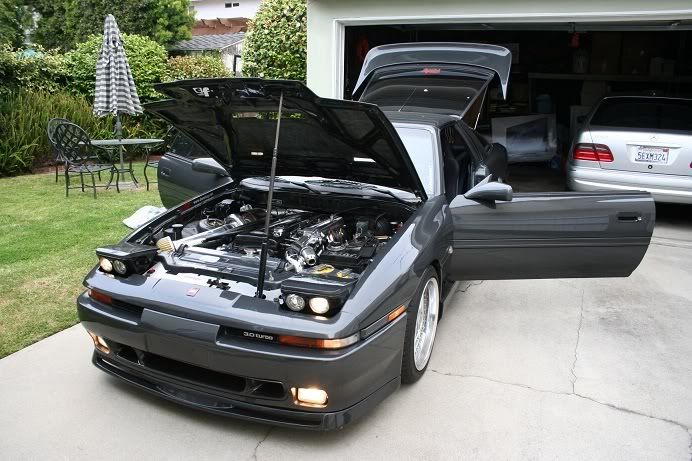 I wish the best to everyone else in their mk3 ventures and hope everyone reaches at least a few goals they strive for. I was lucky enough to have accomplished everything I ever wanted with this car! I would like to say thanks to the entire Mk3 community for everynoes kind words, enthusiasm and help over the years. A great group of people here I won't soon forget.