Edit:
I just found this little device, after the drive home, this thing is Broken.
The little plastic thing that sticks out that the Hose connects to broke off inside the hose.
What is it, and whats it do?
After some reading, some kinda Valve thing for the stock BOV?
Any part numbers for this, and why would it break off like that?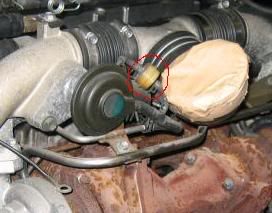 For the first week or so, starting it, revving it, parkinglot driving it, all seemed good. A little misfire everynow and then at idle.
Seems to idle a bit higher now, sounds more like normal now then before.
So anyway, start it up, get some good gas in it (This thing gets to temp FAST) and jump on the freeway.
This motor is fun shit, step on the gas, give it a few secs, then you start to pull, it was great. Even up a hill in 4th gear at low rpms ohnoes: , when it started boosting, it was like "What Hill?"
Well, I was gettin what sounds like a Rumble out the exhaust, but all broken up and shit, its kinda weird, Kind of like a backfire or misfire, not sure though. Happens when I let off the gas, such as changing gears, then noticed my check engine light was on. Granted, I have never driven a Turbo car before, nor one with a Open DP, so maybe it's normal to sound like that, not sure, but i dont think it should be doing it.
Check for codes............... :tear: #42
Now, I do not have a Speedo cable hooked up to the Tranny, so thats likley why its throwing this code right?
Any thoughts on the exhaust though? I'll get a video of it sometime tonight, again never ran a Turbo car with open DP, but it dosnt sound right. I was fearing a Knock sensor the entire time, but turns out to be a Speedo thing.
This "Rumble" is loud enough that it overpowers the the Engine/Flexalites and Exhaust, with targa off and on the freeway, in town, proboly can hear it a mile away.