First an most importantly, this car has a 17 digit CAD vin that was done by the Insurance Bureau of Canada. They no longer re-vin RHD imports effective this year so this makes it a bit of a rarity. The 17 digit vin is recognized by all insurance providers and makes insuring this car a breeze.
Selling price: $13,000
Price is my quick selling price and is non negotiable.
Background:
1994 Toyota Supra TT Auto
Imported by Right Drive in Feb. 2009. I am the third owner of this vehicle (2 in Japan + me). Chassis is rust free and paint is in good condition. This car has gotten compliments everywhere it has gone. I have had many people tell me that this is what they would make a Supra look like if they had one. Car is pretty quick for an auto, don't under estimate it. It will get the job done at the track and allow you ease when driving home in traffic. Works great in manual mode.
Aftermarket parts that come with car:
• TRD 320 Speedo
• OMP Suede Steering Wheel
• Earls Stainless Brake Lines
• Trust Boost Gauge
• Safety 21 8 Point Roll Cage
• Work CR Kai Wheels (18x8.5 front, 18x9.5 rear
• Federal 595 225/40 tires (front)
• Kumho Ecsta Supra 255/40 tires (rear)
• Shine Ridox front bumper
• Shine Do Luck side skirts
• Fujitsubo catback exhaust
• Apexi intake pods
• Apexi 1.3 Bar Rad Cap
• HID's
• Cusco front strut tower bar
OEM specs
o 4 speed automatic with manual mode
o Electronic traction control
o 4 piston front brakes
o 2 piston rear brakes
o Torsen LSD
General Info.
 85,000 kms
 Synthetic oils and lubricants only
 Regularily serviced (74,000 kms)
 Diff fluid changed (74,000 kms)
 Trans fluid changed (74,000 kms)
 New passenger door and front fender from being hit (still has clean title due to minor repair)
 CAD 17 digit vin (no longer done by the IBC)
 New IACV
Pics:
Car is sitting on Aragosta coilovers in these pics which are not included.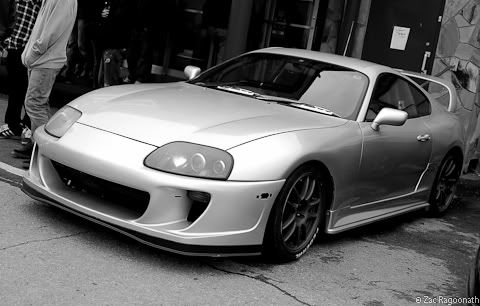 Interior, chassis and engine bay pics will be up tomorrow.
PM me or email me at
[email protected]