FS: 7M longblock ~ PRICE REDUCED TO $2700!!!
Well, seems like the trend right now is to sell all your mk3 posessions ahahaa, so here we go.
I've been working on this 7M for about a year now, basically just on the off-days, and it's now a finished longblock finally. I have kept just about every reciept for any part on it, and they are all saved in an envelope. Off the top of my head here's what's been put into it:
Block
; 220,000km, tanked, decked (front timing cover cut at same time), bored/honed, re-plugged, painted black with hightemp paint
- Je pistons/rings/pins (20thou over bore)
- Eagle rods
- Clevite 77 rod/main/auxiliary shaft (oil pump driveshaft) bearings
- ARP main studs with the 2 bolts for oil pump clearance
- ARP head studs torqued to 85ft/lbs
- New oil pump
- New water pump
- All hardware is either brand new from toyota, or the highest grade I could find from the fastener store.
- All new seals/gaskets, will provide rest of gasket kit to buyer
- New crank bolt (over $10 value!
)
- 6M crank, polished journals
- j-tube blocked off
Head
; Cleaned/cut for MHG. It was a mirror
- Stock valves/springs/retainers/cams
- new oil seals
- new union bolt assembly at rear of head (my fav part of head, it looks so new ahaha)
- Cometic 2.0mm hg installed with permatex spray on both sides.
**********OK, NOW FOR SOME PICS FINALLY*************
Engine as it sits today, I took this pic 10 minutes ago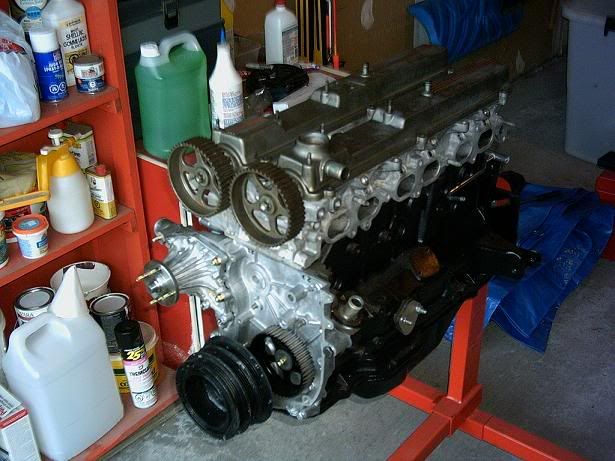 Underside of engine after pan install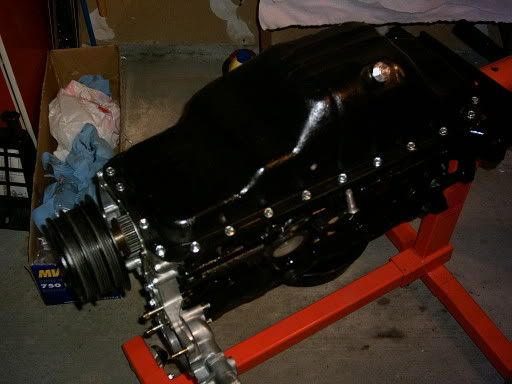 Inside before pan install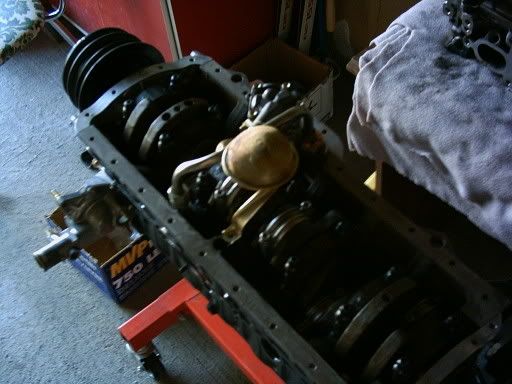 JE's baby!!
The Eagles have landed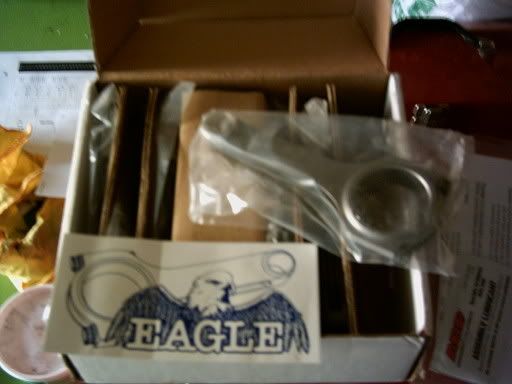 Rods/pistons ready to rock!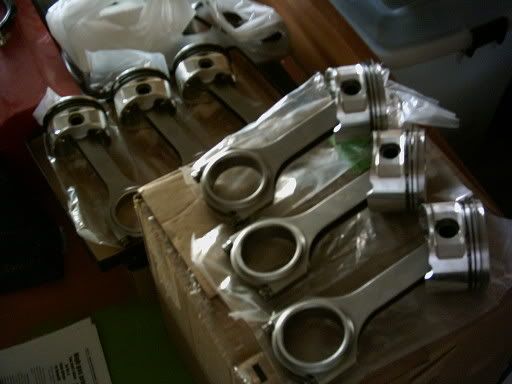 Many boxes o' bearings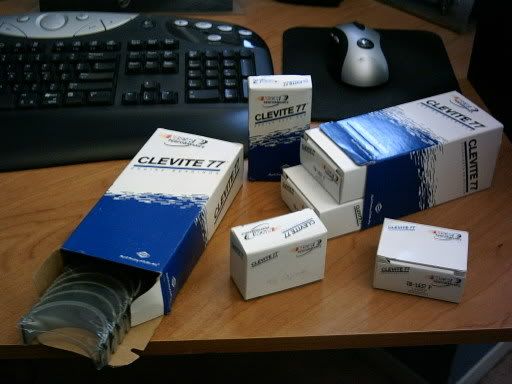 Top view right after pistons installed. JE's sure bling well.
Ok, I have reciepts to prove the value of this engine to be near the $4k mark. I would like to get $3200 for it. I will ship it to anyone who wants it. If it's not locally picked up, I will make some sort of engine gurdle thing out of wood, you know what I mean, to hold it upright during transport. The shipping company would be whatever the buyer wanted. If this does not sell, then it'll sit in my garage and I'll eventually drop it in a supra in a year or 2 as I planned to do anyway. I'd just rather sell it now and use the money for school, which is in 4 months. Gona become a Mechanical Engineer yeah!
Also, I have these parts which could be bought, give offers, and I'll think about them.
http://s7.photobucket.com/albums/y291/BIGG_EASY/parts for sale/
eric