Discussion Starter
·
#1
·
97 vw vr6 jetta glx
body has 158K the bottom end and tranny have 74k. the head was replaced with a new one about 20K ago.
has 268 cat cams, giac chip (for the cams), intake, 2.5 catless exh with stock vr6 corado muffler. also has motor mounts about 1-1.5 years ago. also has mk4 head gasket(brings the comp up) did the water pump, timming chain, tensioner, etc when the head was replaced. always ran full syn oil.
has a weitec cup kit(shock, springs, mounts) setting on some 16x7.5 konig rember(bbs rs knock offs) with good tires all around
stage 2 sasches clutch.
badgless grill
nice sony radio with ipod, boston 6.5 in the front doors, duel 6.5 in the rear powered by a visonic 450w 4ch amp. also wired for subs.
the body is clean, the roof has some clear peeling.
heated black leather seats in nice shape.
rear windows are not working dont know why they worked before it was super cold out.
has ice cold ac, and hot heat.
the car was my wifes daily driver. but i traded my mustang for a 99 tahoe that i now daily drive, and gave her my 05 jetta gli. the car has been very well taken care of, and the previous owner was a very good friend of mine, and also a certified VW tech. im really looking to trade for something RWD. and as clean as this car is. i am asking 4500 obo. it will be hard to find another 97 vr6 jetta as clean or as quick as this one.
any how onto the pics.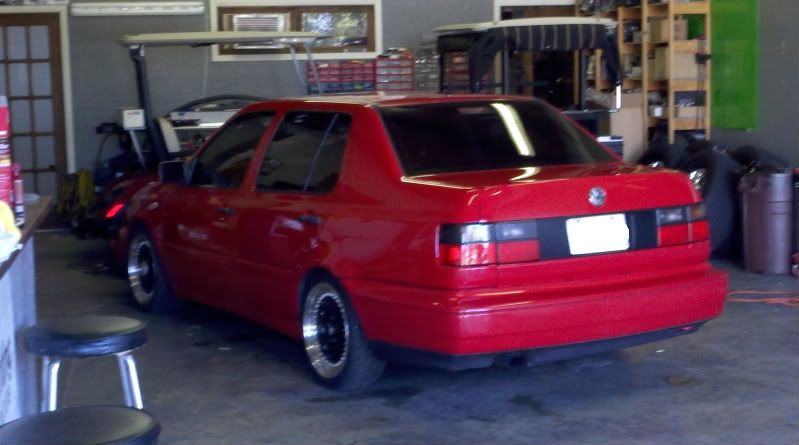 havnt had time to clean under hear its to darn cold out.