Guys,
Im posting in this section as i believe i would get a fair/honest reply and seeing as this section is for racing etc you guys would know all the ins and outs etc...
Im wanting to change my harness setup and buy some new ones, 3" ( not sure wich ones yet ) and the mounting points as well.
I have a drawing here and would like to see if anyone can tell me if this setup looks ok/safe?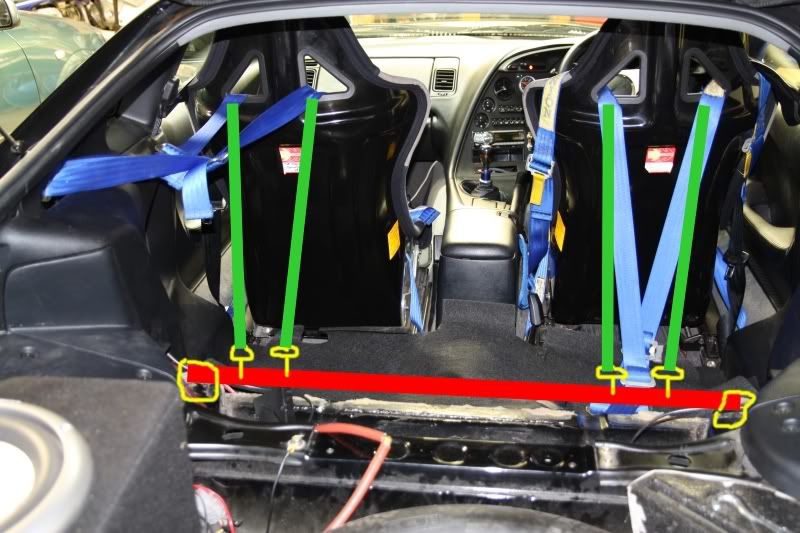 The (red) would be a decent size round/square bar welded to a plate at least 3mm thick, connected to a part of supras chassis (yellow) that would also be bolted down, it already has 3x threaded holes there where i circled (yellow).
Eye bolts would be either welded or bolted to the bar.
Or would looping the harness be a wiser choice?
The angle in the picture may look huge, but i dont believe its more then 40deg, its just the weird photo.
I know i should have a roll cage, and i would like to but dont want to make the supra a race car just yet, or weld to it, or have holes drilled through the body etc.
Its a casual track day with a few events being run by cams that i attend, and just dont like using the stock seatbelts with the buckets.
No serious competition or anything like that, and i dont use harness when on the road, i have my stock belts for that.
Current belts are 2" 4point, but im wanting to go either 5/6 point 3".
Now,
I have an idea about a second version of mounting the bar, but i dont like the look of it as it would be right in the middle of the rear view, wont be able to see through the rear window (its hard enough as is).
So, if i can get away with the first idea with the lower bar, it would be my prefered choice.
Here's the second idea: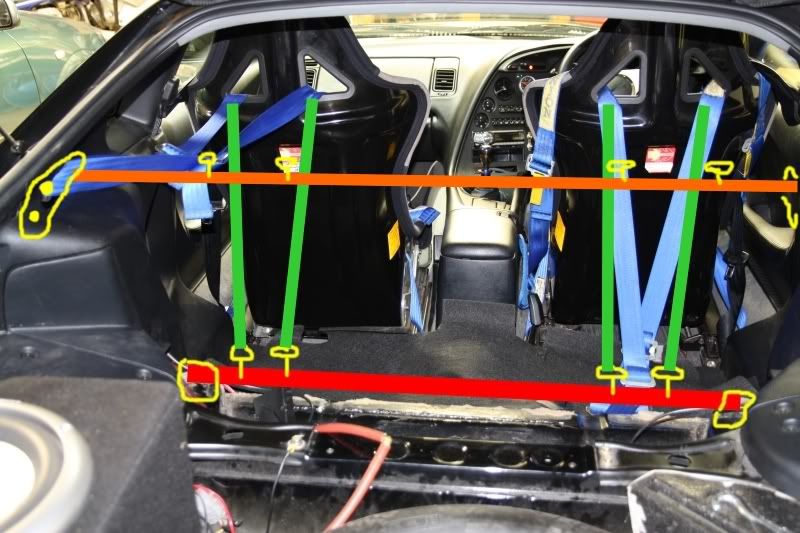 May be better? and angle is pretty straight, but i dont like the look of where its at etc...
I have tried to see what the angle would be like by drawing the lines across with my first idea/picture etc, to me it seems to be less then 40deg? that is the max i can go with CAM's rule.
So, to ME, the first idea with the bar lower and out of view/sight seems to be within specs and doable, no?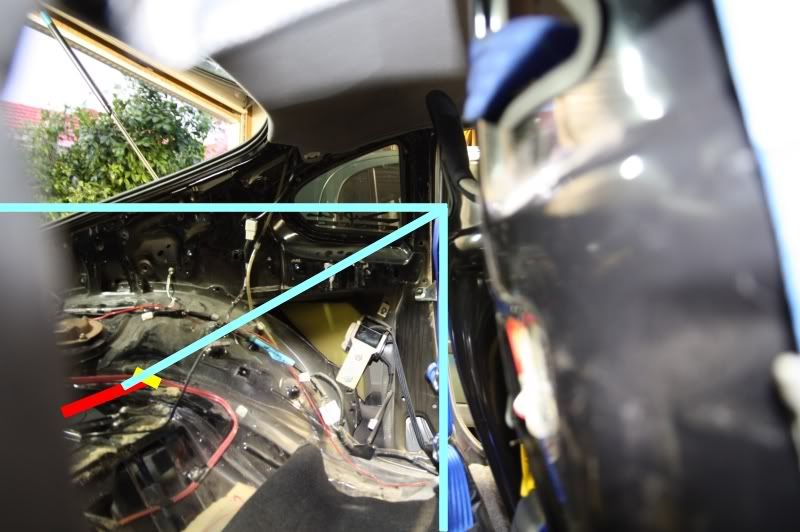 So, any thoughts, opinions?
EDIT: P.S. Or should i just buy the sparco harness bar and be done with, would it be just as strong? strong enough? ( it would save me a lot of headach just buying that ).
cheers