Alrighty, I wanted to write this because 1-im board, 2-bad luck *if you believe in that*,3-for everyone else out there that have problems upon problems with your car. To give you the hope that there are others out there like myself suffering the same flawed fait!
So ill start. It was about 2 months of searching till I found her.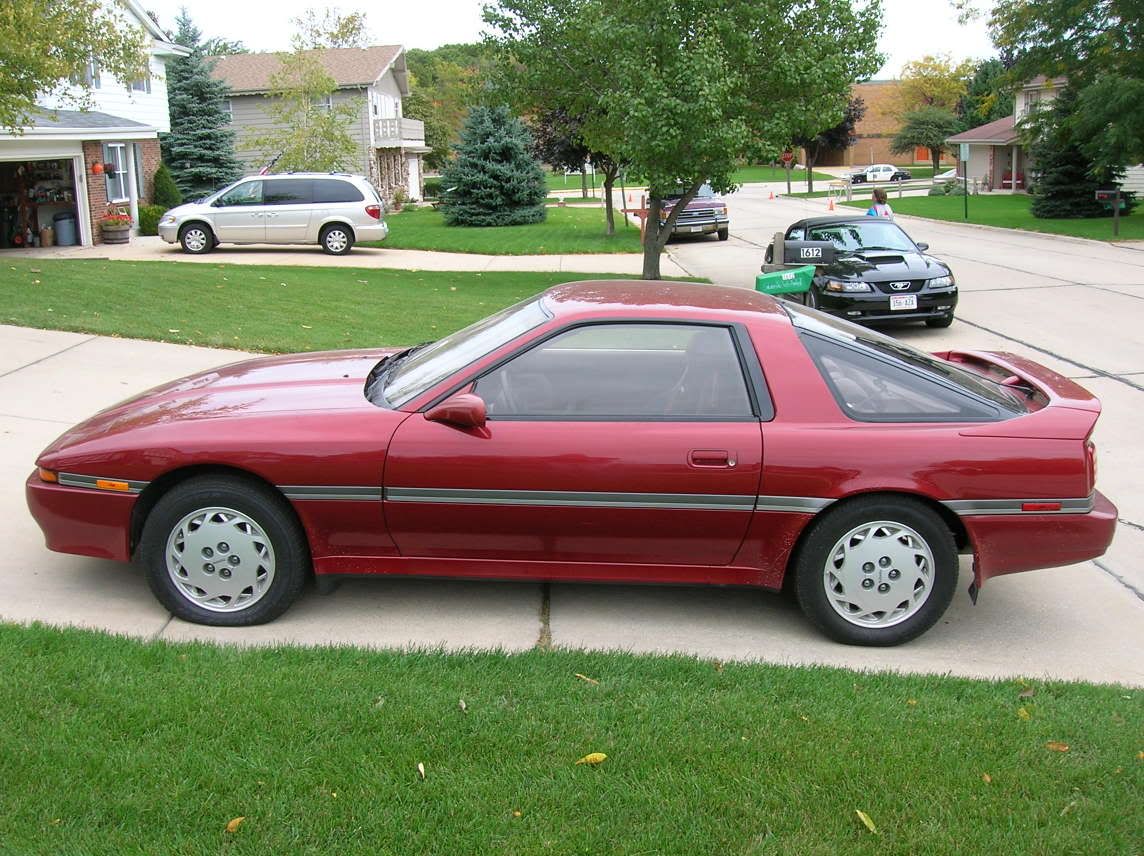 A Red, 89, 5 speed, turbo. The previous owner had a blown head gasket after turning up the boost on a stock HG. He then began to take it and replace the HG with a 1.2mm MHG *good* by himself and a friend who knows a good deal about cars. *good*. And while time whent on his friend had to leave to collage leaving him with an unfinished job. *bad* He then tried his best to put it all back together by himself *bad*. Until he lost hope and sold it on SF *good*. When I then saw it and new it had to be something simple so I had it shipped had it shipped. The body is in near PEREFECT condition along with the interior. After receiving the car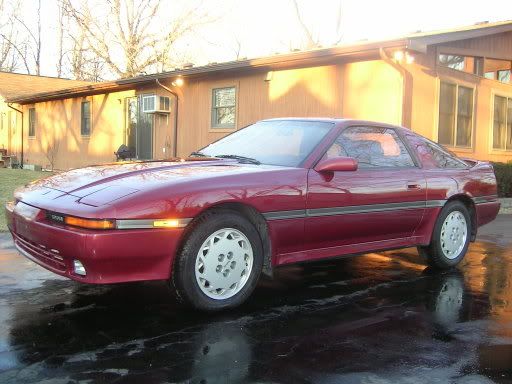 I started to work not knowing a lot about the turbo cars. But I have pulled and dropped in engines ect. But never with a turbo, so this was a new challenge. After having everything on a NON running Timing I could NOT GET SPARK for the life of me. When the good old DR. decided to help a lending hand in the quest for a spark! Apon his arrival I had the hops that he would find the missing spark. After testing coil packs, igniter, CPS, and all the wiring back to the ECU it all checked out with the swapping of parts ect. Till then in shear disappointment he says "I don't know dude…. Its got to be your ECU
everything else is working…." He then leaves "still with the determination of helping ME to get this thing up and running. After then finding an ECU I plug it in and VROOM!!! I was soo happy it was the ECU and that the problem was solved.
But BOY was I ever so wrong! After starting up for the first time since I received the car. Dr. J came over to help with all of the misrouted vacuum lines, idle, EGR, ect… and all that other crap and when we are about done. He revs it up again and as the RPMS drop we here it "knock, knock, knock" His eyebrows go up and listen intuitively, I look at him and go "dude….. don't tell me that wasrod knock". To be then quickly responded with a "SHHH!!!" Fallowed by "dude, it is". My heart dropped like a ton of bricks… Altho he enlightened me by telling me that since it is only at specific RPMs it was a very early case of RK. Then informing me about the bearings and how that would have a big chance but not 100% that it could fix the prob. He offered to help pull the engine and replace the bearings with me at HIS shop.
We then agreed and had the car towed there *to not enhance the damage of the already fried bearings* after about 2 months in DR.Js shop because of his EXTREAMLY, busy, hectic, up in the air schedule we eventually got it done.
Along with the replacement of the knock sensors, new spec stage 2 clutch, knew stock PP and ALL the other little goodies in there, new 98* engine mounts and a lot of missing bolts "from the previous owner".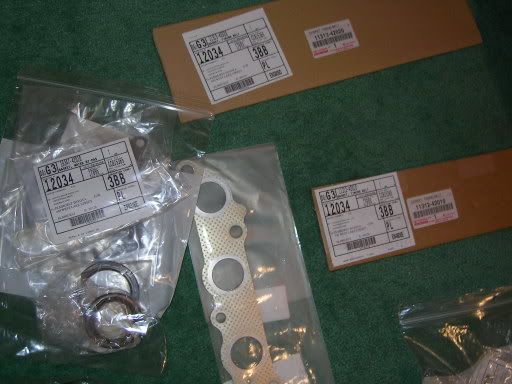 We then go to start it up and NOTHING!! NO SPARK. It was hiding from us again. After messing with it for the rest of the night. Hooking it up to some of Dr.J's high teck machines *don't even know what that thing was called*
We still could not find the missing spark. In shear disappointment I had the car towed home with AAA. I then get home and tinker for about 30 min the next day and VROOM!!!
She starts *still not knowing the problem of the missing spark* I then send a Text Message to DR.J "vroom", he then replied with a call. Just reminding me to make sure EVERYTING went well with it and nothing was over looked. After getting everything timed ect… I then start putting back EVERYTHING into there permanent home such as the dangling ECU, mounting the covers, snugging all the Temp screws, ECT….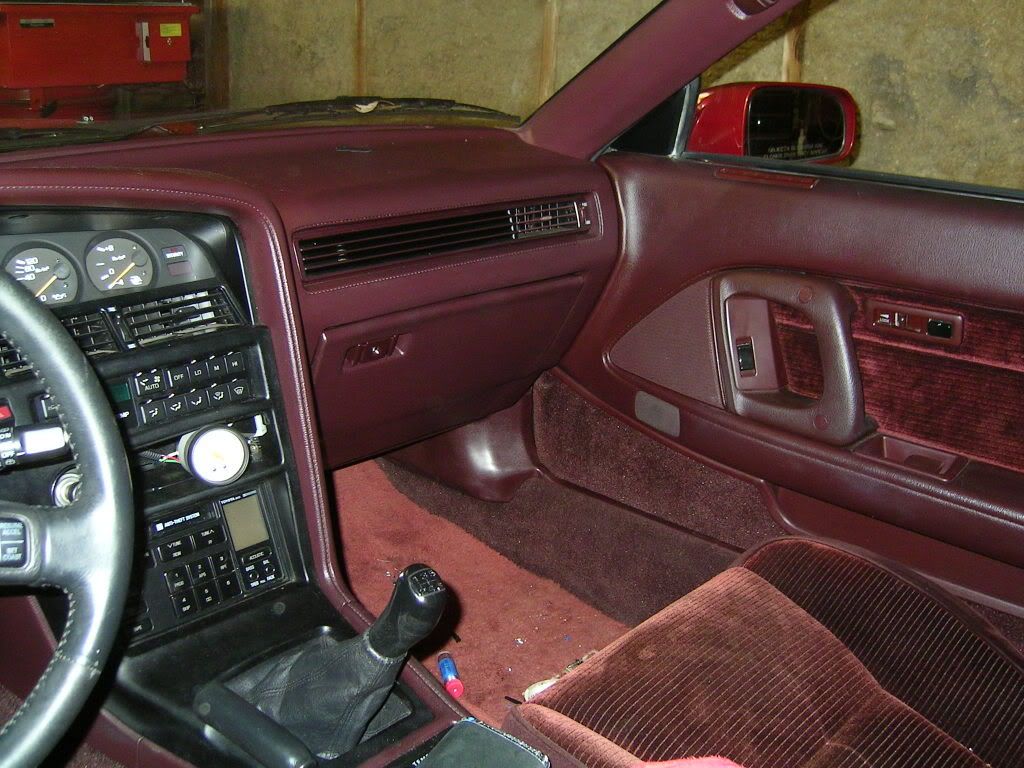 When I finished I go to start the car SHE WONT START!! the spark ran off and hid again after I put everything back…. then after messing with it for 2 days strait. I FINILY actually find the problem of the missing spark. What it was, was that then you stuck the multi meter probe in to test the continuity of the wires. It all checked out.. but when you stuck the ECU back in the ECU pins would not touch the wires inside. And then in having the car started, I drive it up the sub and it keeps stalling!!! When ever I went to let off the gas to shift it would die. Dr.J then help me pinpoint the problem to the TPS.
And upon receiving a new TPS I go out and install it and then I cross my fingers and she does not stall WOOT!!! Right then was the happiest moment in my life. Everything on my car is working!! I finely have a running car!!!! She does not stall, sputter, smoke or anything!!! All I had left was to change the oil and get my car registered, insurance ect…. After changing my oil and driving for a little bit for a few days she starts to smoke and gets worse by the day!!!
I am SOO scared that it is the valve seals or what not or a bad turbo… I then think I have pinpointed it to bad turbo oil seals and upon waiting and thinking if I should go upgraded CT or just buy the eBay turbo rebuild kit.. I am still thinking and hoping it is just the turbo oil seals… I can see oil squeezing out the sides of the turbo. Which is kind of a dead giveaway.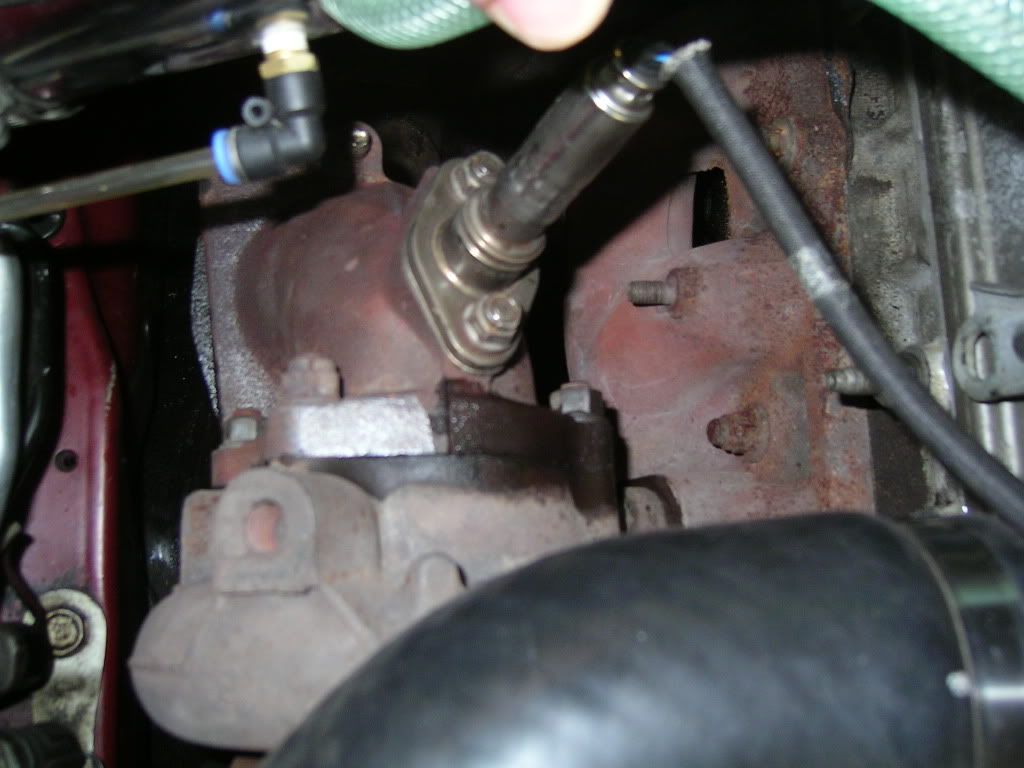 So that is my story of my car
One problem after another. From getting her timed to finding the spark to not finding the spark, to getting her running to then find she has RK, to then getting her up and running to then find I have a bad TPS, to then get her up and running to then find she has a bad turbo…..
So if any of you have similar stories I would like to here. Along with maybe a few others of us….
But I cant give enough thanks to the FORUMS and especially to DR.J
I will only continual to work out the bugs one by one as they come.
-Thanks