Discussion Starter
•
#1
•
It pains me to write this since I've always done pretty well with research and manuals on my own, but I've hit a roadblock. I've applied every piece of information I could find with zero change in status - the cam and crank count, but just won't sync. So before I have to find a means of wrangling an o-scope, perhaps the more experienced than I will spot an oversight on my part.
Basics:
AEMTuner v3.2, 02v02 firmware
Mechanical timing:
Per 1) the manual 2) past experience 3) verification from another VVTi GTE-sporting member and 3)
This post on myIS
, the timing is correct. I used the "crank @ 0, dashes = cam cover" method, just like a regular GTE.
Advanced pickups:
- I used the VVTi setting from the Cam/Crank wizard for for the Crank Tooth Control table, Sync MX, teeth count, teeth missing and any other changes it provides.
- I used
this post on Clublexus
to adjust the CKP sensitivity since the 36-2 has smaller teeth and likely a shorter waveform. I also upped the CMP sensitivity, though no real change there. I saw a slight improvement at 6000rpm from 2000rpm and both better than 500rpm, but the Tooth counts were still sloppy and inconsistent. Not sure if this is a logging issue or I'm actually getting truncated counts and missed teeth: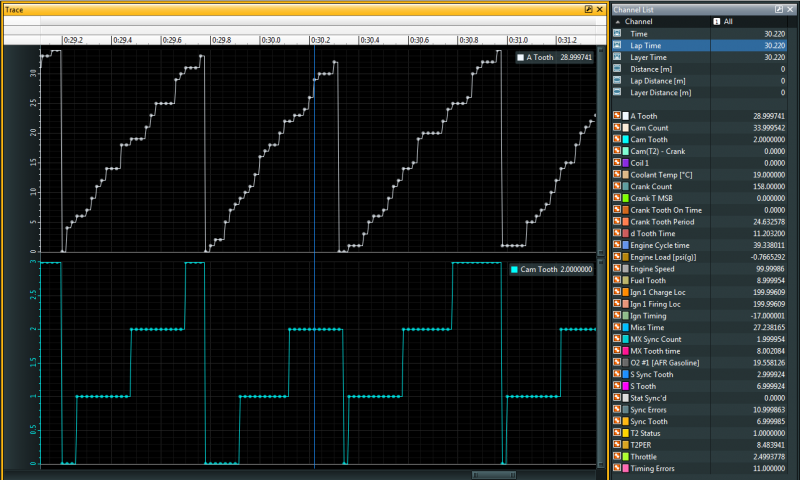 Is this still a noise issue? Sensitivity? A setting I missed? I never looked that closely at my non-VVTi logs since I never had a sync issue, and I started with that as a basemap to make changes.
I also tried flipping the rising/falling edge settings per
dre99gsx's findings in troubleshooting
in case of a change due to new triggers...no luck.
Ultimately, this is my advanced pickups page for the stock VVTi CKP & CMP connected to my stock non-VVTi harness: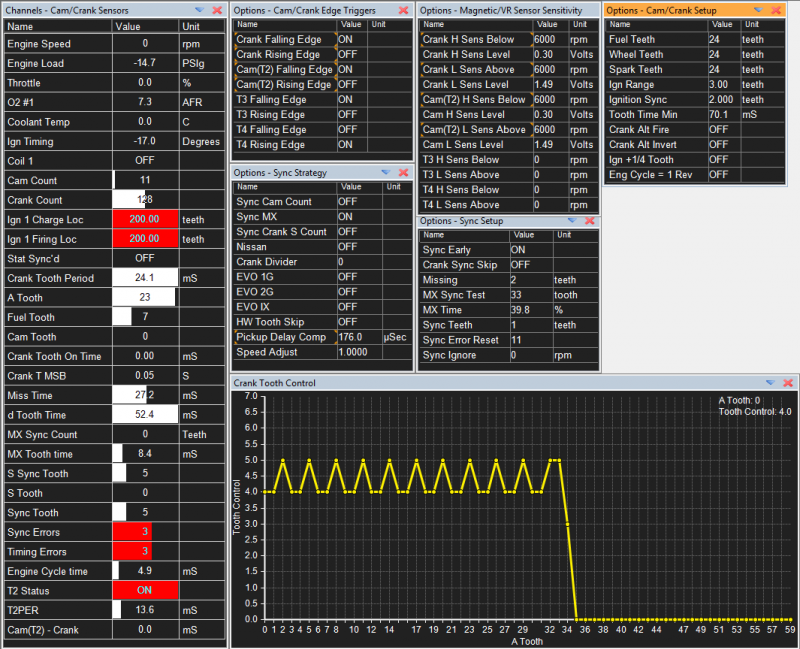 If someone has any ideas, please let me know. I'm at the end of my rope after assembling this thing all summer and just want to get tuning.
TIA,
Mike