I have acquired and worked with many rears for my MKIII over the years and even managed to break a few. I know these rears are pretty strong, but if you start launching your car hard on sticky tires and a 5 speed, they can break. What you are about to read are 3 pretty simple things you can do to your rear during a rebuild that will keep the car pretty streetable still and add some strength and functionality to the rear.
1. This is the easiest and can be done in a few minutes. Many rears I have seen in MKIIIs will only spin one wheel on a sticky set of tires during the burnout. The problem is they followed the guidelines from here(Supraforums) and SOGI and run redline oil, and/or the clutches are worn causing the diff to slip. This will greatly hurt you on your launch, it will be like trying to launch the car with an open diff. Redline oil has a lot of LSD additive in it which makes the fluid extremely slippery and will cause your diff to slip too much for drag racing on sticky tires. I have found this can be greatly reduced if not completely cured by running regular old 75w90 dino oil right off the shelf of your local auto parts store, or synthetic with no LSD Additive. It may cause some chatter, but that is a good thing for drag racing, it is letting you know the LSD will be functional during your launch. Keep in mind, if you put a lot of mileage on the car like daily drive it, you don't want that chatter as it will wear your clutches faster. If this is the case, get some mopar LSD additive or Redline friction modifier and add it in very small increments to the diff until the chatter stops. Do not add anymore once the chatter stops or before you know you'll be back to 1 wheel burnouts. Keep in mind, this is a compromise. I run my car with no additive because it is counter-productive to what I am trying to accomplish.
http://store.summitracing.com/partdetail.asp?autofilter=1&part=RED-80301&N=700+115&autoview=sku
2. Every rear I have gotten my hands on has had too little to almost no preload on the pinion, including the 38,000 mile torsen I had. The problem is these rears use a crush sleeve which fatigues eliminating the bearing preload. With no bearing preload on the pinion the rear will break in short order with any kind of abuse. Luckily for us, our rears share the same crush collar as the 6 cylinder and turbo 4 cylinder Toyota pickups and 4runners. I found this from working with the axle on my truck, then later confirming this with Toyota. The aftermarket makes a crush collar eliminator for these rears and it works perfectly with our rears as well. You can buy them off eBay, or any of the big differential places like JTs Differentials and Axles, Marlin Crawler or Randy's Ring and Pinion.
Instead of using the less time consuming to install crush sleeve, this solid shim is used. Shims are placed on it to get the exact spacing you need to set your bearing preload properly. First measure the old crush collar with a set of calipers or a micrometer and setup a stack of shims on the sleeve that makes the assembly a few thousandths thicker than the old crush sleeve. Now install the pinion in to the case with all bearings, slinger washer and companion flange, but no seal and torque the pinion nut and check the preload. It should have none because you setup a pack that is thicker than the old crush sleeve. Setup a new pack of shims on the collar that is a thousandth or two thinner and repeat the process until the proper bearing preload is attained. This does take longer than the crush sleeve to setup, but it is the ultimate way to set your bearing preload. You'll know when you have the right combination. One size to loose and there will be no preload, one size to tight and you won't be able to spin the rear. Just follow the tsrm for checking the preload. The only thing we are doing different is we have to repeat the process a few times in order to get it right where as using a crush sleeve, you slowly step up the pinion nut torque until proper preload is attained. You need an inch/lb torque wrench to check preload. Park tool makes this one:
http://parktool.com/products/detail.asp?cat=13&item=TW-1#
3. Increase Breakaway Torque
A. Heavy Duty Spring
87, 88 and some 89 cars came with a different spring inside of the LSD unit. This spring will apply more pressure to the clutches inside the LSD than the later spring. This spring is a must if you are looking for a decent working LSD. One big issue is only the later model spring is available from Toyota now, so this spring will have to be taken from an early model rear. In the next paragraph I will describe how to shim the LSD to attain even more breakaway torque, however that is a complete waste of time if you are using the later model spring. Here are the visible differences in the two springs, the heavy duty spring on the right.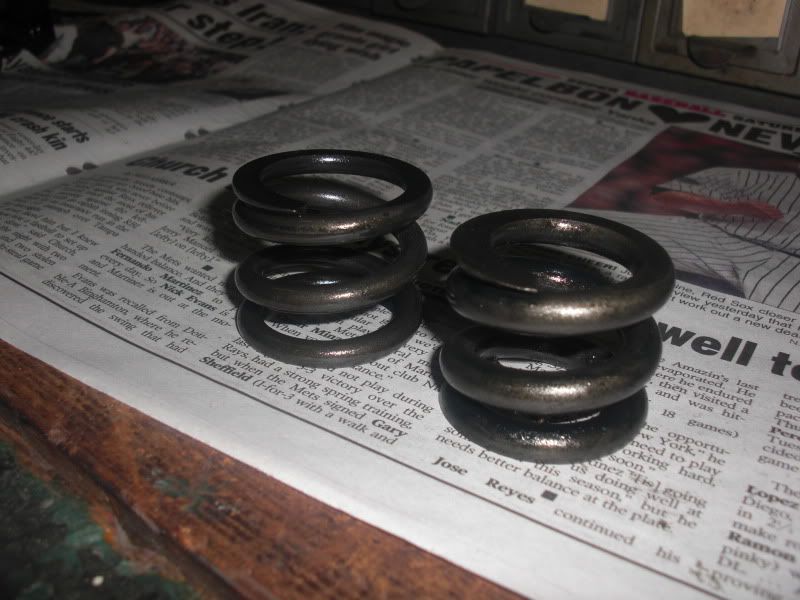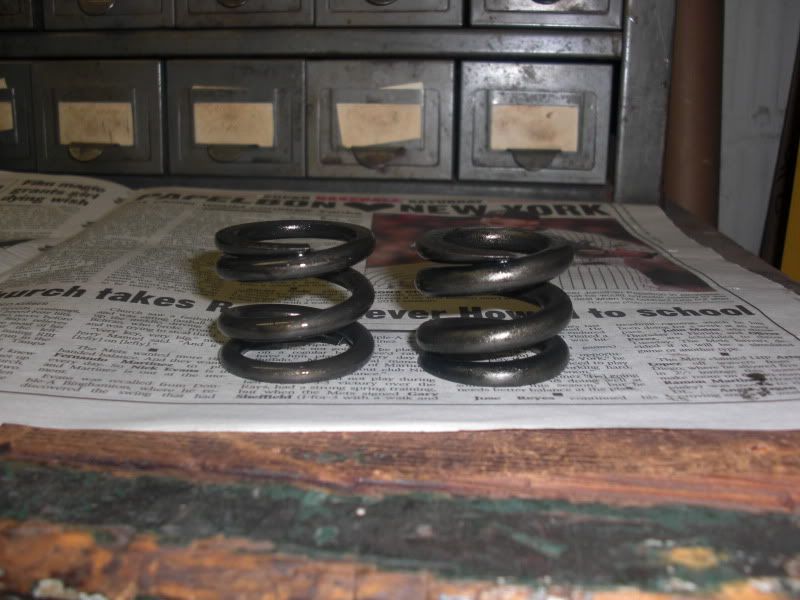 B. LSD Shims
Toyota makes 5 different thickness shims placed between the last clutch plate and LSD case on both sides to tighten our LSD back up. They were extremely cheap and come in .006, .008, .010, .012 and .014 thicknesses.
The problem is we need to know how much shim to add. The only proper way to do this is to have a method of testing breakaway torque. I can say from experience at around 75 ft/lbs of breakaway torque, the LSD unit is streetable and works very well on the drag strip with a set of tires on the car. There is some low speed chatter, but a very tolerable amount for my taste. Then again this is me we are talking about. The picture below is how I test breakaway torque. I mount a Mopar 8 3/4" axle in my vice and plug the lsd on to it. I then plug a stock half shaft in to the LSD. You don't have to snap the lock ring in, just far enough to where the spline starts to engage. I then mount a simple bracket I made on to the half shaft. Now my indicator style torque wrench can be used to determine how much torque is required to make the diff turn. This is your breakaway torque value. Check it a few times and with the torque wrench at a few different angles as the number will vary a slight amount.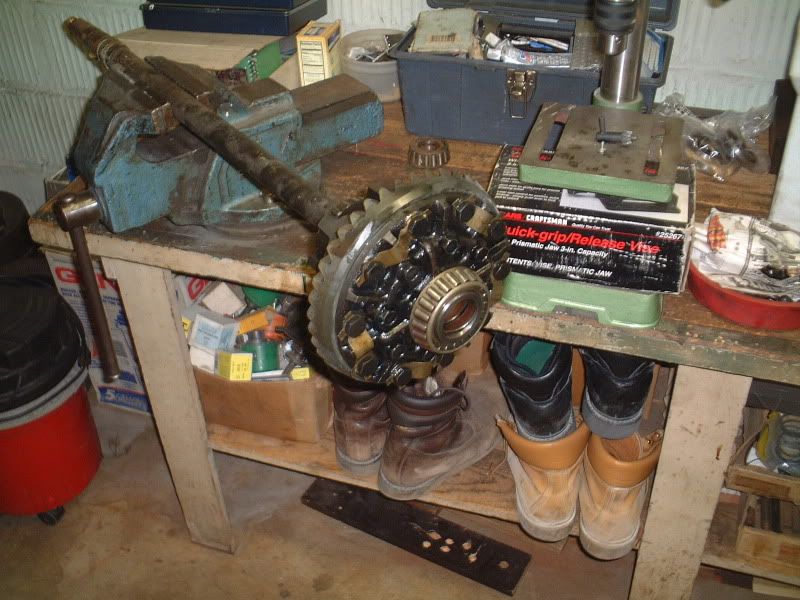 This is an old pic showing how I set the LSD up on the vise using the Mopar axle.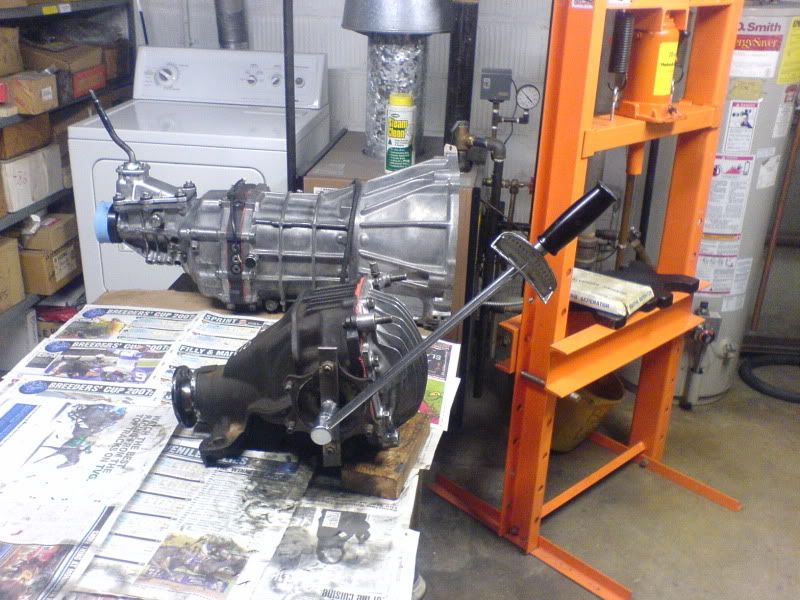 This shows how the bracket and indicator style torque wrench are used on a half shaft. Just plug the half shaft in to the mounted lsd like shown in the previous picture and set the wrench up as shown here. Next time I do this I will get a better shot.
If your clutch packs are worn out, the spring/shimming will not help you much, but the clutches can be purchased from Toyota and this is usually the best route to go as it ensures you won't be doing this job twice. However, if you have a good set of clutches, there is nothing wrong with using a used set. The clutches should have a dull black/grey finish on the checkered portions. If they are shiny and/or they look like records, replacement is an absolute must. If you have the heavy duty spring in the rear with no shims and the surfaces look good on the plates, you should typically see about 55-60 ft/lbs of breakaway torque. Usually from this point .020" of shims on each side(.040" total) will bring you to where you want to be at 75-80 ft/lbs for street strip driving. For other applications I am unsure as to where you would want the breakaway torque to be set at. These numbers are to be used as a general guide and the only real way to set up your breakaway torque is to use a method such as the one I described above. Unfortunately I am unable to give recommendations as to breakaway torque values and shim thicknesses.
As far as rebuilding the carrier, The TSRM should be followed. These upgrades will help you primarily have a more functional, results yielding LSD, as opposed to strengthen it. The crush collar eliminator does resolve a weak point in the rear which will help prevent carrier failure and while this rear-end is built in the shadow of a DANA 60, there is nothing that can make up for the 8" ring and pinion. You will have great success at the drag strip with a MKIII when taking that in to consideration when applying a good launch strategy.