Discussion Starter
•
#1
•
Here I made a quick guide to those who are running the MAFT with SAFC setup.
Keep in mind im using the 2nd Gen SAFC with an 87-88 7mgte harness. Those of you with 89+ please find the correct diagram for your year 7m.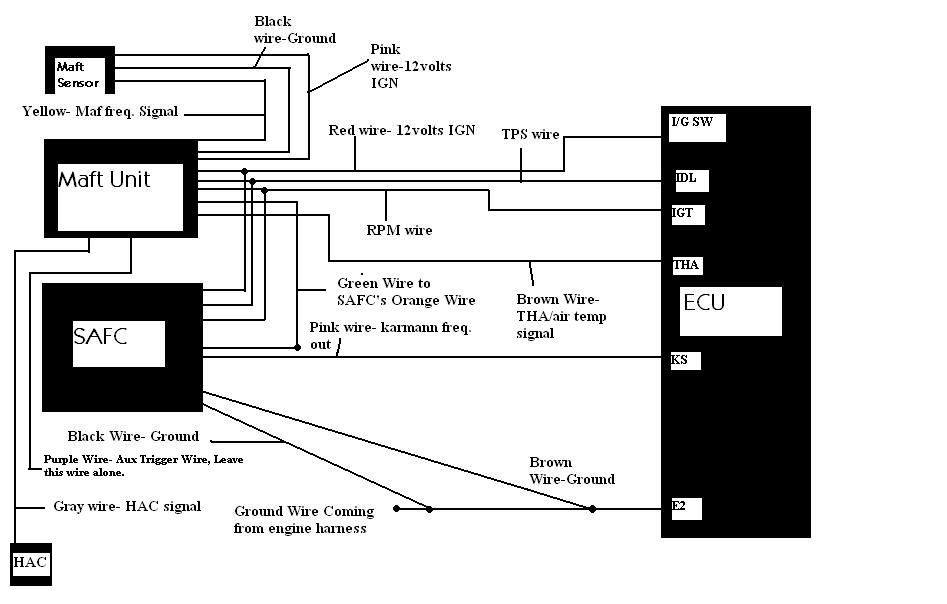 Here is the 87-88 diagram for those in need of it for reference.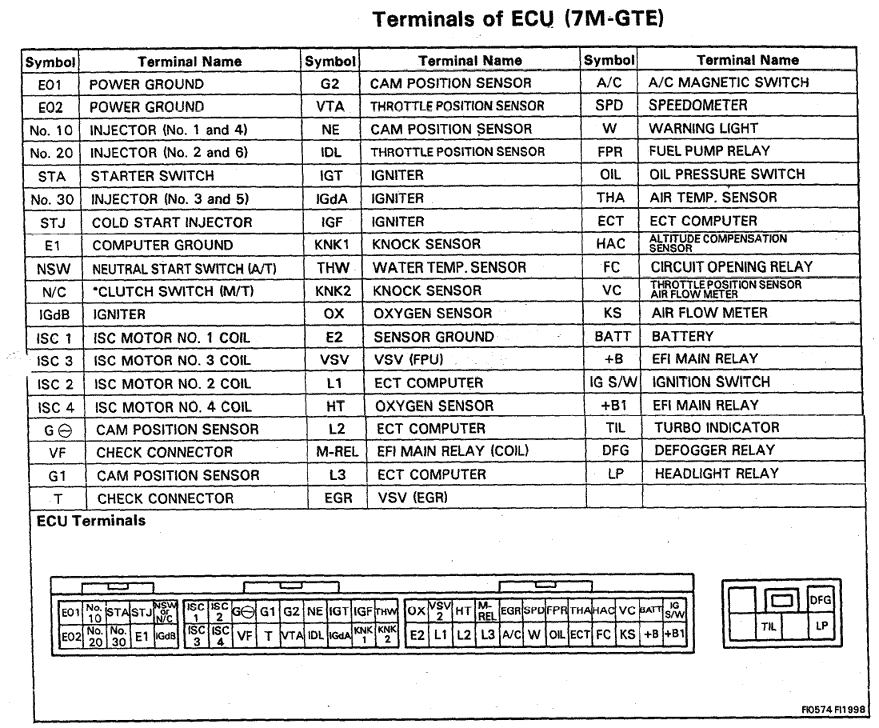 Now let me explain some of the wiring.
The maft sensor itself has 3 color coded wires. They are Black for ground, Pink for 12volts IGN, and Yellow for the Maf airflow frequency. Route these 3 back to the MAFT unit, the MAFT unit should already have these 3 exact wires there, solder them together or use a splice.
The MAFT unit itself contains 10 wires. The 3 you just connected and 7 others.
The other 7 are as follows:
Pink - Switched +12volt power source
Black - ground (E2).
Green - Airflow signal (KS).
Brown - Air temp signal (THA).
White - RPM signal, connect the line leading from the ECU to the igniter. It's called 'IGT'.
Gray - HAC simulator signal, Connect to HAC signal wire at glove box (optional)
Purple - this wire triggers the AUX dial when the unit is set to RPM mode. Switch 12 volts to this wire to enable the aux adjustment.
Now the SAFC contains several wires, you will only be using 7 wires. These are as follows:
Red-12volt IGN
Green-RPM
Brown-Ground closest to ECU
Black-Ground farthest from ECU
Pink-Karmann signal OUT
Orange-Karmann signal IN
Side NOTES: for the grounds on SAFC to be hooked up correctly make sure you connect BOTH Brown and Black Grounds to the same Ground (E2) wire. Just make sure that there is at least 1cm between them.
The tricky part of this installation would be wiring the Karmann signal. The KS signal comes from the MAF's Green Wire. This Green Wire should connect to the SAFC's Orange Input Wire. Then you take the Pink Wire on the SAFC and connect that to the ECU's KS wire. Locate this on the ECU pinout diagram provided above. Please make sure you cut this KS wire so the Pink Wire can connect to it sending the karmann signal to the ECU.
Hopefully this helps some of you out. If you have any questions please feel free to PM me. Have a nice day
Charlie