Hi guys,
Just a short info about the car:
It has a PHR Street Torque kit with a 6466, PHR full fuel system with ID1000 running 98RON pump gas and an ATF built auto w/ IP4000 stall. It has a VEMS Standalone ECU for the engine and the transmission runs off of the stock trans ECU.
I know that a lot of you will recommend ProEFI, however currently that is not an option for me as I am located on Iceland and the only tuners here know either VEMS or AEM, plus this is the only automatic Supra in the country. Might possibly go down that road later with some kind of a remote tune.
I would really appreciate it to get your opinion on my VE and Ignition tables just to get different views and see if more experienced individuals have a valuable input for me. Don't know how to upload a log...
-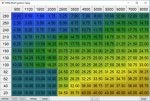 It is running about 24psi without any knock. Most turbo guys here are running up to 30psi on 98RON pump, however I know that is not popular is the US with the 93.
AFR's are around 11.2 - 11.6 under WOT
Your input/comments are really appreciated, and if you need any further information, just let me know.
Note.
I feel the car should be faster/quicker as it only traps 116mph on the track (no boost leaks whatsoever)