Discussion Starter
•
#1
•
Has anyone used this? I've been looking for an all-in-one display and this unit seems perfect. made in Poland. comes in 2 versions, 2.3/2.5 inch and 3 inch display. it's a bare OLED panel.
Looks like it can be made to fit nicely on the dash panel for a clean factory look.
http://www.reveltronics.com/en/shop/48/9/onboard-computers/universal-trip-computer-utcomp/utcomp-pro-kit-detail
available on ebay for less than $200 without sensors
http://www.ebay.com/itm/UTCOMP-PRO-TURBO-BOOST-OIL-PRESSURE-WATER-TEMPERATURE-AFR-GAUGE-meter-more-/301690330061?hash=item463e251bcd:g:bsQAAOSwv0tVPNWN&vxp=mtr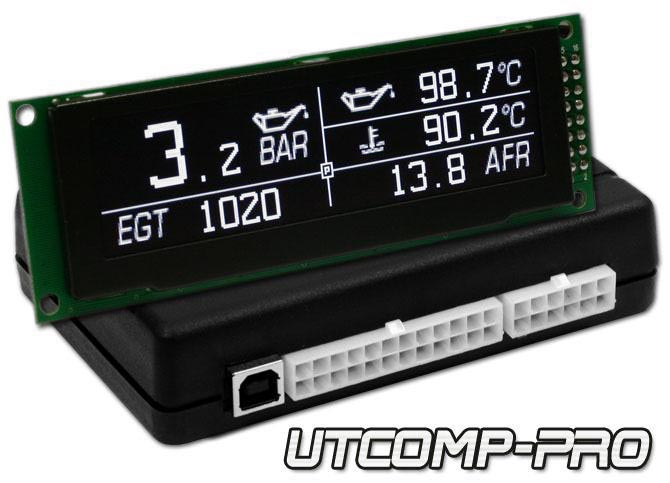 Taken from their manual - about analog sensor inputs. this looks like we can just use any aftermarket sensor that outputs 0-5v.
UTCOMP-3 is a smaller 2.3in OLED or 2.5in LCD display, UTCOMP-PRO is bigger 3.2inch OLED
2.4.8. ANALOG SENSORS - Adc and AdcVcc inputs
UTCOMP-3 supports 3 analog inputs (Adc1, Adc2, AdcVcc1), UTCOMP-PRO supports 7 analog inputs (Adc1, Adc2, Adc3, Adc4, Adc5, AdcVcc1,
AdcVcc2). Example of use: analog temperature sensors (NTC), boost pressure from MAP/MAF, oil pressure sensor, lambda o2 sensor, AFR readings
from wideband o2 controller, exhaust temperature from EGT controller, fuel level, gear indicator etc.
Adc1, Adc2, Adc3, Adc4 and Adc5 are high impedance, buffered inputs - you can connect voltage signals from any analog sensors assembled in the
vehicle. Adc1-Adc4 are 0-5V range. Adc5 input is 0-30V.
AdcVcc1 and AdcVcc2 inputs have built-in divider with pull-up to +5V, so you can connect to them any additional resistance sensors, e.g. NTC
temperature sensors, resistance pressure sensor, fuel level sensor etc. UTCOMP measures voltage drop directly at resistance sensor. Please note: you
should NOT connect any factory vehicle sensors to AdcVcc inputs! (factory sensors are already powered from vehicle installation - in this case
connect voltage signal to any of Adc1 - Adc5 inputs).