Ok... this is the dyno
tuning
section, but we rarely discuss the mechanics of tuning. All we really ever do is pretty much post dyno sheets and list what the car mods are, but nobody ever posts a fuel or timing map as a means of educating or learning from others. Well, I'm hoping this thread can help change that.
I'd like to start a discussion that informs and encourages contributions from those that have experience tuning. I for one, have learned a lot over the years, and much of what I know comes from the body of work that's out there. However, I've also learned a lot on my own. Consequently, I can't take full credit for what skills I have. Additionally, I hope to learn from you, too - the members of SupraForums. There are many of you I respect and look to for advice, and now's your chance to educate others.
In the following posts, I will lay my cards on the table and try my best to describe what is the culmination of about 6 years of experience with the AEM. Unfortunately, I have only ever tuned my car; so I hope others will offer suggestions on how I can get better. After all, that's the benefit for me. Additionally, I'm by no means a professional tuner; however, I feel confident enough with the following information that I believe others will learn something, And that's what this thread is about - education. If you have positive, constructive feedback - then by all means contribute! I'm hoping we can all learn from one another. So, lets get started. First, I'll start with the fuel map.
The most important aspect of fueling using the AEM is utilizing the Boost Fuel Correct Table. This table enables easy tuning of boost, IMO. Basically, it allows tuning of boost at lower boost levels that translate into accurate fueling at higher boost with liitle or no work (based on motor VE). The table provides proportionally more fuel as a linear function of load. Consequently, as boost goes up, fuel is added proportionally. If fuel is correct at say 12 psi, then it's good all the way to the extents of your MAP sensor. The image below is my Boost Fuel Correct Table.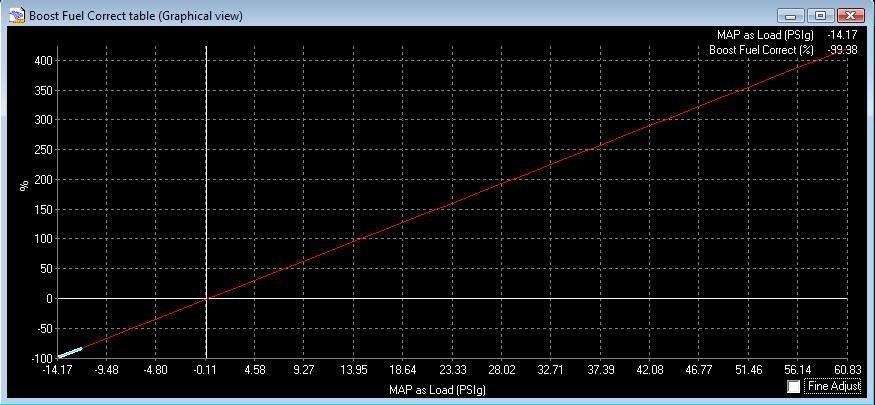 Notice that it is simply a linear plot of fuel as a function of load. As load increases, fuel is added proportionally. So, what does that do to the Fuel Map?.... Well, it means that fuel is constant as load increases at constant RPM. Therefore, moving up the fuel map vertically at constant RPM results in exactly the same value in the base fuel map. The real benefit is making pulls on low boost on the street to tune the map. Once it's set, fuel at high boost is academic; little or no fuel adjustments are necessary.
The figure below is my fuel map; however, I direct your attention to the portion of the map from 0 psi to 60 psi; that is the boosted section of the map. For now, disregard the vacuum section; I'll address that later.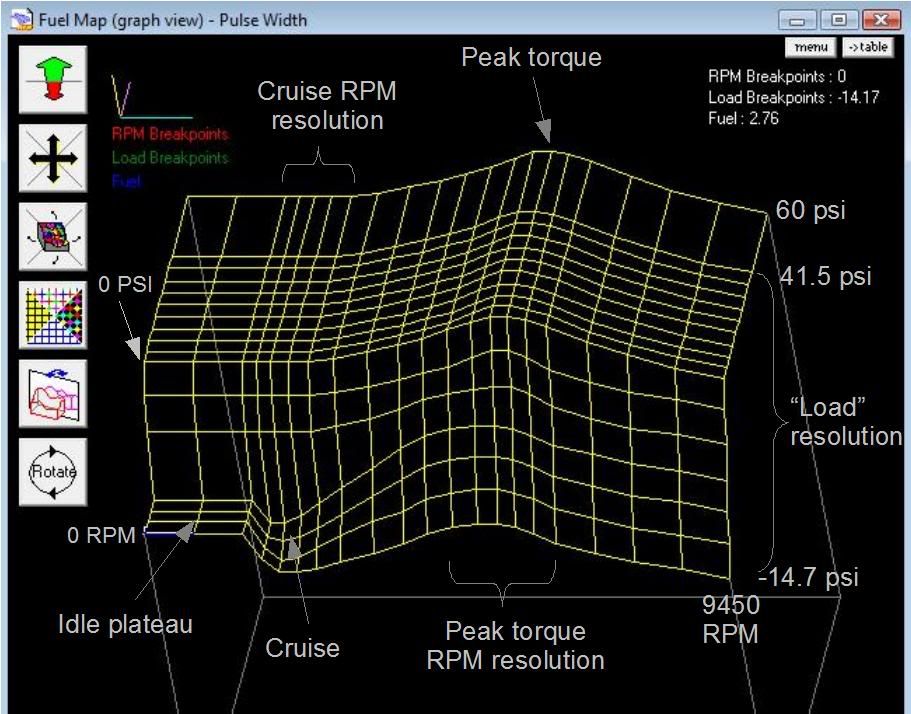 As you can see, fuel values in the cells running bottom to top vertically in the map are constant
above 0 psi
. This type of tuning has been called "boost comp" - meaning fuel is compensated by boost through the Boost Fuel Correct Table.
While still focusing on the boosted section of the map, you'll notice that fuel changes as a function of RPM for constant boost; those are the cells that run across the map from left to right horizontally. The fuel "hump" at 6100 RPMs is where peak torque or maximum load occurs on the motor. Consequently, more fuel is required when delivering more torque. Of course, injector duty is increasing as RPM goes up resulting in more fuel delivery; however, more fuel is
proportionally
required based on the torque the motor makes. Therefore, a motor that has good VE should have a fuel map that mimics the torque curve if boost comp is used for fueling. In my case, that's exactly what's going on here. The motor is working efficiently based on the flow characteristics of the exhaust manifold, IC and piping, intake plenum, and exhaust.
Below is an AEM log of a recent pull made on the dyno at high boost. You'll notice that the fuel is almost perfectly flat through all the critical phases of fueling. FWIW, this was an 843 whp pull, all turbo, on a stock GE head with 272 cams.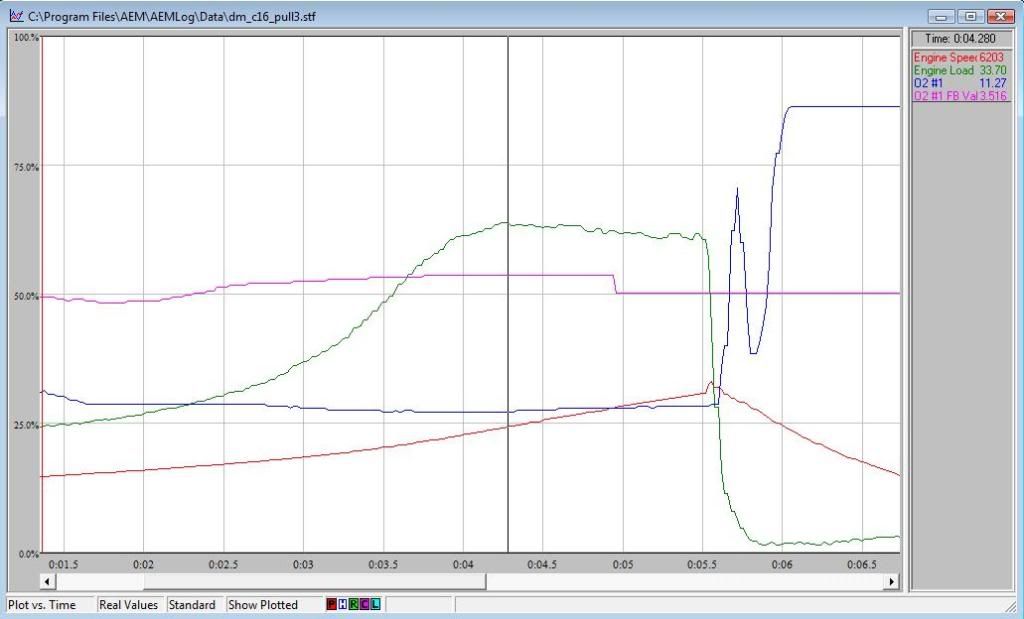 I should note that O2 feedback is applied; however, I'm only using a +- 3.5% correction
for the entire
fuel map. I've included the O2 feedback parameter in the log file. That's very low based on other maps I've seen. Most fuel maps use anywhere from +- 10 to 15 percent correction over the base fuel map. Consequently, the fuel map above stands on it's own without relying on the O2 sensor to make up for inconsistencies in fueling off the base map. Additionally, if the O2 sensor fails, I can easily make it home without it.
Now, some might argue that a narrow fuel correction from O2 feedback is not a good idea because you're more likely to encounter an issue for minor fluctuations in fuel. However, I've learned that problems with the fuel system will manifest themselves well before making boost allowing fast diagnosis of a fueling problem. It's happened to me twice, and both times I noticed problems with fuel delivery before ever making a pound of boost. It's better to go lean in the vacuum section of the map than in the boosted section any day, IMO.:agreed:
Now, let's take a look at fuel under vacuum. Interestingly, I treat the vacuum section of the map
completely
different than the boosted section. Under boost, my target AFRs are 11:1; however, that's not what I want for the vacuum section of the map. While crusing, I want to run stoich or 14.7:1. At idle with big cams, fuel needs to be ~12.5:1 to maintain steady idle performance. Unfortunately, the Boost Fuel Correct Table is primarily used for constant fueling unless corrections are made in the base Fuel Map. By design, that's exactly how I tune the vacuum section of the map. From 0 psi to -14.7 psi I tune cell-by-cell; this has been referred to as "hybrid boost comp". I haven't found any other combination of fuel corrections to get the variability in fueling required for idle and cruise.
Fortunately, the Boost Fuel Correct Table helps tuning idle because you want constant fuel to maintain constant idle inspite of changes in load or RPM. That's why I created a fuel "Idle plateau". The Boost Fuel Correct Table guarantees proportional fuel as a function of load; fortunately, that works under vacuum, too. From -14.7 psi to -3 psi and from 0 to 1650 RPM, fueling is maintained at a constant 12.5:1 AFR. Having constant fuel is absolutely critical for maintaining steady idle. Otherwise, you'll get oscillations in idle or "idle hunt" that I've seen on so many cars. Idle hunt is cause by a number of things, but they all come down to fuel and timing corrections that are occuring at idle. My philosophy is to minimize fuel and timing corrections at idle - fewer is better. In fact, I turn off O2 feedback below 1500 RPMs to ensure it doesn't contribute to idle hunt.
The other feature in the vacuum section of the map is the cruise "bowl" located next to idle. The difficulty in maintaining a rich idle and stoich cruise is that both are separated by just a few hundred RPMs. Unfortunately, the Throttle Inject Correct Table isn't sensative enough to fueling differences separated by a couple of hundred RPMs. However, tuning cell-by-cell makes obtaining proper fueling easy. However, it does require setting up the resolution in the map where it's needed to make it work.
The figure below shows a plot of the RPM Breakpoints to alter map resolution. This table allows the tuner to establish resolution in the map where it's required the most - namely at places where the map changes rapidly. In my case, I use it around cruise and peak torque.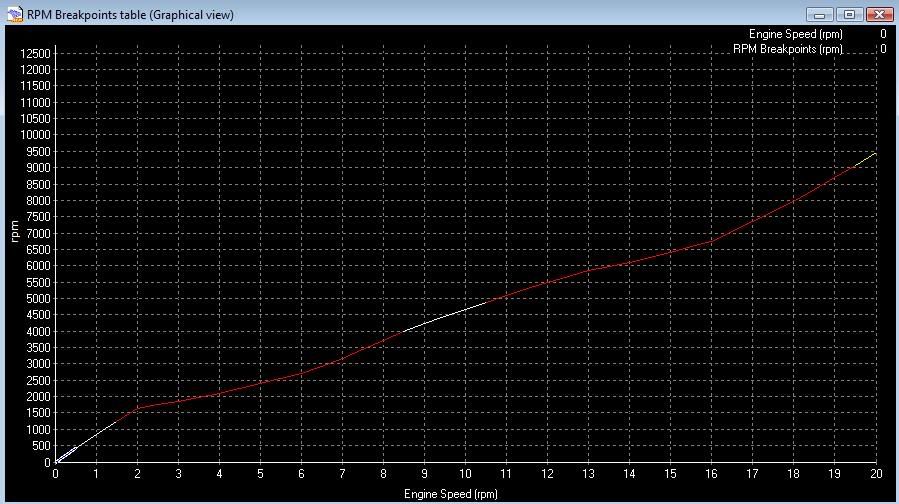 In the case of idle and cruise, I needed a lot of resolution over a few hundred RPMs to get a rich idle and a stoich cruise. The table above performs exactly that task. By adding resolution to the right of idle, I have plenty of cells to tune fuel accurately for cruise. Now, it's easy to get great gas mileage and consistent idle. I should also note that the same technique is applied around peak torque. However, it isn't necessarily for fueling; I added resolution instead for timing. Specifically, to pull timing gracefully around peak torque. I'll talk about that in another post.
I'll make one more comment about putting resolution in the map where it's needed. For example, I also use the Load Breakpoint Table to skew resolution where it's needed based on boost. It's shown below.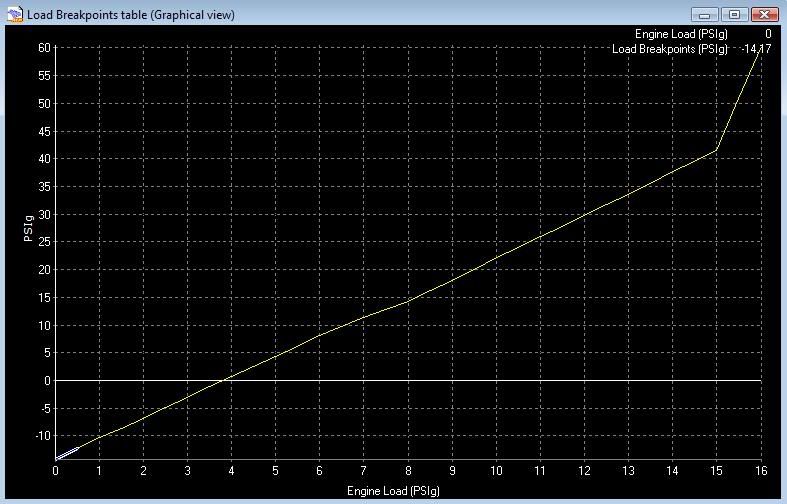 I'm running an AEM 5bar MAP sensor. It measures boost from -14.7 to 60 psi. Unfortunately, my little 'ole 74mm turbo only works efficiently below 40psi. You can see the "Load resolution" in the base Fuel Map above. Consequently, anything above 40 psi is just an overboost condition that I'll (hopefully) never see. More likely, I'll run safely up to about 37 psi; however, I'd like a good cushion in the map from 37 to 41.5 psi. After 41.5 lbs of boost, it's a "don't care" - it should never happen. That's why I set up the Load Breakpoint Table for the large gap between 41 and 60 psi. To coin a phrase from the movie "Contact", it's "just a waste of space". :lol:
That's all I have for now. When I have time, I'll discuss timing using one map for both race and pump gas; and after that, I'll talk about tuning idle.
I look forward to an open discussion with constructive feedback and comments. If you've got a better mousetrap, then let's hear it! I'm also interested in learning new techniques. Even though I've worked with the AEM for a number of years, I admittedly only know a fraction of its capabilities. Consequently, I encourage open exchange of ideas and tuning knowledge.:wavey:
Thanks,
-scott