·
No One Ever Listens To Me
looks like dusty has made some deals to get the parts everyone was asking about to MVP and obviously sold to us MK3 owners! so show your support if you werei nterested in this! he needs $4000 in prepaid merchanidise to make this happen. Make this happen so he doesnt shy away from future efforts to brnig in japan only parts for us MK3's!!
THIS IS THE KIT BEING OFFERED:

heres the thread:
http://supraforums.com/forum/showthread.php?p=3024184#post3024184
and heres the info in the thread...
Please read this thread first for background information:
http://www.supraforums.com/forum/sh...d.php?p=3023138
As a reminder here is the link to the parts priced below:
http://s2.supra.gr.jp/products_04style.html
Okay I have the pricing! I must have $4,000 of these parts prepaid before I can place the order with Japan.
After I place the order it will be 2-3 months before they arrive in the USA.
The prices below include freight to the USA from Japan, Customs charges, and all import duties / taxes. The only thing this price does not include is freight from the dock in California to your door.
I do not know how much shipping is to your door because I have never seen these parts in person! I don't know how big the box will be, so its all guesswork!
I can tell you the hood would be probably $95-$130 to a business. The mirrors are cheap, maybe $15. The rest of the parts I would have to see. I would HOPE I can ship the half spoilers with UPS which would make them $50-$80 (depending totally on box size) instead of $95-$130 with freight truck...but until they show up I can not say for sure.
I will charge you my cost on freight from the California dock to your door at the time the parts show up.
Front Half Spoiler, Carbon: $555
Front Half Spoiler, FRP: $322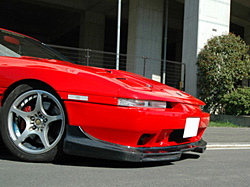 Optional under diffuser: $263

Intercooler Air Guide, Carbon: $469
Intercooler Air Guide, FRP: $293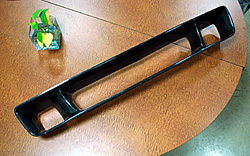 Front Wide Fender: $932
Rear Blister Fender: $932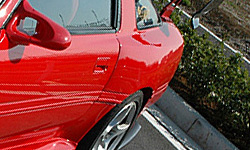 Light Weight Hood: $688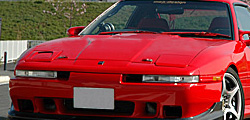 Aero Mirror: $440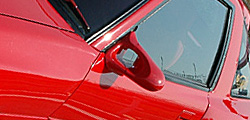 If you are 100% in and ready to prepay please either email me or post here what you are ready to pay for. When I get $4,000 spoken for I will contact everyone for the prepay and get this order rolling!!
If someone wants to cross-post this to the MK3 section or other MK3 Supra internet sites please do - the more the better!!
Any questions please ask!
Dusty