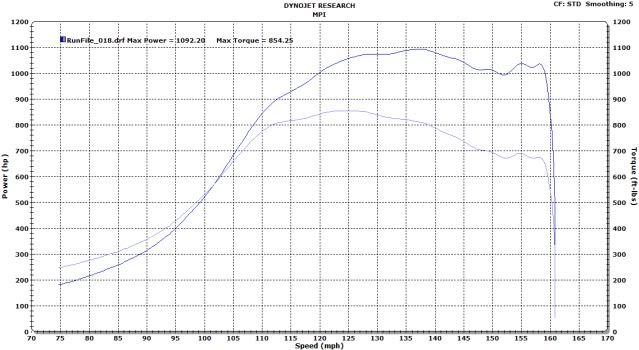 This is 36 psi all boost. Some power drop towards the end with some tire spin. The dyno numbers were 1128rwhp 876tq but for some reason the dyno operator told me when it prints the #'s change and he is working with dynojet to correct the issue. I am not trying to compete with anyone here just wanted to share so you can get the idea. E-85 47-80 3.4L There is still room for improvement around peak torque not all in yet. Car has made 1000 hp at 6000 rpms on a little more agressive tune.
I want to give mad props to Don at Accelerated Performance for bulding me a bad ass motor...... On this setup car runs truly stout, Once I got the boost control on the aem series 2 figured out car brings up the boost strong 35psi of boost by 4900 rpms. I couldn't beleive it. This combination works very well. I am very happy.
Would also like to thank Dave at Headgamez for the serious headwork and for it performing as we expected.