Red 87 5 speed Na-T
My good buddy Kalei got a supra!
His parents are divorced and he is with his mom in the United States, but he is part Hawaiian and his father lives in Hawaii. So his Dad brought him a present for his 16th birthday! But its a shame because he must keep it in Hawaii where it will sit with his dad :agreed: ...So anyway here is the full wrap sheet on the car directly from the man his father brought it from..
"This is watever mods or w/e my car has, it is coming from an email from the guy who sold my dad the car, to my dad.
I bought this car from a young man named Ruiz that lived on Papalina in
Kalaheo. He had brought it over from San Diego and blown the engine. It has
a 5 speed manual transmission and a Centerforce clutch for a 7M-GE engine.
The clutch feels like to me that it will most likely have to be replaced
within the next two years. I would suggest either another centerforce clutch
or a Power House Racing performance clutch, pressure plate/throwout bearing.
It will take less than one day to change out the clutch at Mana motors
without having to pull the engine. I would take it in on a Friday evening
and it will be a done deal by Sat. noon. Easy job. Really.
It originally had a non-turbo (7M-GE) engine and I replaced it with a new
89' turbo engine (7M-GTE) with wiring harness, ECU, dash and FMIC (front
mount intercooler). The engine has ARP racing head studs and a high
performance head gasket. Keep the boost under 10 lbs and you will have no
trouble with it.
The engine has a new CT-26 turbo and a Blitz BOV (blow off valve) controlled
by a Greedy Profec-b BC (boost controller) The engine has what is called a
"Turbo back" exhaust. Meaning there is no cat or muffler between the turbo
and the final turbo type muffler on the end of the tailpipe. There is a cat
on the exhaust but it has nothing in it.
The engine has large, performance (550 cc) RC Injectors and a "Reimer" mod.
The Reimer mod is named after a Canadian supra engine expert that is
licensed by Toyota to do ECU performance modifications. He came up with a
mod for the 7M-GTE engine that ups the injectors to 550 CC and replaces the
AFM (Air Flow Meter) with a larger Lexus unit. That along with a turbo back
exhaust, K&N filter and FMIC ups the horsepower by about 150 making the car
now put out about 350 hp and the computer handles everything just fine as
the injectors are balanced with the AFM and thinks everything is stock. The
main engine block and bottom end was new five years ago and has about 54K
miles on it. The engine now has a new head with less than 300 miles on it
including new cams, valves, ARP studs, timing belt and iridium spark plugs.
Other than minor maintenance and changing the oil and filter and topping up
the water it should be trouble free for many years to come.
It has a new rack and pinion steering however the steering pump leaks a
little so you will have to top that up every once in awhile .
It has a Eibach racing suspension springs kit on it with new high
performance low profile tires and rims. The front brake rotors are new as
are the front brakes.
The rear axles are new and the driveshaft universal joints are 4 yrs old.
It has both boost and EGT (exhaust gas temp) gauges on the A-Pillar. Don't
let the EGT exceed 1400 degrees which is an indication of very lean
condition. If it starts to creep up around there (like when under heavy load
going up to Kokee) just back off the gas.
The best wheel alignment I have gotten was from Sears. In the past I had
gone to PS&D and they were okay but Sears is better.
I use Valvoline 5W30 HD oil and change that and the filter and give it a
grease job every 2500 miles.
Also it has a new AC compressor, heat exchanger, separator and control valve
to upgrade the AC system to Freon type 134. Everything in the AC system is
new for 134. I had it charged by Denny in Hanapepe but it never did work
really well. I have a charge kit for it and we can do that at Mana motors
whenever you want.
I did all this to the car as I really liked it and intended it slowly
restore it to be my final. When the truck did all the body damage to it I
didn't think I could find the parts to fix it so bought the other one as I
really like Supras. Anyway, that's why it has all the goodies etc. I
actually like this one better than the newer one but have too many vehicles
and need to sell a couple. As nobody will come up with the $$ to buy the newer one this one is yours."
So anyway Im really happy for you Kalei, but its a shame we will never be able to have our Supras side-by-side
Onto the pictures: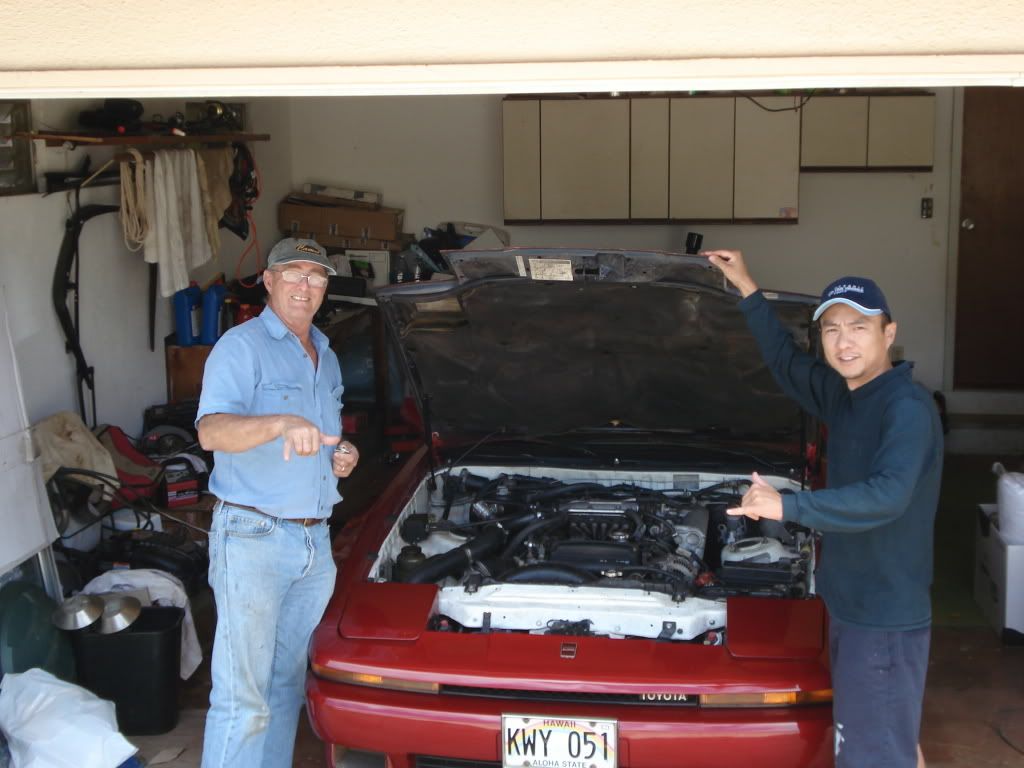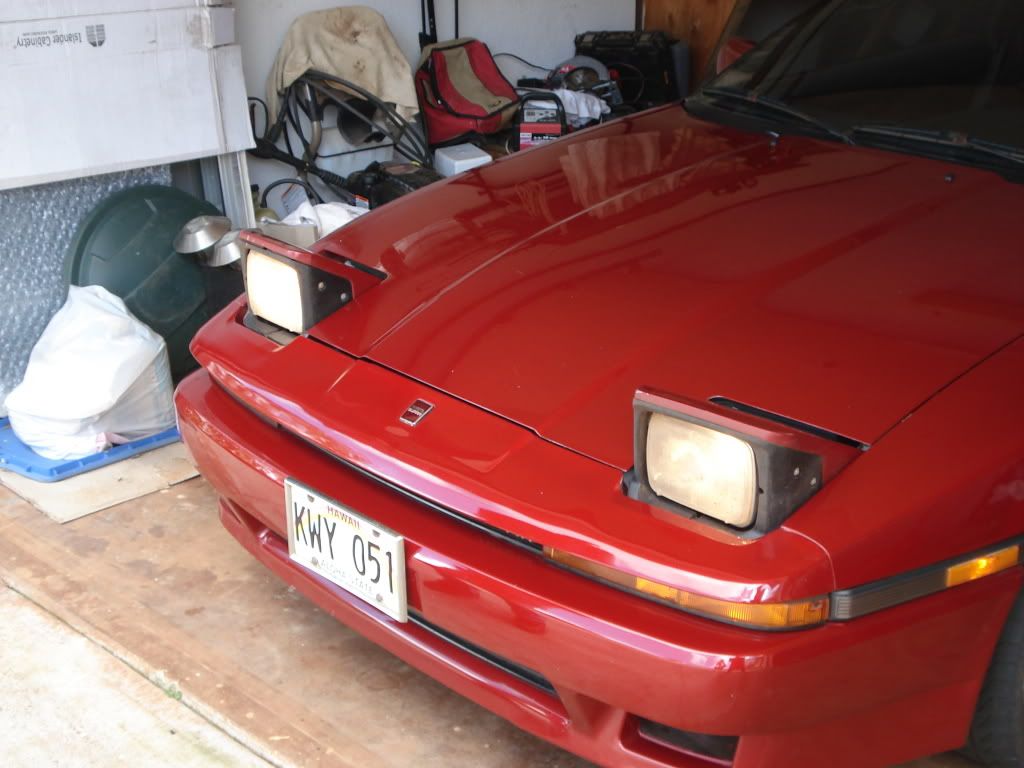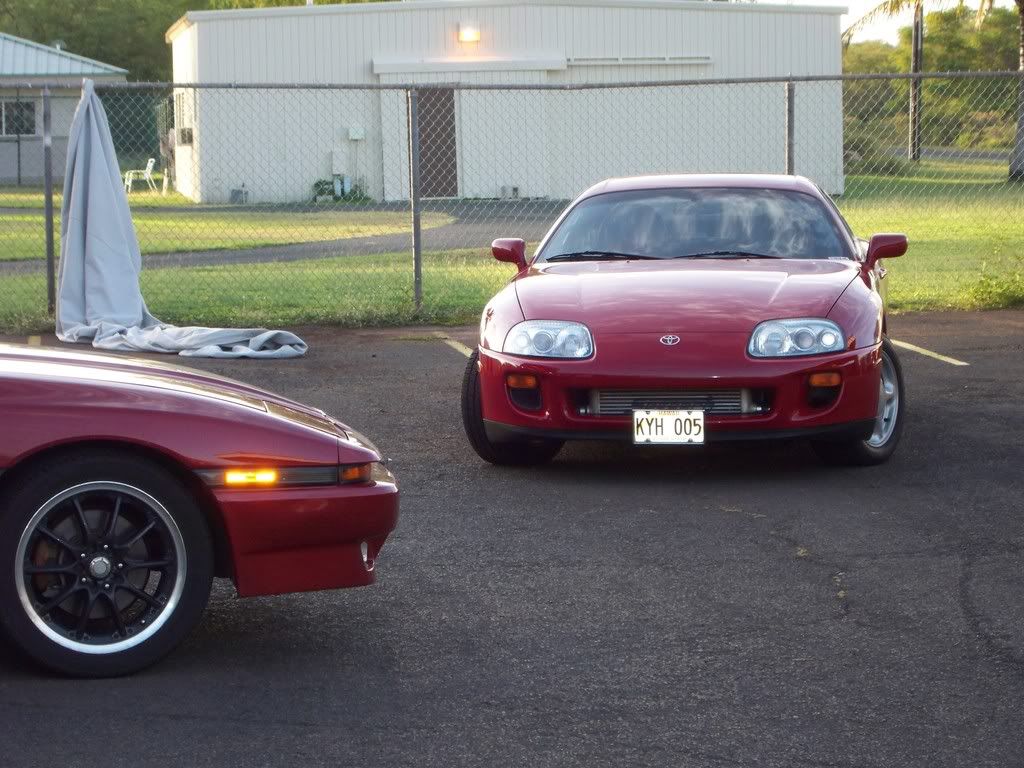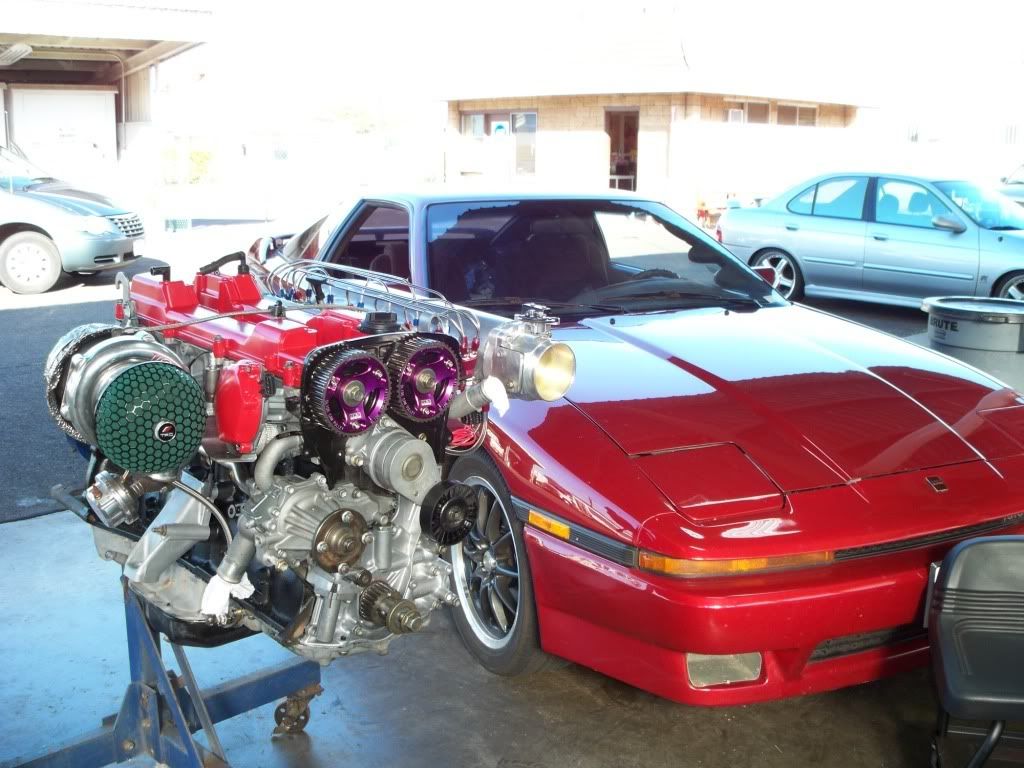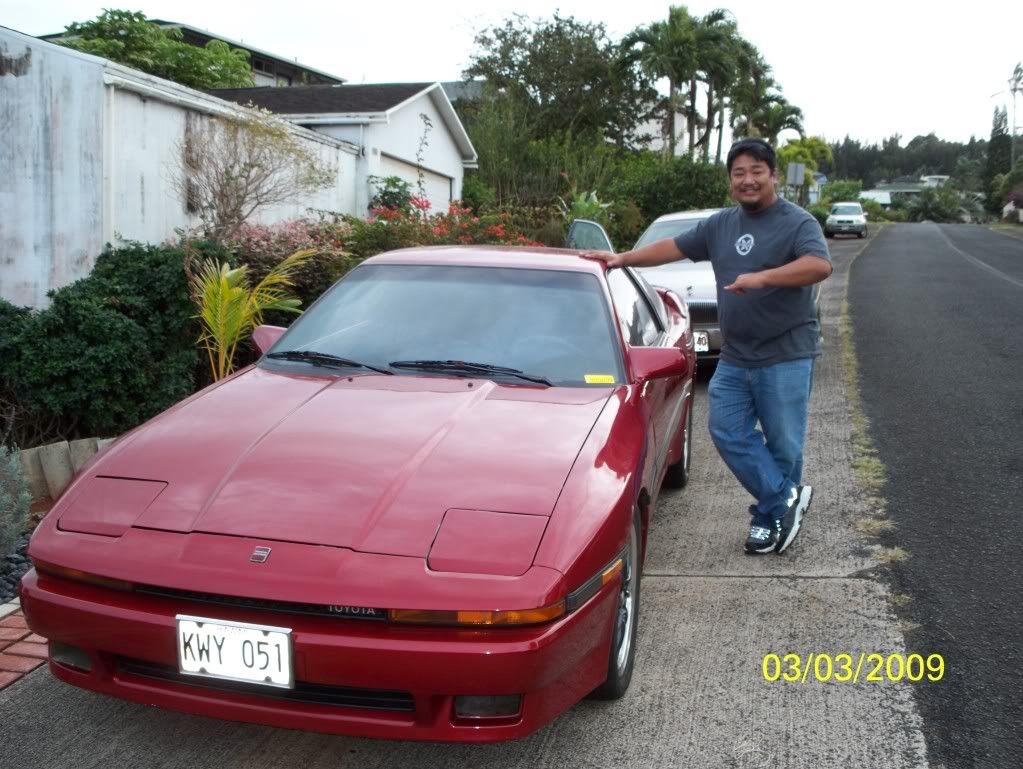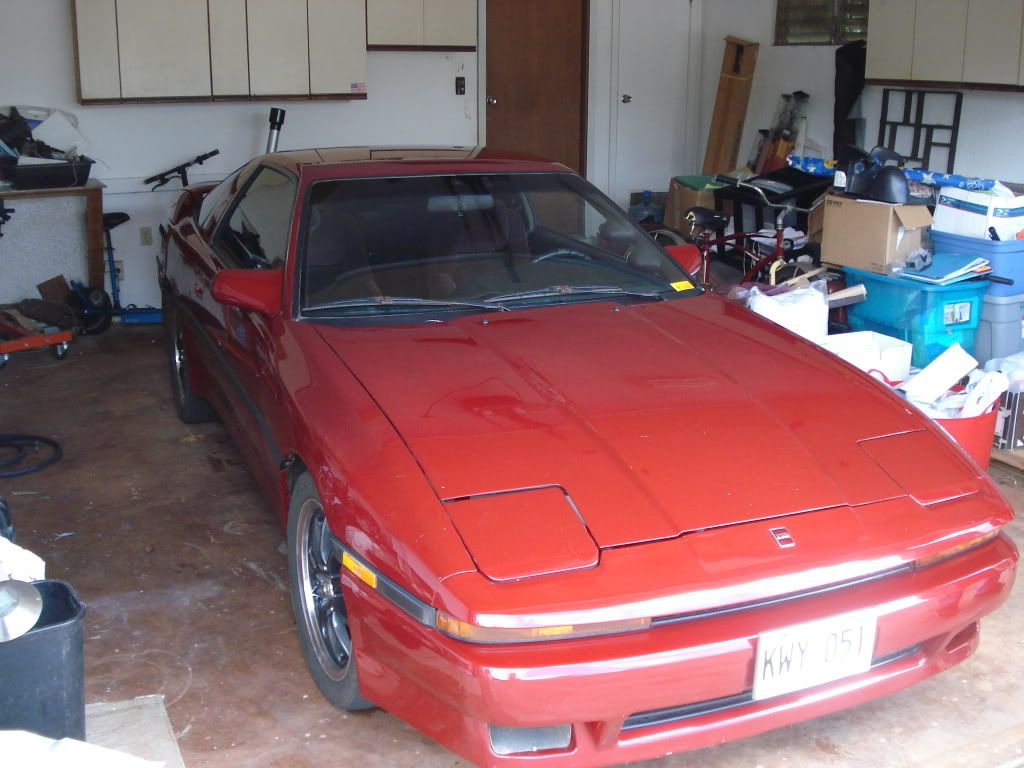 *Kalei has not driven nor seen the car in person yet he must wait until he goes to Hawaii for vacation!
EDIT: HOLY SHIT I think i just noticed its a hardtop!