Discussion Starter
·
#1
·
I don't like the unwanted attention of A-pillar pods and I didn't want haphazardly scattered gauges that don't match with the main gauges and are mounted in ugly gauge pods (the Supra dash design makes it almost impossible for any gauge pod to look "factory") so I went on a half-year quest to make my own gauge cluster. My starting point is that (1) I wanted all the "critical" gauges in the main cluster and (2) I want them all to look "integrated" and as factory-looking as possible.
In the process I also figured out how to light the needles with brilliant red LEDs (documented in the LED thread) and how to remove and re-install the needles with calibrated electronics laboratory equipment so they are as accurate as they could be.
So, the first things first, why let the stock fuel level and water temperature gauges occupy such precious real estate if (1) the factory temp gauge is useless and (2) we rarely need to look at the fuel level gauge?
That's digital oil temperature gauge just below the tach, and where the factory temp/fuel gauges were are now digital water temp and ambient air temp gauges. I also retrofitted a VDO analog oil pressure gauge in the cluster--it isn't centered because it needs to clear the steering column structure. BTW those are LED-lit needles from a car made by the same company that makes the Bugatti Veyron.
Those Cyberdyne digital gauges (all of them disassembled and retrofitted in my cluster) are pretty nice. They have settable warnings (they start flashing over certain temperatures) and they come with memory-recall functions too. But I chose analog oil pressure gauge since oil pressure reading really doesn't need to be accurate down to the psi.
I integrated a shift light in the cluster too.
BTW I love those LED needles: they are brilliantly red, and I just love those long, "light sabre" look as they sweep up and down. As you can see in this picture it outshines and "out-reds" even the master warning light. (picture was taken with flash on)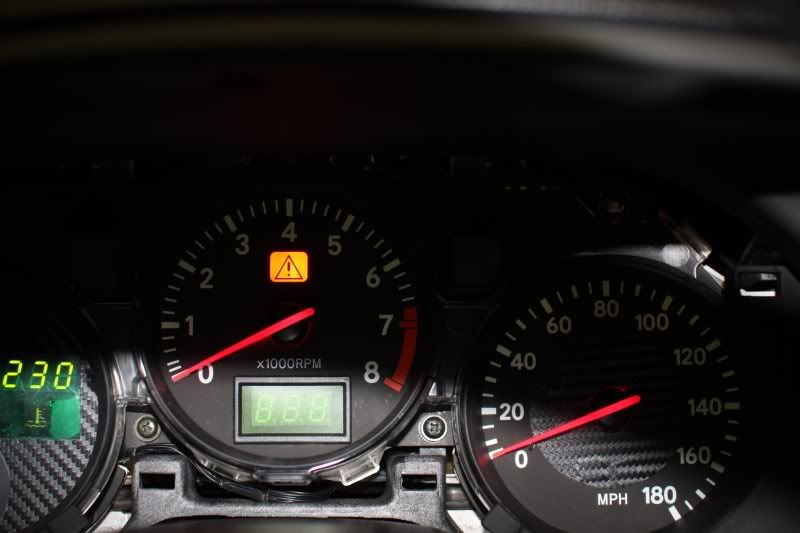 I relocated the brake, low-fuel, and high-beam warning lights from the original fuel/temp cluster to join the other warning lights in the odometer cluster. I did have to sacrifice the taillamp warning light, but who needs it in a Supra anyway?
(Supras are supposed to be obsessively maintained right?)
I also disassembled the stock clock and replaced it with a digital voltmeter to keep an eye on the alternator health. I could also make it into a WBO2 display, and I have plans for the blank buttons on the stock clock: one for a retrofitted Homelink button and another for my digital gauge memory recall. My bluetooth microphone is also mounted into the stock clock assembly, lurking in the shadow there.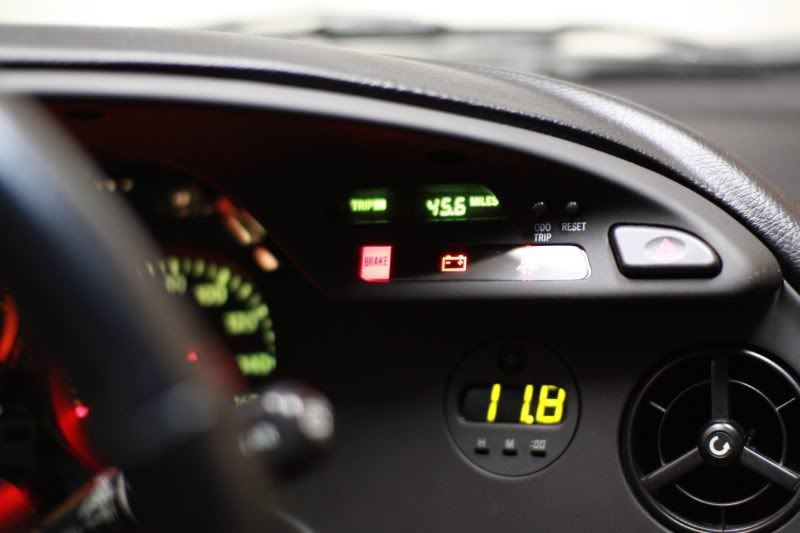 So where's the fuel level gauge, you ask?
With a little research I leared that the MKIII fuel level gauge is 100% electrically compatible with the MKIV fuel level sender (thank you Toyota for standardizing such things!), and it comes in its own neat little module, so I flush-mounted it in a triple gauge pod just below my new stereo.
I also put a VDO water temp gauge here as a backup to my now "primary" digital water temp gauge, and I harvested two spare VDO gauge bezels so they all match. The fuel level gauge doesn't quite match the VDO gauge but at least it's "relatively" OEM-looking. The fuel level gauge is LED lit but I'm too lazy to open up the VDO water temp gauge just to light its needle. But, as you can tell, the brilliance of the LED-lit needle is unmatched by the normally-lit VDO needle (similar to how our stock gauge needles are lit).
BTW the MKIII fuel level gauge "barely" fits behind the standard 52mm gauge opening. Could I make a custom gauge face for it so it looks more centered? Probably. Am I too lazy to do such a thing? Absolutely.
Finally, some beauty shots of those main gauge needles, and a shot with just the needles lit. You may notice I blacked out the fugly yellow/orange km/h markings in my speedometer because I just HATE how they look ugly and cluttered. With just the mph markings the gauge looks much cleaner IMHO. I'll admit I riced out and used some carbon fiber-look vinyl to do this.
Not really noticeable except in direct sunlight or if you were looking at it closely, but they are cheap and plentiful on eBay so if I can't have something that exactly matches the stock gauge face at least it's kind of an interesting little "detail."