Well, kinda 1/2 and 1/2 owned with my old man.....whatever haha here's the story.....
Never really thought much of this vintage of Corvette, and quite extensive drives of a friend's fairly stock 74 Vettes didn't better my opinion much. So one day we're hanging around at a local Chevy shop (aka some guy's garage) and this 78 silver anniversary pace car comes in on the hook.....fully restored just a year ago, but they cheaped out on the motor and it dropped a valve. Me and the Dad hashed it out over a few days and decided what the hell.....price was right too. Paint/body and interior were in nice shape, the suspension and brakes were almost new, so it was basically in need of the motor job and a serious clean/detail and some touch ups here and there.
Sent the matching number 350 (4 bolt main) away to the machine shop to repair the slight damage with a bore/hone job and check out the crank. Threw in a set of forged pistons and rods....CR around 10:1. After that, the mods list started to grow as the engine came back together....stock these things were around 200hp, so some thing had to change obviously. Here's the list from memory:
- Edelbrock aluminum heads (Performer RPM complete w/springs, retainers, hardened pushrods, etc)
- Edelbrock alum. intake manifold
- Coated headers
- Cam upgrade (forget the spec....something like an RV I think)
- Carb is some Rochester double pumper around 700-750 but I forget the exact spec
- Full dual 2.75" exhaust w/h-pipe
- Flowmasters are going on.....but it still has the stock mufflers and tips (ugly) in these pics
- Full MSD ignition system....box, wires, cap, distributor, etc
- Aluminum water full
- High volume oil pump
- K&N
- Stock TH 350 auto with shift kit/manual valve bodies
- All new gaskets, seals, plugs, lines, bushings, etc
- Repain engine bay...black bay, black block, black stock valve covers with polished tops, aluminum everything else.
- Needs new tires next....in these pics there's BFG's on the back and Goodyears on the front lol
- Motor revs to 7,000 rpm estimated around 370hp crank
So after all the parts were on the motor, the exhaust was built, engine bay prepped, in an afternoon the motor was in, fired up easily and the car drove. In the first few drives I was hugely impressed with the car.....the earlier 70's Vettes I had driven were very rattly and the suspension was noticably flexy. This 78 (apparently there were some changes in this year) with all new shocks and bushings, felt much better. The suspension is still S T I F F, but tight, and the handling is dead flat and pretty fun......especially with 12 feet of batmobile hood in front of you hahaha
Overall I'm impressed with the car and it turned out better than both me or the Dad ever expected. Absoulely everything works on it....air cond, pw/pl, factory alarm (whoa), 8-track, power antenna, etc. It's comfortable to drive, handles and brakes good and, most importantly, goes like snot. The trans shifts brutally hard with the shift kit under full throttle and will easily bark the tires into 2nd and 3rd on the highway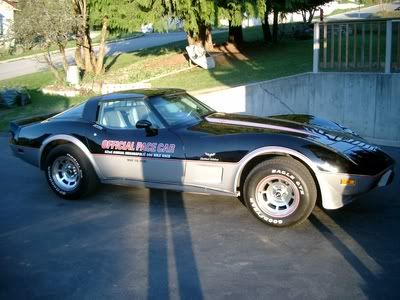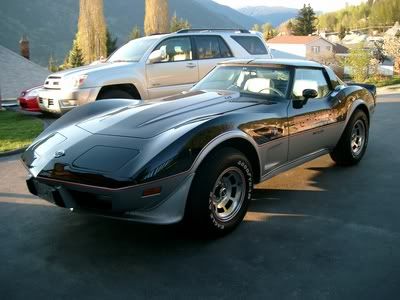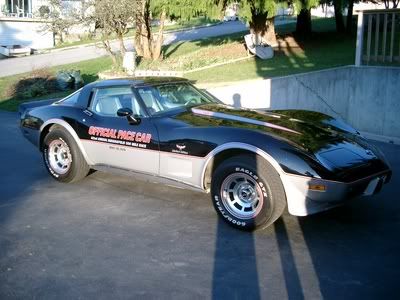 Silver Leather? Aww yea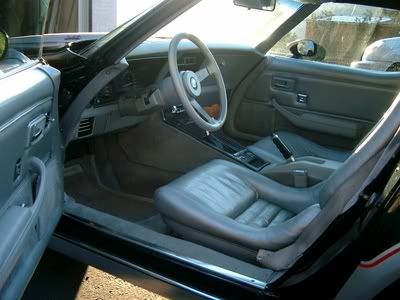 Think the air cleaner lid's going chrome....undecided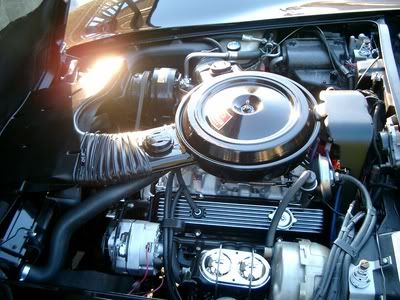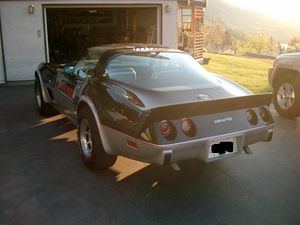 That's a lotta hood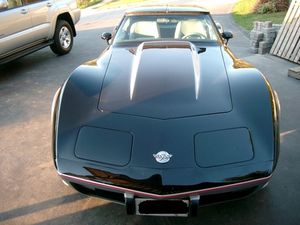 Anyways, just thought I'd share....I know this bodystyle isn't everyone's first choice, but it's definetly growing on me! Oh, and I know the stickers are a bit much, but that's the way these came and trying to keep it as orig. looking as possible. EVERYONE looks at this car, I got much more attention in this thing than the Lexus SC430 I was driving literally the same day....go figure :bigthumb: And best of all, it worked the Lex in a little race up the mountiain