Hey guys, just wanted to let the NE Ohio enthusiasts (or from any other region if you are interested) know that our club's weekly cruise-in show is now back in effect as of last sunday.
This show is called Superfly Sunday, it was established back in 2001, and is probably NE Ohio's (if not the whole state's) largest weekly cruise in. It is mainly a tuner/sport compact show, but we welcome and encourage all auto enthusiasts to bring their cars or just show up to check out what's new every week.
The show is held weekly starting at 6:00 pm at Spaghetti Warehouse in Akron, and goes on until, well you want to leave. Here is the address:
The Spaghetti Warehouse
510 S. Main St.
Akron, OH 44308
(It's very close to the Aeros stadium)
The show is, and always has been, free. Out of respect for our property host Spaghetti Warehouse (since they are open during the course of the show, and the food is great, btw) and for the sake of humanity and our ability to continue throwing this show, we ask the following:
No Burnouts
No Alcohol
No Obnoxious behavior
Respect other owners and their cars
Throw trash in the supplied bins (trash cans our car club puts out at each end of the lot)
That's pretty much it. Just be human, hehe.
Check out the details, address, and map and how to get there at
www.superflysunday.com
(the black and white title picture with the cars was our lot from 2 years ago, it is not our current lot).
The restaurant has given full permission to use their lot. As you can see by the aerial view map on the superflysunday.com site, we have a huge lot to use, and usually get anywhere from 100-200 (on good days much more than that) cars, everything from Supras, other Toyotas, Honda/Acuras, Rotaries, Mustangs, other V8's, Lambos, Vipers, Panteras, Maseratis, Porsches, Nissans, Euros, etc etc etc. You name it, Superfly has seen it. Akron Police is authorized to make random drive throughs to make sure everything is on the up and up, and we encourage them to do so. It is a fun, safe way to show off your ride and you can even grab some food, should you so desire.
As an added bonus, there will be raffles and other events going on throughout the course of the summer, so you can even win some money if you like.
As another added bonus, since it is a warehouse district on the outskirts of the downtown area, it gives for some GREAT photo-ops. There are tons of warehouses, loading docks, train stations, buildings, open parking lot areas which look absolutely beautiful in pictures.
Here's my car at night in one of the loading docks, just to give a general idea of what I mean: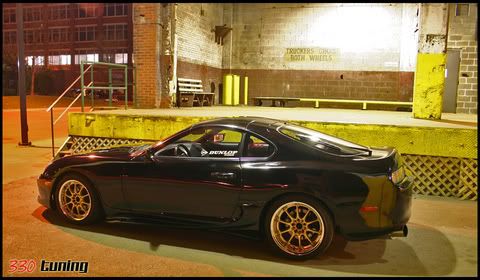 Hope to see you guys there, it is a good time and something nice to do on Sunday evenings.