SupraForum Members:
My name is Tom and I own Specialty Auto Carpet Systems which falls under my corporation of TF Enterprises. I am an associate of Bill's at Leatherseats.com. Last year Bill and I discussed a number of vehicles that in his opinion needed viable aftermarket replacement molded carpet kits for. This included The NSX, 1st, 2nd, 3rd Generation RX-7's, and The Toyota Supra both the MKIII and MKIV. We have everything done and have been selling the new molded carpet kits to everyone for 1 year plus on all but the Supra Carpet Kits. This because we have been in discussions with the administrator of this forum for a while now. As of a few days ago they have given us the green light to present and sell the new molded carpet kits to you.
This initial GB will be priced at $499 (Retail is $599) delivered (in the continental US). In addition to this initial GB at $499 Leatherseats.com is also offering a GB on their products. To commemorate this accomplishment and our partnership we will extend and additional 10% discount to anyone that buys both Leatherseats.com GB products and SpecACS' new molded carpet kit. This 10% discount will be taken off of the GB price of the $499 for the carpet kit. Floor Mats are $129 delivered. GB will end in 8 weeks on JUNE 18th, 2007.
REN (one of your fellow forum members) was kind enough to volunteer her Supra for the molding and test fitting process and has the new carpet installed in her vehicle. In addition Dusty @ MVP Motorsports was sent a carpet to inspect for quality, but has not yet been installed. He even took it to the last Large Supra show to gauge interest in this new product.
Now what makes this carpet better than the original carpet available from Toyota? Well there are several reasons. 1st and foremost is the quality of the material used. We have three different types of carpet available and they all use the latest technology in chemical and physical properties then were available even a few years ago. 2nd is the availability of dozens of different color and textures. All of the kits come with jute padding that is self installed and the use of rubber backing. The rubber backing acts as an insulator from heat and noise plus it gives the carpet a "backbone" so it does not wrinkle or fold and help the carpet last longer. Our Rubber backing in most cases in much thicker then that used by the factory.
The kit will consist of the front passenger area that is molded to the floor pan plus a rear trunk mat that will have rubberbacking and will be surged (edged). Floor mats for the Supra will also be available. For the moment they will be without any logos until the licensing is completed with Toyota. The new molded carpet kits are not pre-cut with any holes. This is for those who have modified their interiors. It is always easier to cut a hole in carpet then it is to try to fill a hole you do not want in an area. the majority of our customers have some kind of interior modifications already in their vehicle.
To receive Samples Please E-Mail me at
[email protected]
. Send your address and color and type #'s of the samples you are requesting. Please list Subject as "Supra Carpet Samples Needed". Please DO NOT PM US. There is a very low number of PM's allowed on this forum.
For those who want to place an order we take CC or PayPal for payment. E-Mail us the information below. Just copy and paste it. Fill in the carpet color number in place of the words. In Subject Line Please put "Supra Molded Carpet GB".
E-Mail or call with the following information:
PayPal account is
[email protected]
name
address
address for delivery if different then billing
Phone #
E-mail address for receipt
CC #
Exp Date
CVN #
Carpet Color Number – 456 - C 86-92 MKIII Supra Molded Carpet Kit
Carpet Color Number – 187 - C 93-98 MKIV Supra Molded Carpet Kit
If you have any other questions or concerns do not hesitate to contact us at
858.883.2655
during the daylight hour's pacific coast time 7 Days a week. If you get my voice mail please LEAVE A NAME & NUMBER. We will call you right back.
Carpet descriptions:
500 Series:
The most modern up to date carpet, technically speaking. This line was just developed a few years ago. It has a retro look with and was developed using modern chemical techniques and formulas that make the carpet more vibrant and durable. The looping is larger and less organized than the 600 series.
600 Series:
The carpet is a high quality carpet that duplicates what was used on older American Muscle Cars and some higher end imports. Looping is smaller and more organized/uniform than the 500 series.
1500 Series:
This is a very Plush Cut-Pile carpet that is uniform in height. It is used in very high end production vehicles like Mercedes, Bentley's, and other such vehicles. It is very tall and dense. These properties make it very popular as a replacement carpet. In terms of quality most manufactures use an 800 series carpet in production vehicle as OEM carpeting. The number represents density, thickness, and overall quality of the carpet.
I know this is a lot of information to absorb for more information and to see the other products and customer feedback please refer to the following forums.
www.RX7club.com
www.nsxprime.com
Do a search under "molded carpet" to find the latest input from these customers. Our forum name on those sites is TFEnt.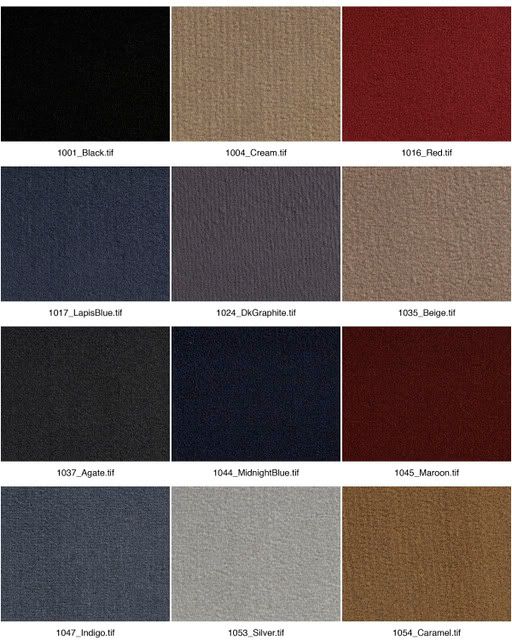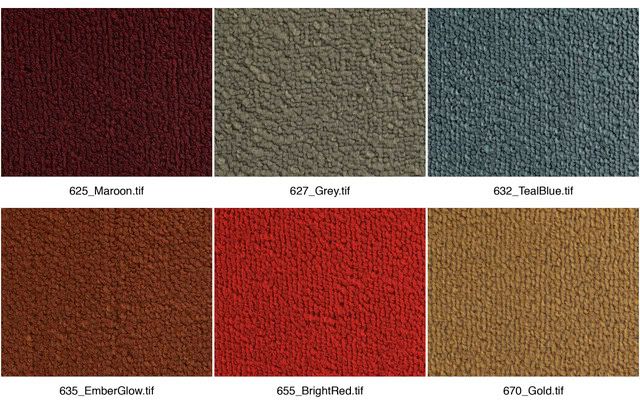 Before
After