Discussion Starter
•
#1
•
Over the winter i decided to go all out and polish everything i possibly could (intake manifold, throttle body, valve covers, stock twin piping) and got new vacuum hoses and painted a few parts. The end results are exactly what i wanted! Everything looks perfect and i couldnt have done it without the help of a few friends.
I'd like to thank Tony (TT_6SPD_95) for his amazing polishing job, Phu
:MySTiK_[SuPRa]:: ) for helping me remove a few parts and for the polished intake pipe and a few couplers, Tom (TT BomB) for coating my hard vac lines and several other parts for me, Stu Hagen for the polished twin turbo pipes, and Josh (Josh S) for painting my spark plug cover and fuse box covers. You guys are awesome and I couldnt have done it without you!
Now, onto the pics. The trasformation from stock several months ago to fully polished now is incredible. Here is a pic of my engine from the first day i got the Supra last August: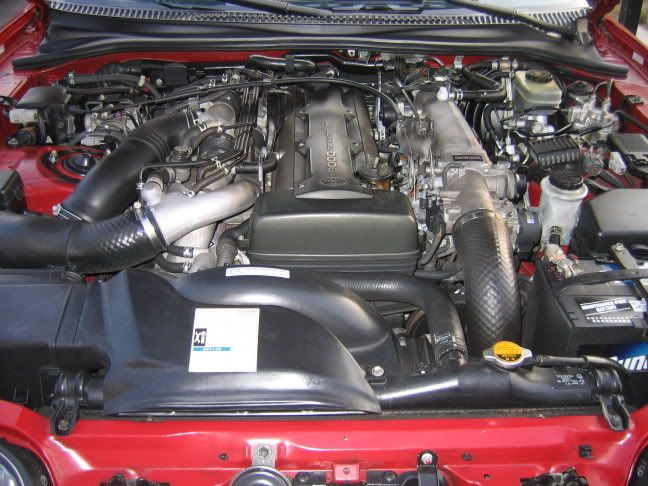 About a month later, my friend Josh painted the spark plug cover and fuse box covers red for me. I also got an upper radiator pipe and polished it up:
Then here is the extreme makeover pics from all the hard work i put into it over the winter. These are the best pics i could get from inside my garage. Ill try to get some shots outside when the weather is nice:
Let me know what you guys think