this is my OEM looking reverse camera install thread since I didnt see any post of a rear camera on a supra I posted my own. this camera came from a backup camera of a RAV4 on ebay the link is below. I paid $25 plus shipping and got it with in a week and a half from hong kong its not plug and play as in you will have to fabricate some type of bracket to hold the camera in place but the spacing is correct for the opening of the license plate light without having to make mods to the rear bumper. all I did was trim plastic off the original light bracket glue n screwed the camera on the bracket and filed down some extra plastic so I can screw the original light socket in. took me about 4 hr because I like 2 do things slow.



Ebay Reverse Rear View Backup Camera RAV4

Bumper removal

tools:
10mm socket with a Universal Joint
phillips head screwdriver
flat head screwdriver


you are going to have remove the inside rear trunk panels 4 phillips head screws on the back side and 8 phillips head screws on each sides to get to the two gold 10mm bolts on each side to loosen the bumper, remove tail lights which is held down by two 10mm bolts on each side, on the corner of where ur tail lights were there is a 10mm bolt on each side remove it. there is approx 11 plastic black phillips head screws around where u remove the tail lights. remove all of them and carefully remove the retainers. remove the 3 phillips head screws holding the license plate light on the bumper. go under the car to remove a 10mm bolt on the bottom corners of the bumper, while ur still down there is gonna b a black strip with 4 phillips head screws remove them and be careful not to bend the bar use a flat head to carefully pray it loose. there is 1 more clip under the bumper right under the exhaust to fully remove the bumper. to be continued.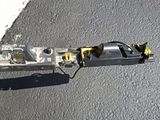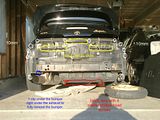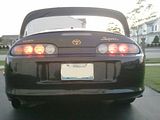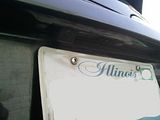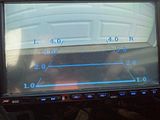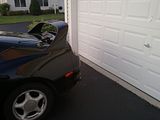 this is the spacing and the video feed above it is what it looks like from the camera
rear view backup back up camera