Went down to run on the road course at Miller Motorsports Park outside of Salt Lake City last weekend in the Supra, and participated in the Tarzan Lap Battle during the GT Live event.
Finishing up my first lapping session on Saturday, I can smell something funny, but I've been really hard on the brakes and tires for the last 20 minutes and there are cars in front of me. Last lap anyways, so as I'm pulling off the track I see smoke coming out of my hood. I hope it's just my brakes, but I hurry to the pits anyways. As I stop I can now see flame coming out of my hood! I popped my hatch to grab my fire extinguisher and threw open the hood to see my fuse box and wiring harness on fire. And of course my extinguisher didn't work as advertised and just kind of sputters out as I watch my car burn. Some spectators came over and doused it with water bottles. So super duper, my whole drivers side engine bay in ruined. Fire started from a hot wire running under my power steering reservoir bracket, came unsheathed, arked, and started the blaze. Must have been all the flex from my targa top huh guys? Had to rewire and insulate what felt like hundreds of wires and replace a couple of melted relays. Car ran and thought I was going to make it home.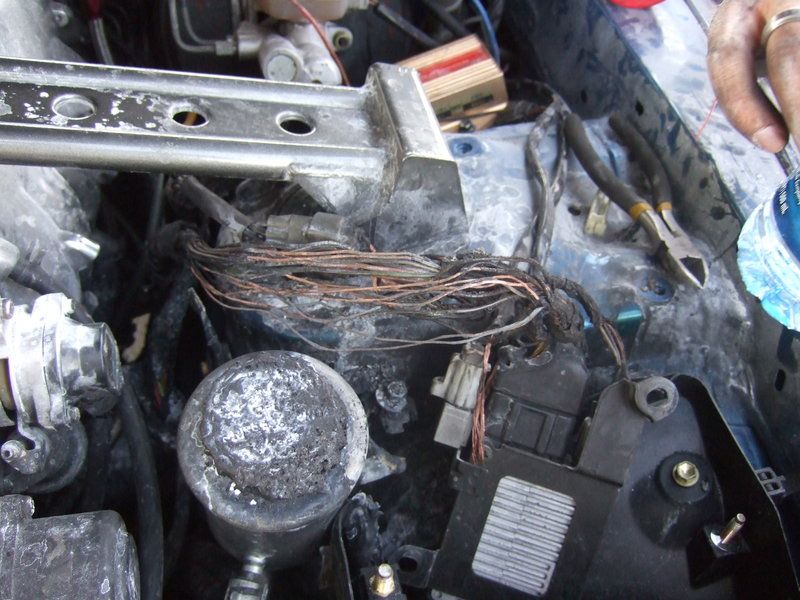 Chapter 2:
Cars running and I look down and go....Crap, where did my crank damper pulley bolt go??? Can't drive the car without it incase the pulley falls off. I just spent $400 for that. Thanks to a generous Cody Phillips for removing the bolt from his drag Supra and Brett for loaning me his car to take the road trip to Cody's house. Found it my first attempt even though I haven't been there in a couple of years. Listened to some weird mixed CD Brett cooked up. Collected the part and went out and partied with the bolt assuming I would install it the next day and be going home until.....
Chapter 3:
Sunday I put in the bolt and took the car for a test drive and it ran fine, but sounded funny. Popped the hood and my friend noticed that he could see the timing belt eating its way thru the timing belt covers. Disassembled the front half of the motor to find that my timing belt tensioner idler pulley bracket had broken and my timing belt was just flapping in the wind and working its way off. What luck! Was out of time and no way to get parts on a Sunday so the car was to be abandoned until next weekend. Having lunch with the Boise crew that was to give me a ride home, Cody returned my call and exclaimed he had the idler bracket I needed. Followed by a BL billet tensioner plug. SWEET! Talked with Brett and he was generous enough to leave my friend and I his car. Retooled with a crank damper puller to get at the timing belt tensioner bracket and thought I would be out of there within an hour until and back to Boise by midnight........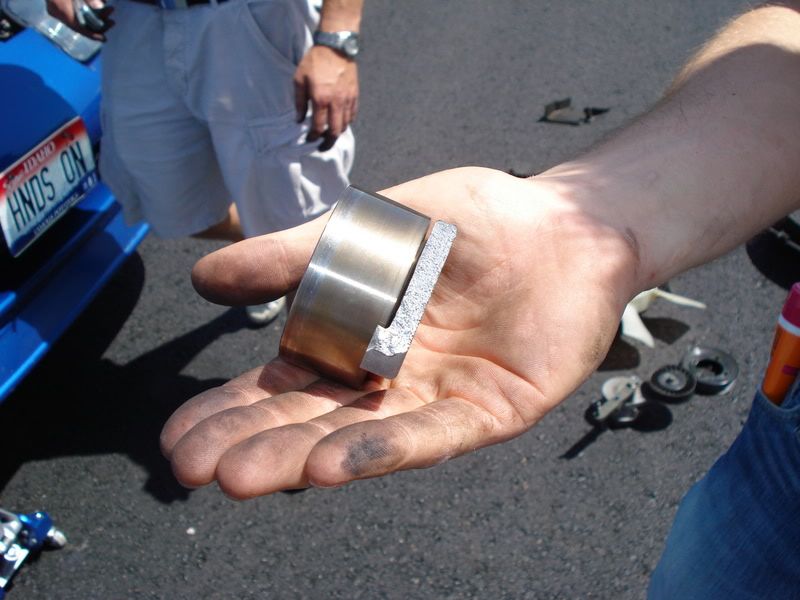 Chapter 4:
With the crank damper bolt coming out, the keyway on the crank got wallowed out and was FUBAR!! The key was digging into the damper so that I couldn't pull it off. Even pulled some threads out I was trying that hard. It was loose to the effect that I could move it from side to side and feel the slop in the keyway. Well, decided to stay an extra night and see if a race shop would be open on Monday and have a better puller.
Refreshed from another night at the Hilton, never found Paris but she's most definitely not LDS, retooled again with a big hammer. Fixes everything. Also rented a 3 jaw gear puller. Went out to the car and nothing. Had a race shop helping and couldn't get the damn pulley to even budge. Luckily found that the geniuses at BL developed a two piece damper, that I'm now running, unbolts from a collar sleeve that has the keyway and slides on the crank. So now I can at least get to the timing belt tensioner bracket and we should be going home until.....
Chapter 5:
Well now, just where was the zero (TDC) mark on the damper when I unbolted it??? Crap, and where is that little chunk left of my timing belt cover that has the zero degree on it??? Damn guessing game. Ended up putting the timing belt back on one tooth off, not bad considering how much guessing I was doing. Equates to about 5 degrees retarded and the car ran like crap, popping and fizzing all the way home. Had a cut off time to leave SLC by 2pm on Monday to get my friend back to Boise in time for his flight home at 9:30. Had the car running at 1pm with no time to readjust the timing.
Theee END! Time to build my spare block, paint, and wiring harness.
Huge thanks to:
Brett Todd for the wheels
Cody Phillips for the parts stash
Falken Race Team for the only other 2J power plant in their IS350 and searching spare parts boxes plus electrical tape.
Miller Motorsports Cobra Race Team for borrowed tools and time.