Alright so ill start from the very first when i bought the car which was in 2006.
Since i was a freshman in high school i have wanted a MK4 supra so i dedicated my self to save up for this mofo. So in September of 2006, after i graduated i took a trip out to Road Island and bought me a *1993 RR Auto Tan interior high mileage stock body Toyota Supra TT* with very little BPU mods.
Cash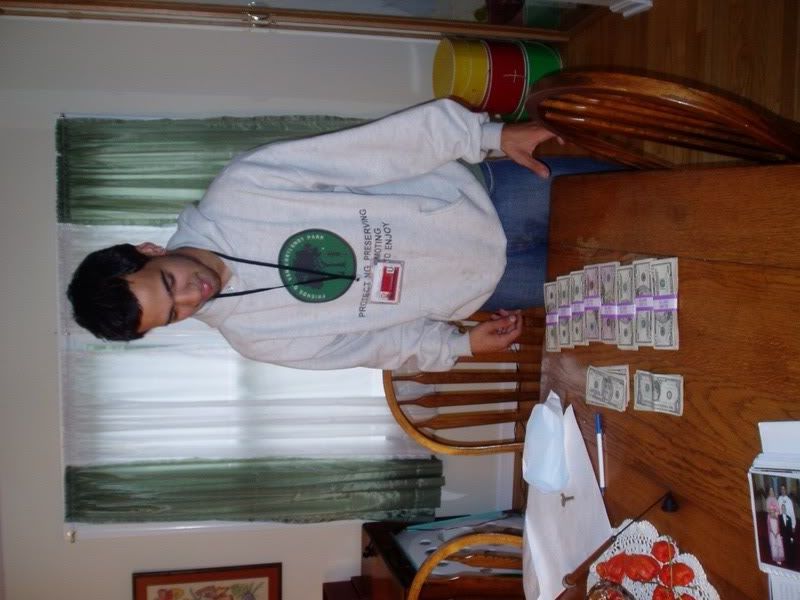 Supra purchased.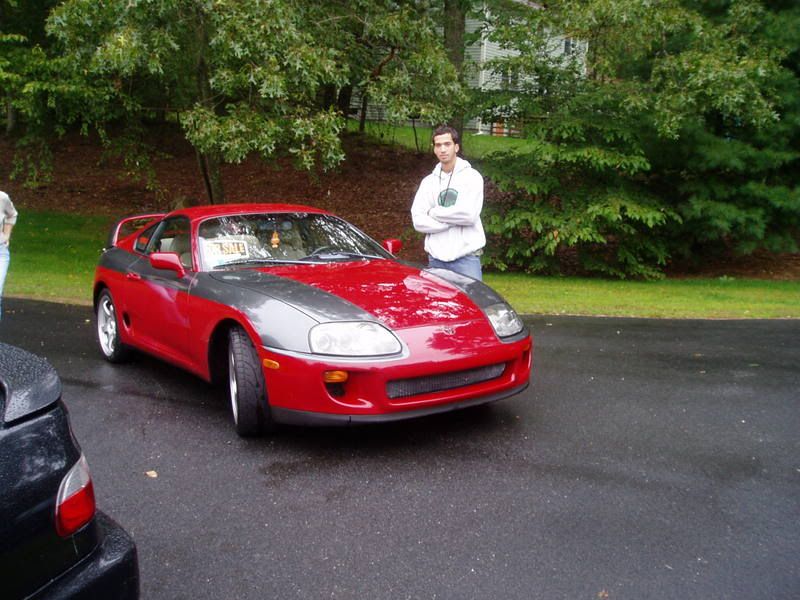 Andrews parents where nice enough to let me use their plates to get the car back to new york and just mail in the plates when the car got to its new home safe and sound.
No disrespect to the last owner but WTF was it with the two gray stripes? So on the following summer of 2007 i got the car resprayed all red except for the hood. Since i was painting the car i went ahead and got me an Ebay FMIC with XS power IC piping, RMM carbon fiber center TRD replica spoiler and a wing west front lip from MVP Motor sports, Fluiedyn radiator APP fan shroud with fans.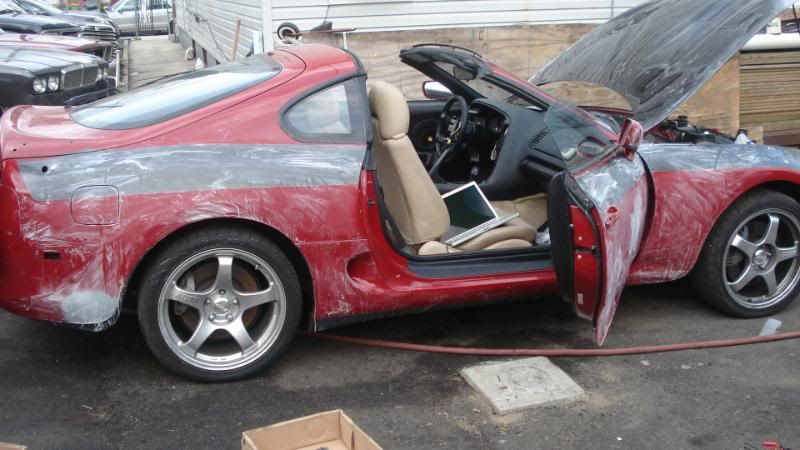 When when all the body work was done i just decided to patch up the stock antenna, rear wiper, rear wiper squirters. For the car to end up looking like this: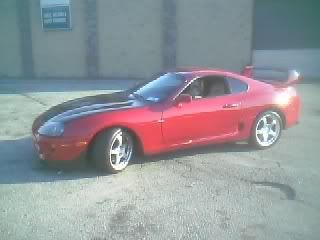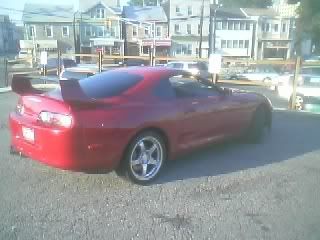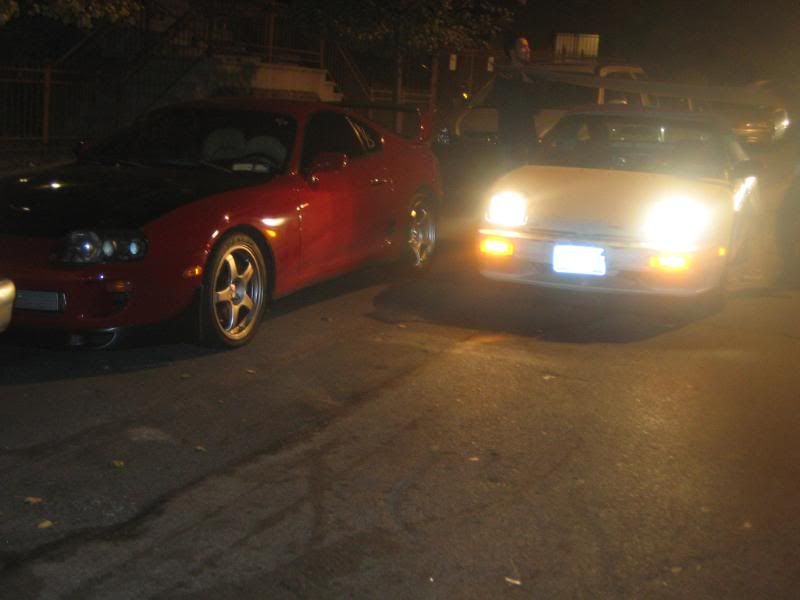 So for the summer of 2007 I drove the car around went to a bunch of Honda meets to show the car off, and it sure did get a lot of attention from that crowd. I got the car tuned sometime in October-November.
Graph looked like this: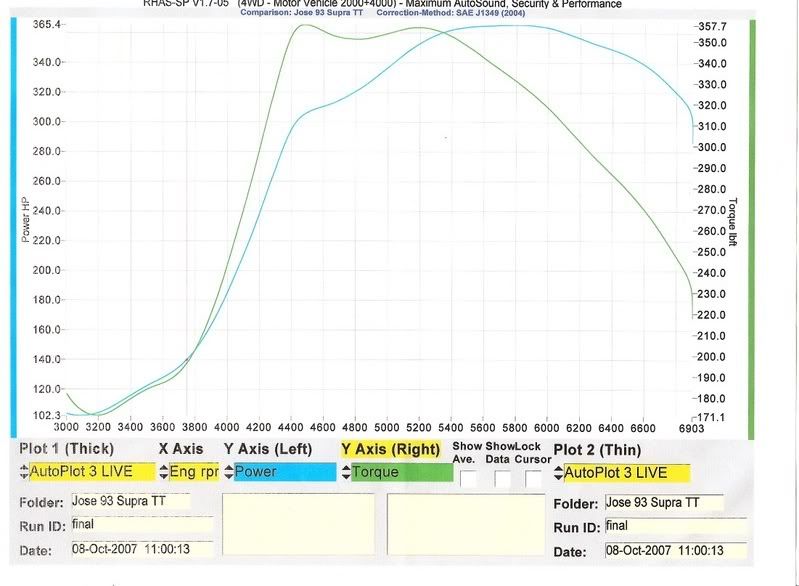 This is where is gets interesting. Around the same time of me getting my car tuned it was time for an oil change. I was in the process of doing so when my friend, who went to Lincoln tech here in NYC, a good automotive car school goes to take the oil filter off. I usually don't let none of my friends touch my car, but hey since he graduated the school with pretty good standing i said sure why not, the moron ended up leaving the old oil filter rubber ring attached on the engine. So you know what happens next, Mr KNOCK KNOCK comes out to play, the son of a b**** has the nerves to says he does not remember touching my car and wont take the blame (no need for me to say what happens when he said that shyt to me) in some part is it my fault for not double checking.
So after a year and some months of the car sitting and me reading and learning like hell about supras, now in 2008 going on to 2009 i have decided on a couple of things to do. Some of the upgrades and already exsiting things consist of this:

Misc. and electronics stuff:
1998 steering wheel.
1998 head, tail and signal lights.
1998 dash panels.
MOMO E-brake handle with MOMO boot.
AEM series 2 ECU.
Aem serial gauge.
PLX M300 Wideband.
Defi Control Unit II.
Defi BF Fuel Pressure 60MM.
Defi BF Oil Pressure 60MM.
Supra devil emblems.
TTC dash bezels.
Findanza cam gears.
Drift motion Gen 2 lightened pulleys.
MVP upper chrome radiator hard pipe.
Fluydine radiator.
AAP fan shroud.
RMR West front Lip.
RMR TRD wing.
Short block: Built by Jose @ HPK Performance
Cp pistons 8.5.1 compression .20 over with upgraded wrist pins and rings.
Carrillo HD H-Beam rods.
Clevite 77 P bearings.
New Toyota oil pump.
New Toyota water Pump.
Timing Belt Tensioner & Pulley.
Boost logic Billet timing belt tension bracket.
ARP L19 head studs.
ARP main studs.
Titan damped crank pulley.
New Toyota engine Gasket Kit.
Head: Built by Rich @ Lab works Machine shop
Ferrea valve train
Super Alloy Competition Plus 1MM over.
Titanium Valve Spring Retainers.
Valve Spring Seat Locators.
Valve Seat Locators.
Dual springs.
Valve Seals.
Valve guides.
Kelford T202-C Camshaft (270/272).
Fuel System:
RC Engineering 1200cc injectors.
RMR -8 Fuel rail kit.
Weldon 2040 fuel pressure regulator.
Twin Denso 50MM pumps.
Aeromotive 10 micron fuel filter.
Single -10 from hanger to Y-block splits to twin -8 to rail ends.
Single -6 return line.
Exhaust:
BoostLogic 4" Exhaust.
Ebay 4" downpipe & midpipe.
Drive train and suspension:
TRD LSD 6-speed Differential.
Th400 reverse pattern with trans break.
B&M Quick silver shifter.
Neal chance bolted converter.
3" 1 piece drive shaft.
Brakes:
Titan line lock
R1 Concept Premium front slotted rotors.
R1 Concept Premium rear slotted rotors.
R1 Concept Premium parking brake pads.
Toyota front and rear brake pads.
Toyota brake caliper cylinder rebuild kit (front and rear).
Motul 600 Brake Fluid.
G2 black caliper paint.
Goodridge G-stop stainless steel brake lines.
Wheels and tires:
Street:
Front - SSR GT2 18x8.5 with 45/35R-18 Hankook Ventus V12 evo K110 XL
Rear - SSR GT2 18x9.5 with 275/35R-18 Kumho Ecsta XS XL
Drag:
CCW drag's wheels
26" x 5.5" x 16" front skinny tires and 26" x 11.5" x 16" Mickey Thompson rear drag slicks
Lugs and Studs:
ARP extended lugs (front and rear).
Muteki SR48 open end lug nut black.
Turbo:
Precision Turbo 76GTS.
Big daddy Performance - 50MM wastegate.
HKS SSQ Blow out valve.
Ebay manifold - Braced, wrapped and slug cleaned up.
XS power front mount inter cooler w/ costume pipes.
By the way this is how the car looks now with all the goodies that i have acquired: