Discussion Starter
•
#1
•
Ok guys..after seeing so many actual Legal Skylines for Sale...I've been on a Skyline trip.
My interior is Ultra Clean and then STock Leathers are in excellent shape...only a tad bit of wear on the Driver bolster.Thats it.
Heres whats done to my 1993 Hardtop 6speed TT:
Greddy T78 Turbo Kit
HKS 264 cams
Greddy 4 Row Intercooler
Greddy Power pulleys
Greddy Profec B Spec 2
HKS Racing Titanium 104mm Exhaust system
Blitz Racing Midpipe
HKS VPC (MKIV supra kit with plug n play harness)
Racelogic Traction Control system
Apexi Super AFC2
TRD Thermostat
TRD Tach
PWR Radiator
HKS Fuel Rail
Greddy 720 cc injectors
TRD Fuel Pressure regulator
Twin Walbro 255 HP fuel pumps
Custom Fuel lines & install
HKS DLI2 Ignition amplifier
Techedge Wideband
Defi D Series electronic fuel pressure gauge
93 oct @ 17psi 530whp 438Trq
(dyno chart)
TRD steering wheel
Greddy 60mm Boost gauge in Clock location
TRD/RMM wing w/ carbon center
RRM front lip
98 Tails
98 Headlamps
UKDM hood scoop
-------------------------
SUSPENSION :
CCW "classic" Track Package 18x10f & 17x11.5R (285/30 Bridge S03's F and 315/35 Nitto rear)
Eibach Pro Kit
KYB adjustable
TRD Stainless Steel Brake Lines
Hawk HPS pads
TRD Sway Bars
Heres the Car's page:
http://www.suprahardtopregistry.com/1993/grooms,collin/collingrooms.htm
The Skyline is a 95 Vspec GT-R w/ 16k miles on it..legalized in W.V..and Resides in V.A now...they guy has only been pulled over 1 time and as soon as the cop checked the VIN matched the Registration...all done.No Hassles @ all.
It has Basic stuff...FMIC,Exhaust,Coilovers interior is Supra clean as well as paint was repainted White a few months ago.
For this: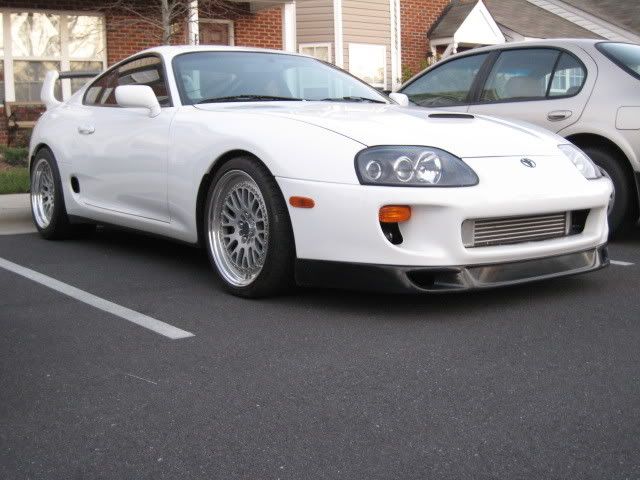 Aside from the fact that yeah..maybe it would be an issue to get parts if needed (not really) and Insurance depending on who will do it (prob. Hagerty's and State farm i was told)...I think it would be the Ultimate car to own.The Supra is rare (hardtops more) but if you had a chance to own a Legit/legal JDM "Godzilla"...would you.
yes it could possibly for the "JDM tyteness" of it but its white (my fav color) and Low mileage.
Just thought I'd see what some of you may say..even though it will be a little biased on here.
Thanks