Toyota Supra Competes in Import Tuner Magazine Track Competition (Long Write Up)
GENESIS.
This all started when Sheldon (Fly_Boy) told me that Import Tuner was looking for a Toyota Supra for Import Tuner Magazine's FR (Front Engine Rear Wheel Drive) Shootout competition. I get in touch with Import Tuner Magazine and learned that it is a street car competition at Streets of Willow here in Southern California consisting of all sorts of Front Engine Rear Wheel Drive cars and that Continental tires would be providing FREE TIRES!!! Lured by free tires, the desire to defend Supra name on a road course, the promise of glory, achievable success and the love and admiration of all hot import models, past, present and future.....I decided to participate.
IN STEPS FSR MOTORSPORT CREATIONS.
FSR Motorsport Creations in Montclair, CA (
www.fsrmotorsports.com
) is well known in the Supra community and since meeting them shortly after moving back to Southern California in 2009, I knew that they were the shop to take my Supra to. I've tried to build a formidable track car on a budget, which has been very much inspired by Curtis Chen's Supra and contains some parts from his car. I've looked to FSR to do what my soft young urban professional hands and limited tools can't do in my backyard, such as roll bar fabrication, tuning, wiring, general maintenance, and miscellaneous engineering that only professionals can do. So, when I asked FSR if they could help me with this competition, their response was "Hell Yes!" Having helped Fredric Aasbo win Rookie of the Year in a Supra in Formula Drift 2010 and holding track days for their customers, the folks at FSR are no strangers to racing and I was happy to have them at my side. Awesome.
Life takes over and we both seem to put this event on the backburner for a few weeks and all of a sudden the event was less than a week away when I delivered the car to FSR. Life was so busy for me that I didn't have any time to work on the car beforehand and a LOT needed to be put together. And then, like all of a sudden, with the competition looming, we went from being very nonchalant about this event to getting really excited and competitive about it….
Having had a bunch of little issues that would end my track days in the last year (alternator/electrical issues, brakes lines and other brake components, suspension, boost lines, and power steering), we wanted to make sure that the car would pass tech inspection and that the car did not breakdown before it even had a chance to compete. While juggling other cars, FSR, as usual, went above and beyond in preparing my track warfare and among other things, got my tires installed, installed my brake pads, bled my brakes, fixed my brake ducting, fixed up my splitter, cleaned up my spaghetti wiring in the engine bay and other vulnerable lines in the car, installed my race seats and harness, removed ~40lbs of weight in the car, improved my cooling components, and inspected the car for issues.
STREETS OF WILLOW.
Streets of Willow in Rosamond, CA is a 1.8 mile track with 13 turns. Compared to other courses in Southern California, it is the Supra's least favorite track since horsepower provides little advantage (only 2 short ~110 mph straightaways). Moreover, given that there are many tight transitions, weight is a major disadvantage and we all know that the Supra has a lot of cushion for the pushing.
PRACTICE
I needed to figure out what the Continental ExtremeContact DW tires could do and didn't want to waste the early sessions of competition day to feel them out, especially since they would get hot really fast this time of year. So, I decided to play hooky from work and headed out to the track the afternoon before the event to shakedown the car. My friend Mike Kang was already up there helping a turbocharged Nissan 240SX (S13) owner and his driver test out the car. It was deceivingly fast and made about the same horsepower as my car (500+hp), but weighed 900lbs less. I was trailing the car by at least a second in the practice sessions and barely broke into the 1:27s, which was disappointing. Over dinner with the group, I learned that Church Engineering and Evasive Motorsports were bringing their S2000s to the competition. When I told FSR about the competitors and expressed doubt in my ability to do well in the event, they simply responded "Just drive the piss out of the car. We'll make sure you get home."
I turned off the lights in the hotel at 10 PM, but anxiety about the next day keep me up until 2 AM….
COMPETITION DAY.
Ian and Eric from FSR Motorsport Creations greet me early in the morning at track. We proceed to remove dead weight from the car and make sure all things are together.
The competition comprised of approximately 15 selected "street" cars including the new Scion FRS, a turbocharged 240sx, 350Zs, a 370Z, a 280Z with an LS2 swap, a RX-8, a RX-7 and a bunch of modified S2000s. Some of the cars were driven to and on the track by their owners, but a number were trailered and had bigger budgets and crews than us.
Those are fake headlights.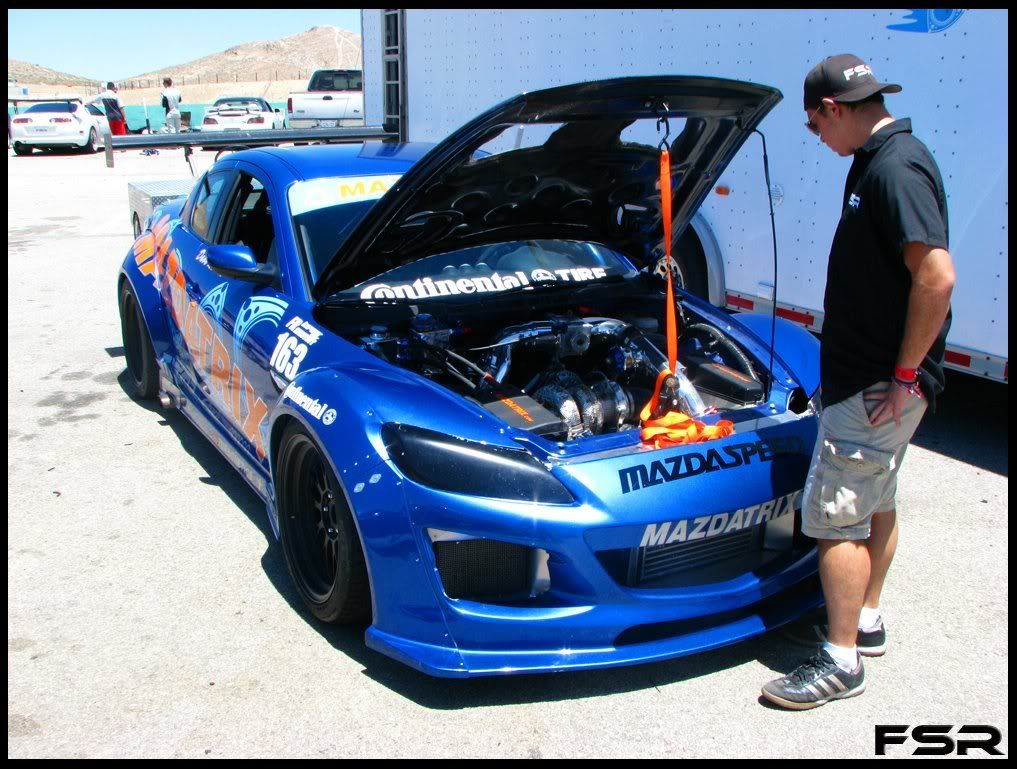 Our pit consisted of Me and Ian and Eric from FSR and all the tools and extra parts we could fit in the Supra and a E36 M3.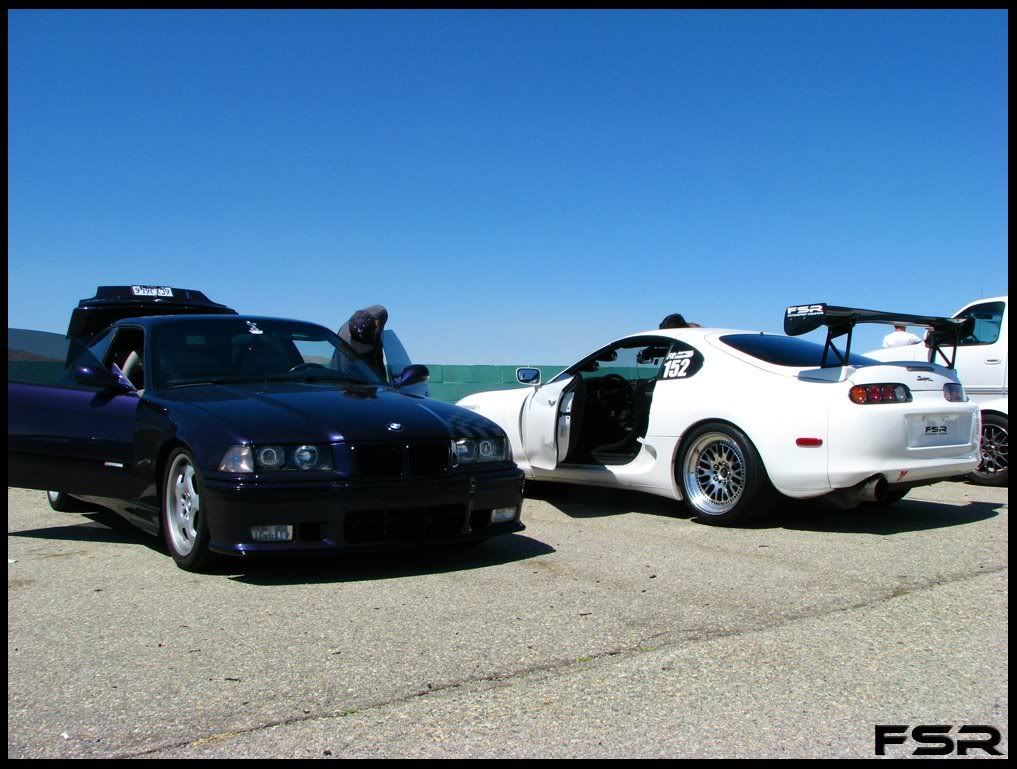 FSR Supra (~525hp on a 67dbb turbo; ~3325lbs; OEM ECU, fuel and MAF)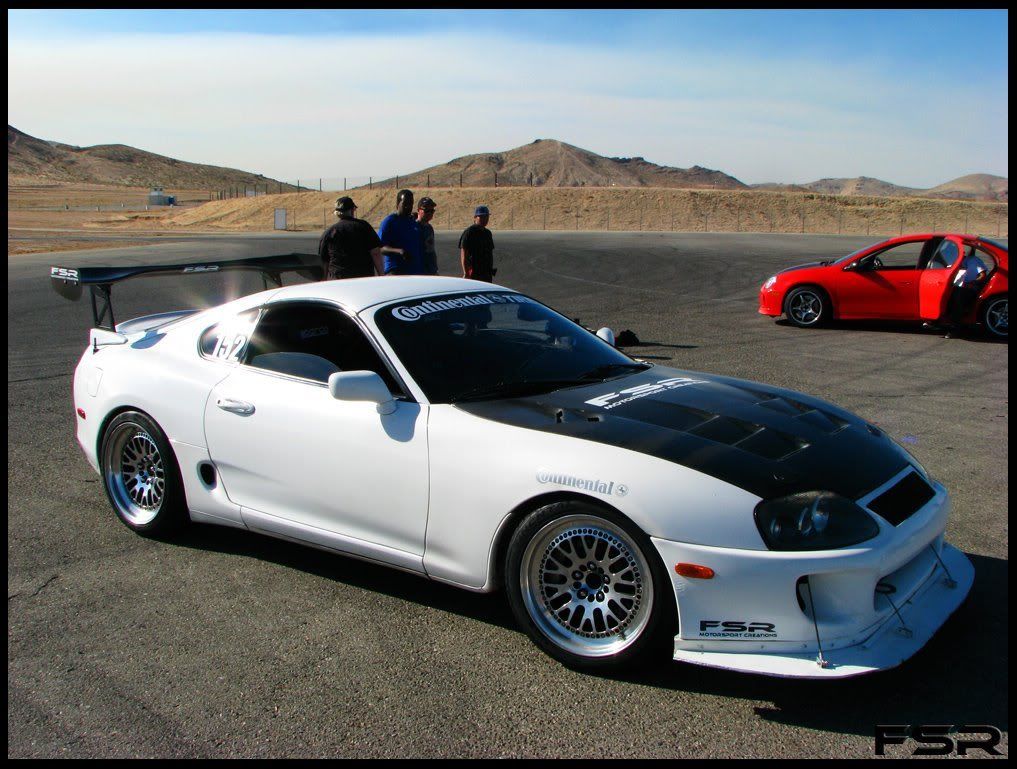 S2000s are already fast cars on the track, but they are really a big problem at this track.
I knew lap times between me and Alex Peng (Momofoolio Racing) would be close (blue S2000 above), but I also had to compete against Evasive's Motorsport's S2000 (white S2000 above), another turbocharged S2000, and Church Engineering's 500+ hp S2000, which was driven by a pro driver.
I already learned the day before that Mike Yates' 500+ hp Nissan 240X weighing ~2400lbs was a force to be reckoned with.
RACING
I've learned that my fastest lap times come in the first two sessions of the day since the car is heavy and turbo. Heat quickly kills power, brakes and tire grip. Given the summer heat and that I'd be riding on 340 tread wear tires, which would only be good for a few laps, I knew that finding an open lap was crucial to doing well in the competition.
Session 1 - Traffic. Mike Yates's S13 lined up first and I got stuck behind a bunch of other Nissans. I spent most of my first few laps trying to clear traffic and get an open lap (
http://www.youtube.com/watch?v=YHt0G7LwB8U
). Since I was passing other cars, I knew it was doing well, but I did not know how well. A few laps later, my Racelogic lap timer indicated that I clicked a mid 1:27 lap time which was not shabby, but definitely far from what the car can achieve. The tires get greasy and a dead 350z at the bowl section basically kills the session. At least, I am on the scoreboard so I thought….
Session 2 - Make or Break. In this session, cars would be let on track based on their first session lap time. I learned that my first session times were not recorded because they tried to stick me in the back of the line. Apparently, my transponder (different than my lap timer) was not put in the best position. F%cking Shi!t!!! I knew I would never get a decent lap time if I was stuck behind a bunch of slower cars and with no first session lap times recorded, I desperately needed to get on the scoreboard. After much effort, I persuaded the track coordinator to allow me to enter the track at a fair position. At this point, I basically had 1 lap before I would run into the tail end of the line of cars….
http://www.youtube.com/watch?v=CbkIuZaJ7hY&list=UUMGn9zd7QIVSMSgeNW0Gt4g&index=1&feature=plcp
In that one open lap, I hit a 1:26.4 lap time on my racelogic lap timer, which I confirmed was recorded by the tower through my transponder.
Lap times in the third session were noticeably slower due to the heat and tire deterioration. My adrenaline dies off and I am greatly fatigued and I decide to skip the next two sessions and hope that my lap time in the second session would be good enough. Despite severe weight disadvantages and no horsepower advantage over many cars, I am happy with how the car performed, podium or not. I was told that when the competitors heard that a Supra was competing in this event, no one took it as a serious competitor. I pretty sure they took it seriously by the end of the day. The car performed flawlessly and I was able to drive it to, on, off, and from the track.
Here's a video of the Supra from Alex's S2000:
http://www.youtube.com/watch?v=tOw3C-_W3Sc&feature=g-all-lik
RESULTS.
The officially results and details about the cars will be released by Import Tuner Magazine in the next issue or the one after. Nevertheless, talk among the drivers and those with personal lap timers is that we finished 3rd within a second or less behind Church Engineering's 500+hp supercharged S2000 weighing ~2800lbs and driven by a pro driver (Le Mans) and the 500+ hp turbocharged Nissan 240SX weighing ~2400lbs and driven by a driver. Guess we'll see for sure when Import Tuner publishes the article.
CLIFF NOTES: FSR and owner put together a Supra on a small budget, our small team takes on some big budget cars with trailers and drivers, I drive the shitpiss out of the Supra at the track, kick some ass, and drive it home.
I am extremely proud of the car's accomplishments. However, it would not be possible without the following:
FSR Motorsports Creation (
www.fsrmotorsports.com
), in particular Ian and Eric – the car would have fallen apart without you guys! Thanks for supporting and for believing!
Import Tuner Magazine – Thanks for putting on the event and allowing me to participate. I had a blast!
Continental Tires – Thanks for the ExtremeContact DW tires!
Mike Kang – Thanks for the track pointers, helping me bleed brakes, and sharing the hotel room.
Mike Yates (240sx owner) and Keith Calcagnie (driver) – Thanks for being very hospitable to a competitor. Mike, that car is fast as hell and with a few more tweaks will be untouchable. Keith, great driving kid!
Sheldon Chan (Fly_Boy) – Thanks for coming by and for all your support and advice
Curtis Chen – Thanks for paving the way. Get back in a Supra ASAP
The Supraforums community – I'd be nothing without the collective efforts of all of you.
The Import Tuner FR Shootout Competitors – Thanks for a great competition and the sportsmanship.