Hello all. Three years into owning my MK4 i decided to get the carbon fiber TRD replica wing. But getting the right one took some time and effort. Here is my experience.
1st stop
:
http://rhys-millen-racing.myshopify.../rmm-mkiv-supra-wing-with-carbon-fiber-center
Ordering was easy, but very limited communication and 8 weeks of waiting was not. What arrived was very disappointing: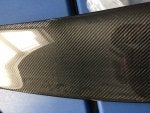 Packaging was very good, but quality was lacking. First, there were endless air bubbles trapped under the clear coat, very noticeable. Second, multiple dimples and uneven carbon weaving. Third, post sides were in need of serious finishing work as rough casting marks were everywhere.
Wing was Returned.
2nd wing
was ordered at MVP:
http://www.mvpmotorsports.com/mvp-m...ear-wing-for-199398-toyota-supra/g-80765.aspx
Ordering was easy and communication was good as Dusty is a contributing member and vendor here. Based on my 1st experience, i inquired for the wing to be inspected before shipping. Reply was: "
You won't find anything bad about Shine on SF because there's nothing bad to be said.
"
Delivery was very fast and what arrived was this and started that (Post # 161+):
http://www.supraforums.com/forum/sh...iler-to-be-Replicated!!-MVP-Motorsports/page7
few pics: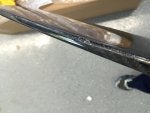 Wing was returned.
Thanks to Ken at Shine for stepping in.