I am contemplating selling my 93 NA-T. I really don't want to but, I will be getting engaged soon and could use the money. It has a salvage title. It has been registered and insured for years in NY. The paint is just ok.
preformance/engine:
Boostlogic turbo kit
4" BoostLogic SS304 Polished Downpipe
4" BoostLogic SS304 Polished Midpipe
4" BoostLogic SS304 Polished Catback
Mandrel Bent Aluminum Intercooler Piping
4 Ply Silicone Couplings
Stainless Steel Hose T-bolt Clamps
TTC 268 cams (not installed yet)
Dual HKS SSQV BOV
BoostLogic 525cc injectors
DaveH High flow fuel rail (not installed yet)
Walbro GSS341 255HP Fuel Pump
Fuel damper bypass mod
12v fuel pump mod
Yonaka Motorsports Front Mount Intercooler
DaveH custom intake manifold polished
Map-Ecu 1
HKS Twin Power Ignition Amplifier with easy pnp harness
Chromed TTC Performance Billet, Filtered and baffled Catch Can
Polished fuse box cover
Unorthodox alternator and water pump pulleys
BoostLogic crank pulley
TTC performance idler pulley
SpeedForSale 160A Alternator, polished with a warranty
Koyo aluminum radiator
Titan motorsports Billet Radiator Brackets
SP Polished Front Valence Cover
Polished Radiator Show Plate
TRD radiator cap
TRD oil fill cap
TRD Fuel Cap
TTC Performance Brake master cap with supra script on it
TTC Performance Aluminum Igniter Cover with supra script on it
Battery relocation with pull shut off
Nitrous express inter-cooler system
Rod Millen Motorsports carbon fiber front lip
upgraded 97-98 bumper lights
HID low beam headlight conversion kit
Toyota premium upgraded horns 400Hz and 500Hz
Apexi Turbo timer
AC deleted
Power steering deleted
ABS deleted
Drive train:
Stock NA auto transmission (works great, shifts great, no problems)
TT LSD auto rear 3:76 gears
B&M transmission cooler with a fan

Suspension
Tein basic coilovers
Wheels:
GramLight 57C in silver. The front tires are 225/40ZR17 90W, Nitto NT555 EXTREME ZR. The rears have 275/40ZR17 98Y, BFGoodrich G-Force TA Drag radials.
Interior:
Defi BF Boost pressure, oil pressure, fuel pressure gauges
AEM wideband gauge (wired to read in the Map-ecu)
real Carbon fiber dash overlays
real carbon fiber armrest
TRD Speedometer
TRD Tachometer
2002 supra steering wheel

Stereo:
In-Dash Double-Din DVD/CD/MP3 Player w/ 6.2 " TFT LCD Monitor- LEGACY LDNTV65U
VCD/ DVD-R/ CD-RW/ CD/MP3/ MP4/ JPEG/ DIVX
MMC/ SD/ USB Card Reader
TV Tuner/ AM/ FM/ MPX PLL Synthesized Tuning System
Electronic On-Screen Audio control (Bass/Treble/ Volume/ Balance/ Fader)
Clock/ NTSC/ PAL Auto Switchable
Digital Anti-Shock (ESP)
4 x 60 Watt Max High Power Output
1 Audio Video RCA Line Input
1 Audio Video Line RCA Output
Full Function Wireless Remote Control
4" Focal front speakers
6 1/2" Focal rear speakers

The stock wing is back on it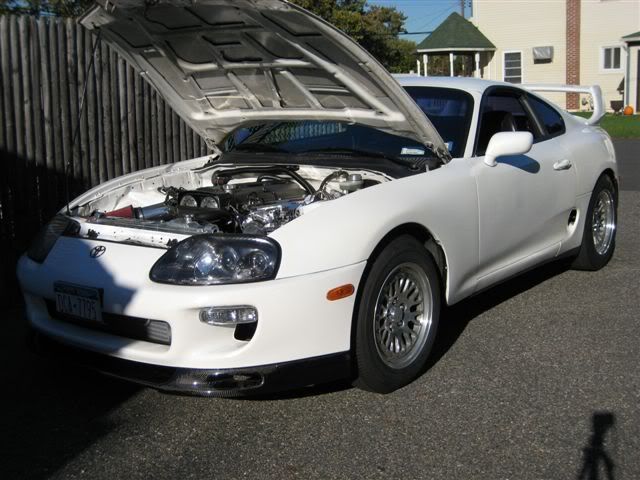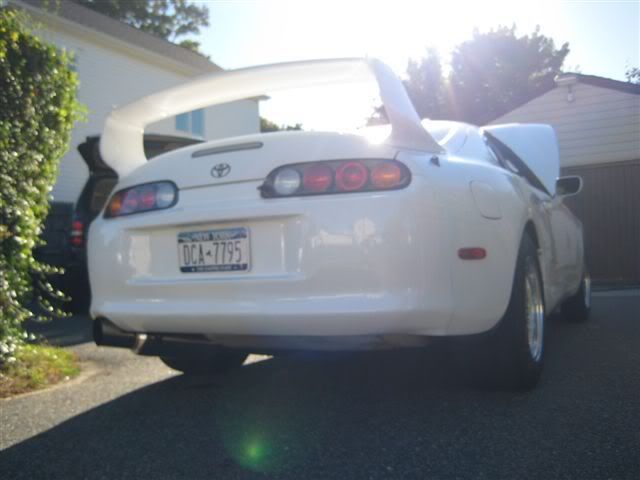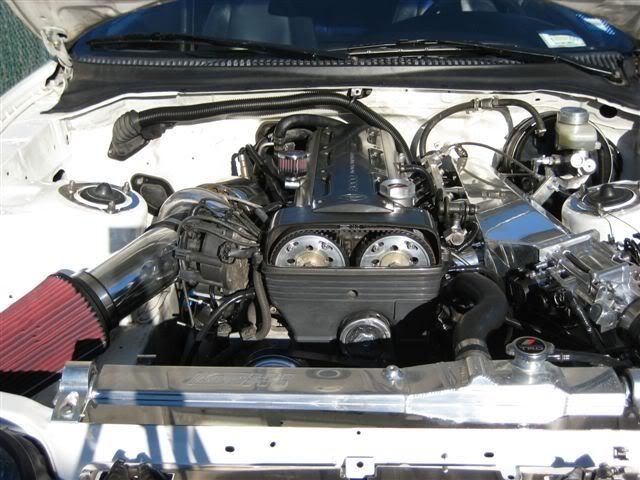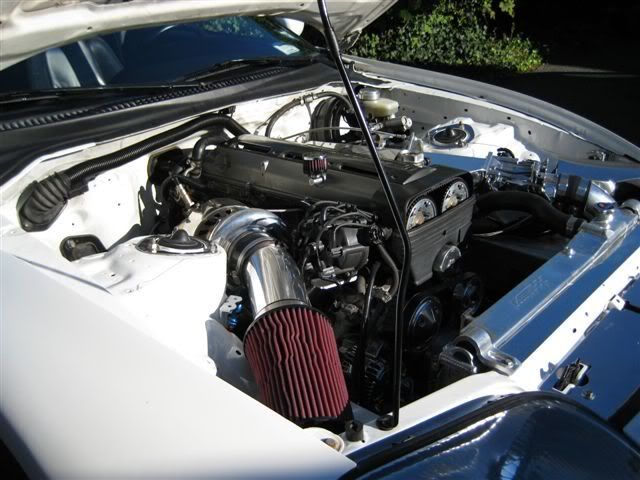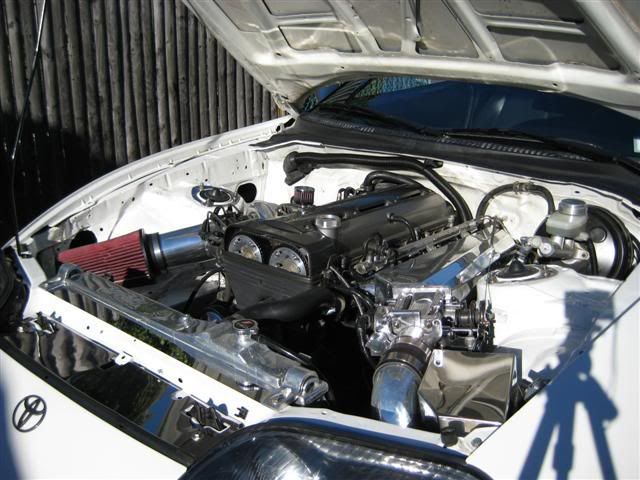 Thanks in advance