Be warned, this post may offend.
Feel free to skip the rant section and go directly to the how to.
RANT said:

I'm going to address a very serious problem in the Supra community; the quarter mile. Whenever supra owners go to the track, they suddenly become half retarded monkeys that can no longer figure out how to drive. I maintain that Supra owners are the worst drivers of all automotive enthusiasts. And what happens when a Supra owner does shitty at the track? They blame everything but themselves. I've got news for you jackass Vettes, Cobras, RX7s, 300ZXs, none of them seem to have issues launching their independent rear suspensioned car. Hell, damn front wheel drive Hondas launch better than most supra owners, and they bitch about it less! An IRS is not an excuse. Many domestics have hundreds of pounds on our cars, yet they run faster with less horsepower. Weight is not an excuse. Its your own damn fault for thinking you could hook by just dumping the clutch on a dropped car (with lots of negative camber) rolling on small side walled 18s with street tires that you did a burn out on.

You don't need 600 horsepower to run 11s. An other car in the world would be DEEP in the 10s with that much power. Hell, it should only take you mid 300s to run twelves. The next time someone posted about how they ran a

[email protected]

mph, I was going to drive to their house and punch them in the neck. So I had to make this thread. I'm sorry, but it's fucking embarrassing when at the national meets our cars are running 13s and 14s. If you wonder why our cars get no respect, it's because you monkeys make sure no one is afraid to race us. My stinking bolt on Integra GSR would eat most of the BPU MK3s on this board alive at the track. That's just sad as hell because that car is slow as shit.

If I offended you, good. Maybe it will motivate you to prep your car. Take this criticism and use it to fuel your rage. Turn that rage into making your car perform. The dark side isn't that bad.
Concepts:
When you launch your car from a stop there are two main things going on. Transfer of weight from the front to the rear and then hooking. If you want a better launch, you need to optimize both of these.
Manual Transmission specific section:
Working the Clutch:
There simply is no excuse for the "bog" or "sit and spin" if you've driven your manual car for more than a month.
Every single day you can get tons of practice launching. Every single stop light, every single stop sign. I'm not telling you to stage like you're at the track and try and burn rubber like a madman. I am telling you to figure out what your clutch setup likes. You can launch hard and still be perfectly legal on the street. You drive your car, so get to know how it drives.
Most of the time, launching at the track is just like regular driving. The speed that you release the clutch pedal during normal driving, is the same speed you release it while launching at the track. Thinking you have to rev and then just dump the clutch is why people sit and spin or bog. Bring your revs up high, and release the clutch the same speed as if you were easing away from a stop light. This works with most clutch setups. But like I said earlier, get to know how your car launches. You should know how to work your clutch for good launches before you ever goto the track.
Boost from the line:
Boosted Manual cars have a big disadvantage at the track. No boost from the line. This is easy to cure. It's called a two-step, or rev limiter. You step on the gas and the two-step will artificially limit your revs at a lower level (you usually set this at your launch rpm. You should know your launch rpm because you have practiced and know what works). This loads the engine and you will get boost. Launch and shut off the two step. There you go, manual car with boost from the line. It can mean the difference between starting out with over a hundred or more horsepower from a turbo that's actually spooled up.
If you are serious about dragging with a manual, you need to get a rev limiter/two step.
You can get it running with the MSD DIS-4PN 6215, Dis-4. It will also require 2 of the PN 8912 Adapters. Theres another one that works but I cant remeber it right now. I'll put the info in when I remeber it.
Here's what a 2step sounds/looks like if you have never heard/seen one. It basicly just sounds like hitting the rev limiter like normal. This is duane building boost at the line and whuppin a mk4.
http://media.putfile.com/11supra
Power shifting
WARNING – This can fuck up your tranny with a quickness. But if you just need that extra 0.1-0.3 you can do it.
Power shifting is when you keep your foot planted on the gas and barely, barely, barely, touch the clutch pedal just to release the clutch, then jam it into the next gear with your foot already off the clutch pedal. It is very fast and will keep your turbo spooled. But it's rough as shit on the transmission.
I personally don't recommend it because to me a grenaded tranny isn't worth a time difference that could be attributed to standard deviation anyways.
Automatic transmission specific section
Stall, Stall, Stall. Get a high stall torque converter. This is standard practice for EVERYONE IN THE WORLD but us it seems like. I can count on one hand the auto guys on this forum that have a stall. That's sad as hell. For 200 bucks people cant be bothered to get something that can potential drop their quarter mile time by almost a full second.
There are more places that can do our stalls, but this is all I can remember right now.
www.phoenixhardparts.com
http://www.hughesperformance.com/
www.soundperformance.com
www.levelten.com
http://www.ipttrans.com/toyotaauto.shtml
Phoenix Hard Parts and Hughes can rework your stocker to a high stall unit for ~200 bucks. The performance vs price for a stall is better than nitrous.
Just go get a stinking stall already. Launching with tons of boost from the line is heaven. Laugh at all your manual friends as you leave them in the dust.
Suspension set up:
Sway bar / End links:
I keep saying this but people aren't listening. When at the track, disconnect the front sway bars. This goes back to the original concept that I talked about earlier. Transfer of weight to the rear of the vehicle. With the front sway bar disconnected it allows freer movement of the front suspension. Lets weight shift occur easier. Disconnecting the front sway bar is de facto standard in pretty much most auto enthusiast groups aside from the moron import crowd.
Don't drive to the track with them disconnected though. That wont be fun. Also before you do this at the track, disconnect them once or twice and drive around your neighborhood to get a feel for what its like with them off. You don't want to get squirrelly down the track your first time with them off. Know how it drives.
With adjustable end links it's makes unattaching the front bar a breeze. Just disconnect the lower tie on the tie bar. It also allows you to adjust your rear sway bar to fine tune your launch. There are one or two places that sell them I think. Or you can just make your own. I made my own as seen below: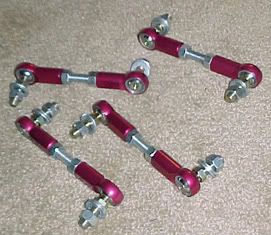 Camber:
If you dropped your car, you now more than likely have negative camber. When you launch an IRS car, the camber moves to the negative. If you are already there, launching just makes your tires have a small little contact patch. This is a big reason why you dropped folks launch so shitty. Yeah your JDM dorifto million degrees of negative camber crap looks cool (to you), but it sucks for launching. Dial in a degree or two of positive camber before you go to the track. When you launch you ideally want zero camber, a flat contact patch. So if you are just a degree or two positive before you launch, when it squats you zero out. Perfect.
Where do you adjust it? Right here. See how easy it was to find it?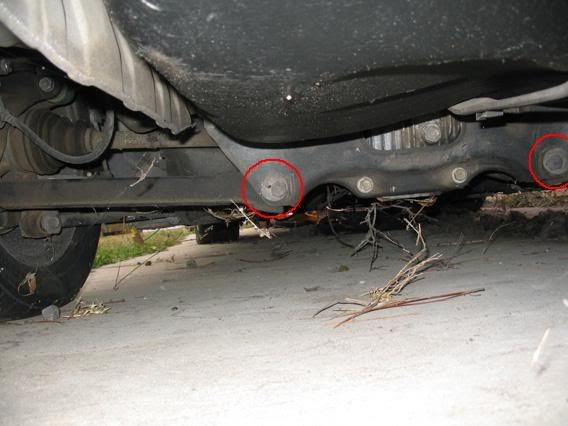 When adjusting the camber you also have to adjust the toe in to go along with it. Here's how to adjust both.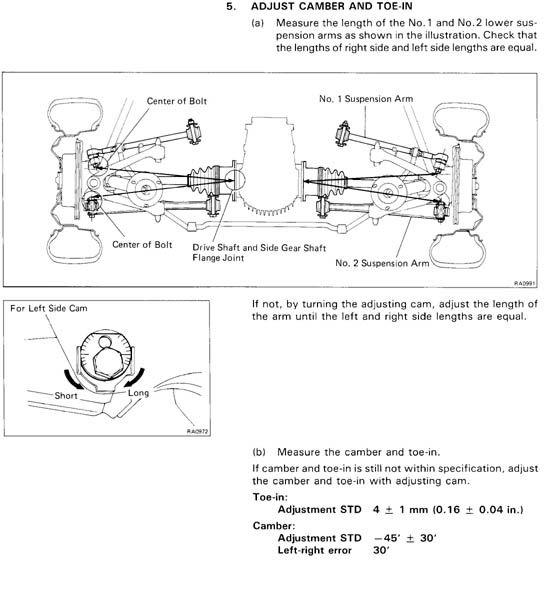 Trailing arms:
These are actually one of the very few weak links on our cars. The trailing arms bend pretty easily. Bent trailing arms = wheel hop. Not good. Three places sell replacement trailing arms. Carbonfiber FX, Suprasport, and A1 Racing. Or you can just take them to your local muffler shop and have the dude there weld on additional bracing for like 20 bucks. The A1 Racing trailing arms are great because they are adjustable. Preload and launch tuning baby.
Make sure that your trailing arms are squared away before you goto the track.
www.suprasport.com
www.carbonfibrefx.com
www.a1racing.com
Shocks/springs/coilovers
This is really something you just need to adjust and test for yourself. For some people hard front soft rear works better for them, for others vice versa. There are just too many different combos to tell you exactly what to do. I will tell you not to go full hard all around. It goes back to the original concept. You want weight to be able to shift to the back, then you want to hook.
Try starting out with the front abit harder than the rear. Then work from there. If you mess with the ride height, make sure you adjust the camber.